I spent this Saturday hanging around the house and cooking a nice dinner for my family. My menfolk had gone off to play a hockey game in a town that was one and half hours away. The junior high girl was having a friend over for an afternoon of fun. I decided to try a new recipe from this lovely cookbook, "The Pioneer Woman Cooks". I just received it on Thursday in the mail, and I spent most of the evening devouring the recipes and beautiful pictures inside. The 'Pioneer Woman' writes a blog that is a wonderful blend of photography, life stories, cooking and inspiration. If you dare to read the tale of how she met and married 'Marlboro Man'… you will be mesmorized by the story of a city gal who meets a ranch cowboy and promptly falls in love.The pictures of the working ranch she calls home with 'Marlboro Man' are breathtaking…..it makes you want to plop on a cowboy hat, saddle up old Sally and giddy off into the sunset of blissful ranch happiness.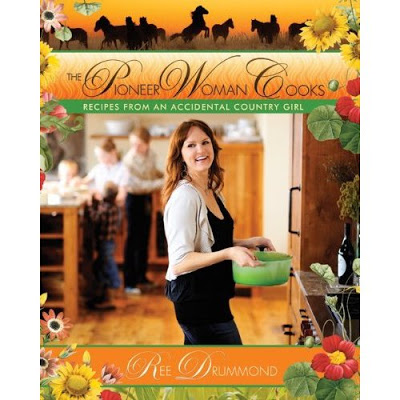 The thing I really love about her cookbook is that it is written by a homecook for homecooks. She gives step-by-step photos for each recipe, along with a healthy dose of interesting rural stories and striking photos of her life with her man and 4 young whippersnappers. (Did I mention the pictures of cowboys in wranglers with chaps?) I tried her meatloaf recipe for tonight's dinner. I followed her recipe exactly with the exception of adding mushrooms and onions into my meat mixture. The top layer of bacon and tomato gravy on the meatloaf is enough to make any cowboy happy. I made 2 loaves and 12 mini loaves in a muffin tin for the freezer. I served it with mashed taters, corn, carrots and gravy. Pure comfort food on a day when morning dawned with a wet layer of snow on the ground.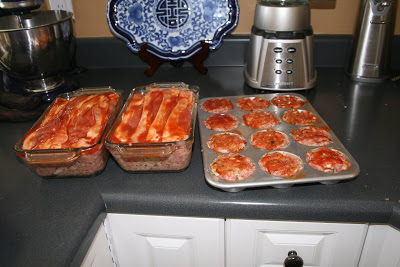 It was a yummy dinner and one meatloaf is completely gone. And my whippersnappers gave our guest a wonderful performance demonstrating sibling love….."You laugh like a donkey!" said one. "Your face is like a donkey's" shot back the other. Like I said…..I love dinnertime conversation.