There is no easier meal or dish to make while camping and enjoying the outdoors than a tin foil packet. It really is your best friend when you want convenience. One of my family's very favourite breakfasts is french toast with fresh fruit, so I decided to de-construct conventional french toast to make this super easy & delicious Blueberry & Peach French Toast in a tin foil packet with the help of Burnbrae Farm's Cinnamon French Toast Liquid Eggs product. My family is going camping tomorrow and I am so excited to make this fantastic breakfast for all my humans!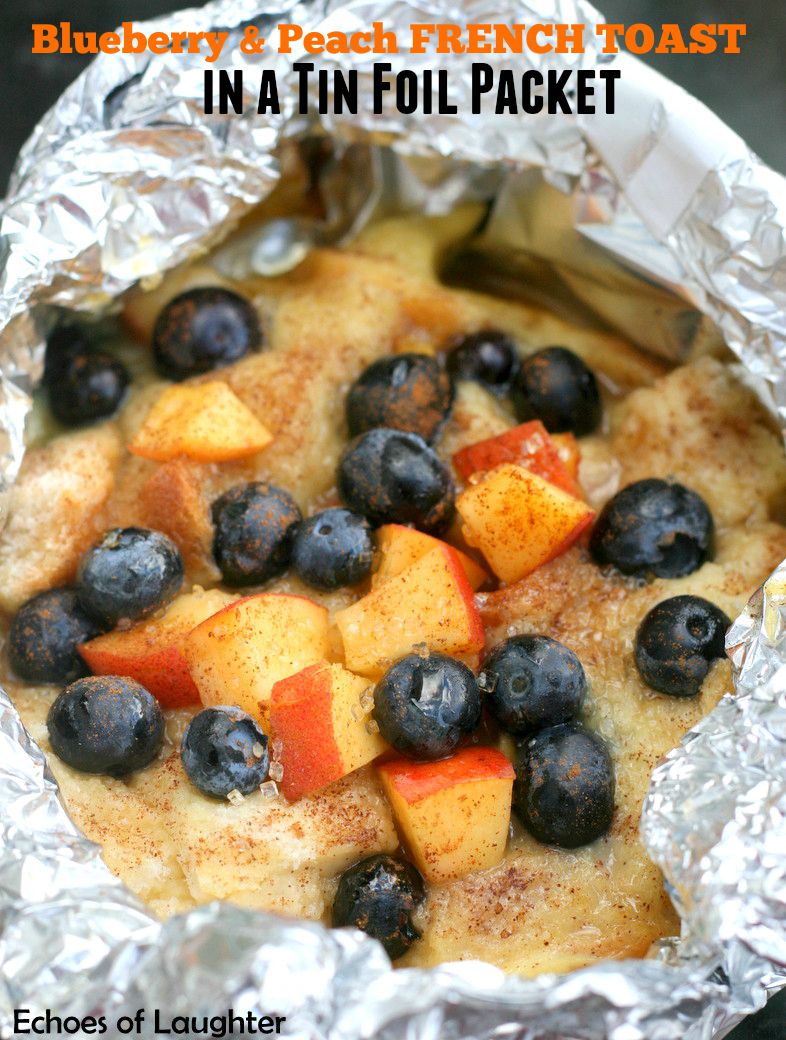 I love the ease & simplicity of Burnbrae's Farms Liquid Eggs products. They make cooking & baking with eggs as easy as shake, pour and cook. The Cinnamon French Toast blend is made from egg whites and other wholesome ingredients, including 9 essential vitamins and minerals. Liquid eggs are also fat free, cholesterol free and an excellent source of protein. Liquid eggs are perfect for camping trips because of the ease of transporting a carton of liquid instead of fragile shell eggs, which means no messy broken eggs. The cartons can also be frozen for up to 3 months before their expiry date, so they can also double as ice packs in a cooler. too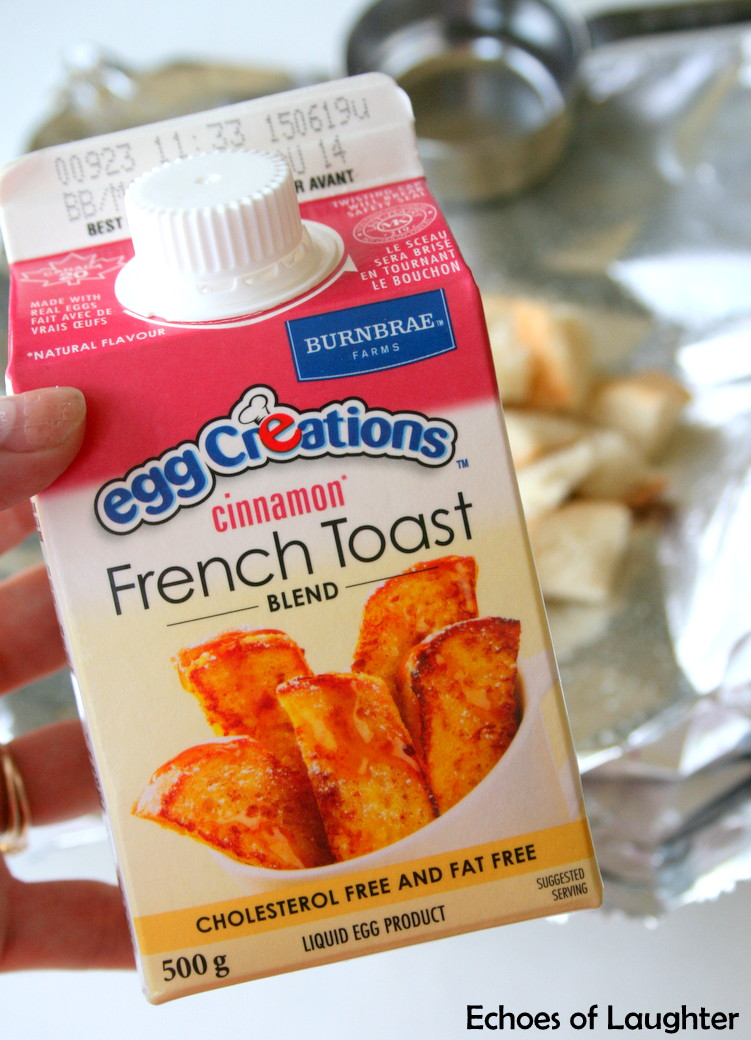 This recipe works well in a variety of situations as it can be made for one or two people or the whole family. You can also change up the fruit according to individual tastes, adding more or less or things such as chopped apples, raisins or other berries. The size of the packets can be varied from small to large as well. Just cook all the packets on the grill…no pans required.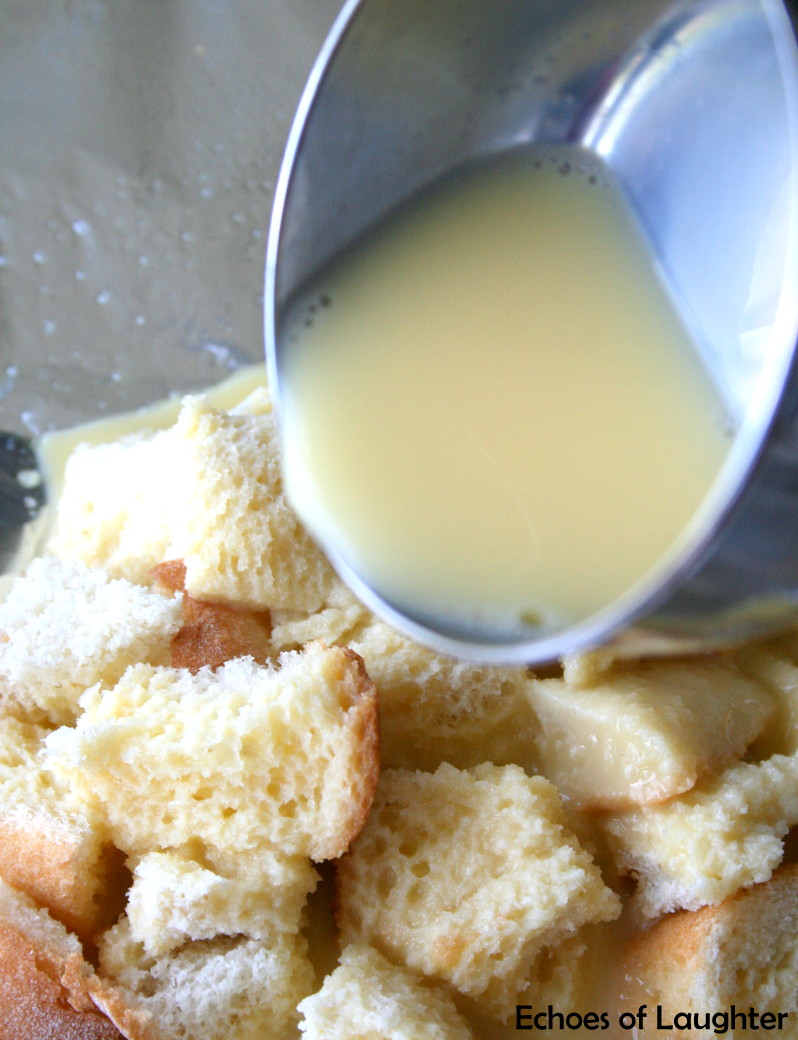 This is such a yummy breakfast. Be sure to store leftover liquid egg product in the cooler or fridge.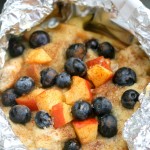 Blueberry & Peach French Toast In A Foil Packet
2015-07-16 02:25:10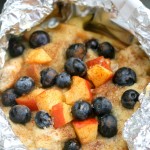 Serves 2
A delicious breakfast or brunch made with the convenience of liquid eggs....perfect for camping.
Nutrition Facts
Amount Per Serving
* Percent Daily Values are based on a 2,000 calorie diet. Your Daily Values may be higher or lower depending on your calorie needs.
Ingredients
2 slices of bread, cut into cubes
1/2 cup chopped peaches
1/4 cup blueberries
1/2 cup liquid Burnbrae Farms Cinnamon French Toast Liquid Eggs
cinnamon
maple syrup
Instructions
1. Spray a large piece of tin foil with cooking spray.
2. Add cubes of bread to the center of the tin foil.
3. Curl up edges of tin foil around bread so the liquid eggs do not run off the foil.
4. Gently pour 1/2 cup of French Toast liquid eggs over bread.
5. Sprinkle chopped peaches and blueberry over top of bread & egg mixture.
6. Fold up tin foil packet into a packet by folding up top and bottom first and then folding in the sides.
7. Place on a medium high grill for approx. 5 minutes. Then open top of packet to cook for a little longer if mixture is not quite set.
8. Remove from heat and sprinkle with cinnamon if desired. Serve with maple syrup.
Notes
To serve a crowd, make a packet per person or a packet for two children. Get kids or family involved by having them help cut up fruit or bread, pouring liquid eggs and sprinkling fruit on top. Place all the packets on the grill at once.
Echoes of Laughter https://echoesoflaughter.ca/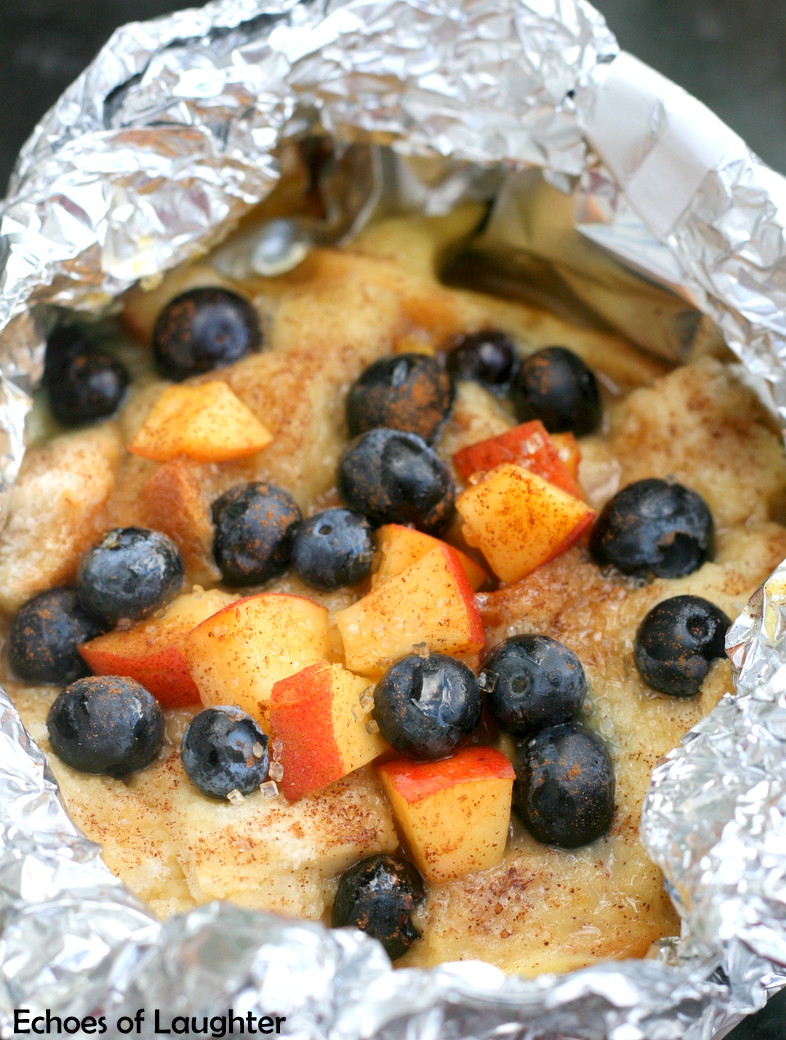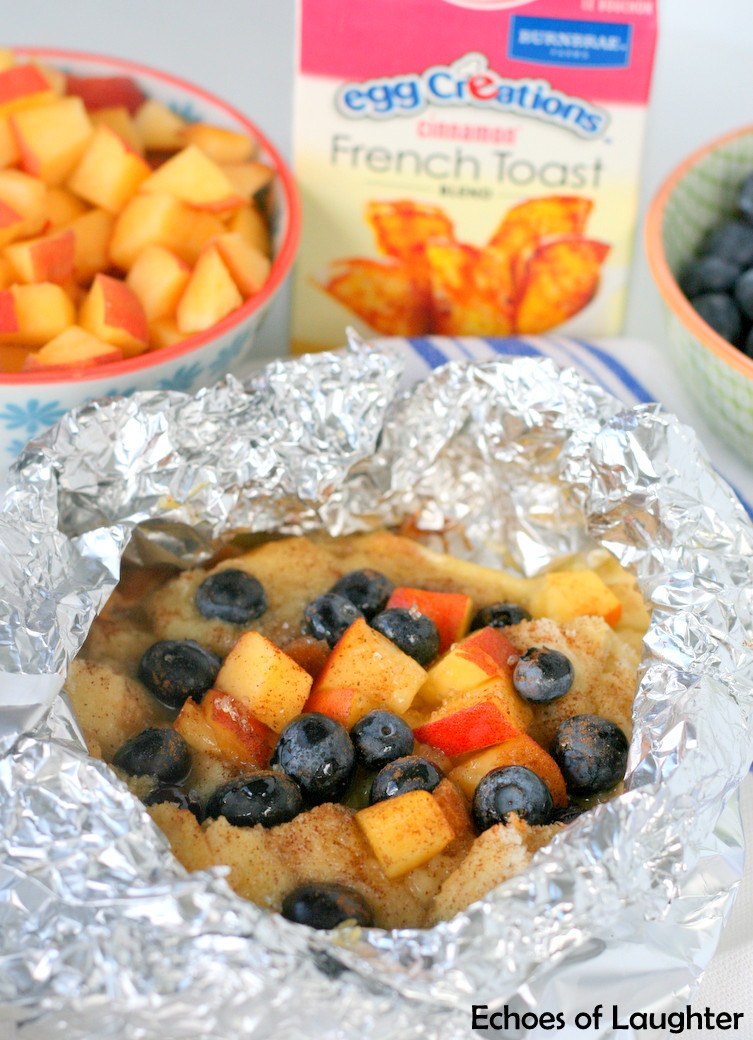 For more great recipes and information, please follow Burnbrae Farms here:
Here are some of my other recipes inspired by the goodness of eggs!
Disclosure: I am participating in the Burnbrae Farms campaign managed by SJ Consulting. I received compensation in exchange for my participation in this campaign. The opinions on this blog are my own.