Spring is here and it's time for that annual ritual of spring cleaning! With Canadian winters being as tough as they are, it's time to give your vehicle a good "spring cleaning". I know my husband was in the garage this weekend looking over our vehicles and making appointments with Canadian Tire for oil changes and getting our summer tires on. We are so lucky to have a Canadian Tire just 5 minutes away and we regularly visit for all of our maintenance and repair needs…from tire to brakes, it's our one stop shopping for any vehicle maintenance! Here is a complete seasonal checklist so you can get your vehicle ready for spring!
Oil, lube, & filter
Air can cabin filter
Fluids Check: Transmission Flush, Coolant Flush, Brake Fluid Flush, Engine Flush, and Power Steering Flush
Wiper blades replaced
Battery
Spark plugs
Interior and exterior lights
Your vehicle's year, make, model, maintenance history and mileage will it's tune-up frequency based on the manufacturer's recommendations!
By giving your vehicle regular preventive maintenance, you can avoid costly repairs in the future. Canadian Tire Auto Service makes your car care easy and completely worry free! To best meet the needs of their customers, Canadian Tire offers:
Extended hours. Check your local Canadian Tire store for service bay hours.
Walk in service OR book an appointment to suit your schedule.
They know your CAR. Visit any of their 5,500 Canadian Tire service bays across Canada, and they will have your vehicle's history there in order to provide the best diagnosis.
Services all makes and models. Bring your vehicle to any of Canadian Tire's 3000 licensed technicians for expert guidance and warranty approved repairs.
Nationwide Warranty. Get your vehicle serviced at any of our service bays, and your manufacturer's warranty remains valid.
Canadian Tire works hard to meet the needs of all Canadians with it's easy-to-access and friendly customer service and expert technicians!
Please join us for #CanadasGarage Twitter Party on April 7, 2016 at 7:00 pm ET. A Canadian Tire auto technician will be available for the chat to answer any questions you may have about spring maintenance for your vehicle! See you there! No RSVP required!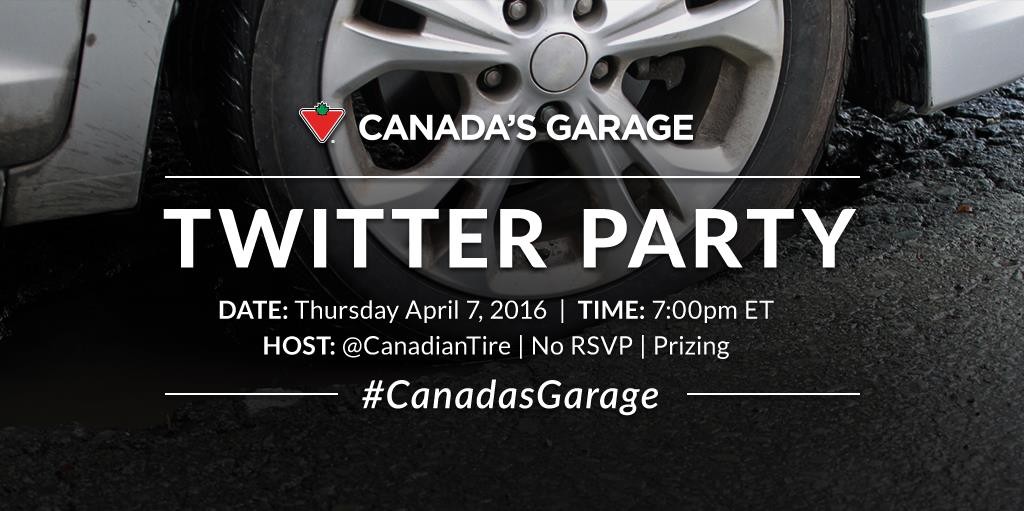 Disclosure: This post was sponsored by She's Influential and Canadian Tire. All opinions are 100% my opinions. As always, I only partner with brands that I love and use in my own home.