Spring cleaning is just around the corner and it will soon be time to get windows sparkling and winter dirt & grime wiped away for another season. I always look forward to spring cleaning and getting the windows open for some fresh air. One thing important to me as part of keeping our home clean is keeping it also free of toxic chemicals from cleaning supplies. I like the products we use to be as free of toxic fumes and chemicals as possible to keep our home as safe as possible.
This spring season, Toronto Hydro is making a terrific offer to it's customers to help with their spring cleaning chores with AspenClean's line of enviro-friendly products.When you sign up for Toronto Hydro's e-Bills program, not only will you be cutting down on paper clutter in your home, but you will also have the chance to try out an AspenClean all-natural cleaning product. When you sign up for e-bills, you will receive one AspenClean product so you can clean your home without harmful toxins, chemicals, or offensive odours. The first 6,000 customers who sign up for e-bills and pre-authorized payments, will receive a coupon for an Aspen cleaning product. To receive your free product, sign up HERE for Toronto Hydro's e-bills program, which will give you easy and convenient 24/7 online access for 2 years of bills, all in one place!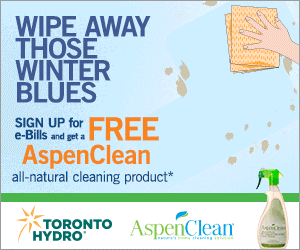 Furthermore, when you sign up for this terrific program, you will be entered to WIN a year (valued at approximately $3000 or 72 person hours) of eco-friendly home cleaning services! What better prize for a busy family than to have a whole year of toxin-free cleaning services to make your home a clean & fresh & cozy place to relax and sleep in.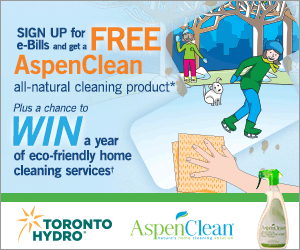 Disclosure: This post was generously sponsored by Toronto Hydro. All opinions are 100% my own opinions. I always use eco-friendly products in my home.