With Valentine's Day just around the corner, this delicious yolkless raspberry soufflé really caught my eye as a wonderful dessert to make for my family to celebrate the holiday devoted to love. I discovered this fabulous raspberry souffle dessert and many others while searching the Recipe Nest at Burnbrae Farms. I have a special fondness for this Canadian brand of egg and egg products since I had the special opportunity to visit their family farm in Lyn, Ontario in 2014 and saw firsthand the devotion, hard work and dedication this family has put into their egg business to deliver Canadians the highest quality eggs.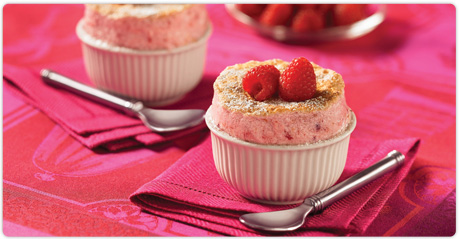 Eggs are an important part of our weekly menus in this house. Almost every Sunday, I hard-boil a dozen eggs to have on hand for snacks and lunches during the week. And although eggs are one of the most nutritious foods on the planet, I am often surprised to hear some of the myths about eggs in our diet- like how too many eggs in our diet increases our blood cholesterol. Recently it has been shown that, in fact, dietary cholesterol has very little to do with blood cholesterol and eating an egg a day is a great healthy habit for getting a complete source of protein. Just one egg contains 6 grams of protein and all of the amino acids your body needs.
Have you ever cracked open a couple of eggs for a recipe, like the raspberry soufflé above, and found a blood spot? For years, I threw these eggs away thinking they were not good to use. But now I know better…these tiny spots are not harmful and are fine to eat or use in a recipe. And what about those expiry dates for eggs? Eggs that are up to 3 weeks past their expiry date are perfectly safe and in fact, are perfect for boiled eggs because older eggs peel more easily than fresh eggs. And while we are on the topic of fresh eggs, did you know that you cannot tell the freshness of an egg by the colour of the yolk? Nope. It's not true. The only thing that egg yolk colour indicates is what the hen was fed…a diet of wheat will produce a pale yellow yolk, while a diet of corn will produce a darker yolk colour.
Wow! So many egg myths that I grew up are just that…myths. And now when I eat eggs, cook eggs, crack eggs, or see them in the back of my fridge, I know a lot more to use them wisely and not to waste them. And I never have to feel guilty about enjoying an egg a day as part of a healthy diet.
We will be talking about these egg myths and more at an upcoming Twitter Party on February 9, 2016. Please join us for fun and lots of great prizes! Here are the details:
Join the #EggMyths Twitter party on February 9th at 9 pm EST!
Prizing:
$250 spa gift card – a day at the spa
2 iPad Mini's
Burnbrae Farms gift baskets with $50 Visa gift card for groceries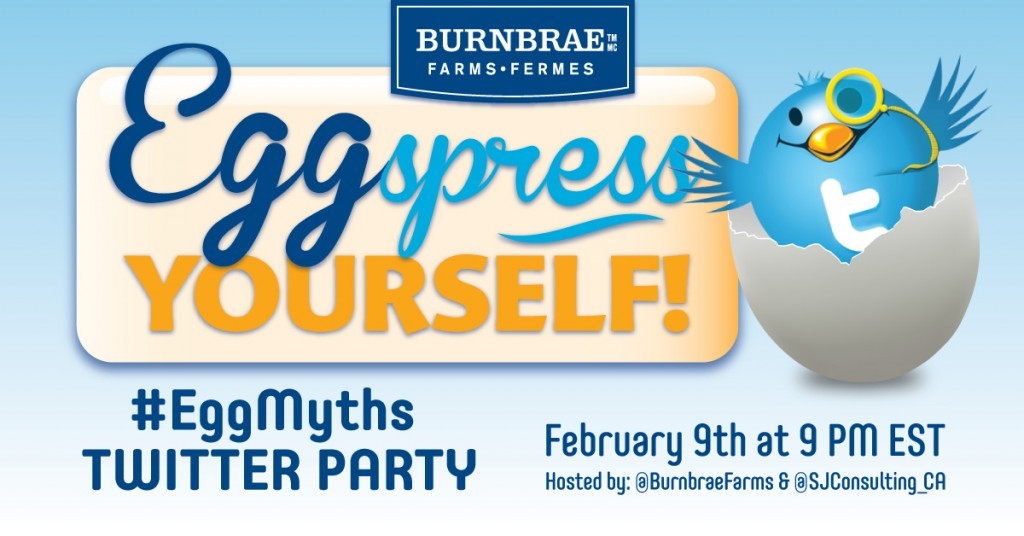 Please join us by adding your Twitter handle below:

For more recipes ideas, nutritional information and great egg ideas, be sure to stop by Burnbrae Farms on: Facebook, Twitter, Pinterest and Youtube.
Disclosure: I am participating in the Burnbrae Farms campaign managed by SJ Consulting. I received compensation in exchange for my participation in this campaign. The opinions on this blog are my own.