One of my favourite things to make for Christmas entertaining is a plate of cheese and crackers served with some fresh crisp grapes. A cracker that I love adding to my platter is Lesley Stowe's Raincoast Crackers. They are the most amazing and tasty cracker that not only goes well with cheese and dips, but is sooo delicious on it's own! Have you ever tried one? You can usually find the in the deli section at the grocery store with all of the yummy cheeses and such! When you add a Lesley Stowe crisp to a cheese platter, it takes the platter up to a whole new level!
Lesley Stowe is a Parisian-trained chef who began her own catering company more than 25 years ago in Vancouver. A culinary pioneer, Lesley has helped to develop and refine the palettes of Vancouverites.
Frustrated by the lack of specialty foods in the city, she opened lesley stowe fine foods, offering customers a wide range of world class cheeses, breads, homemade entrees, desserts and hard-to-find grocery items. Lesley was also a frontrunner in offering tastings and classes to the public. Her specialty fine foods store was one of the first in the city providing Vancouverites the chance to sample extra virgin olive oils and 25-year-old balsamic vinegars and quickly became a destination shop.
In 1990, Lesley started selling her delectable dessert creations to the city's top restaurants and became known for her decadent Death By Chocolate confection. The store's success, combined with Lesleys ability to predict and capitalize on food trends resulted in the creation of raincoast crisps, an artisan cracker that was recently featured on Oprahs O List and in Martha Stewarts Whole Living magazine.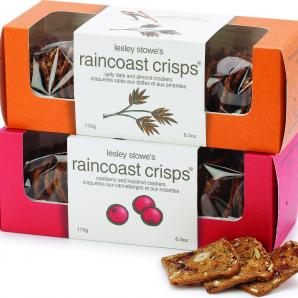 When entertaining this holiday season, pick up some of Lesley Stowe's raincoast crisps for delicious entertaining and snacks for family & friends! For foodie friends, a basket of these crisps with some cheese and grapes would be an amazing gift! And these crisps are also an excellent partner for all of your favourite entertaining dips and chutneys too!
Disclosure: This post was sponsored by Lesley Stowe's Raincoast Crisps.