With busy family schedules, my husband and I don't get the chance to entertain as much as we would like, but when we do, we really like to pull out all the stops with delicious appetizers and a few fun beers and drinks for offer to our guests. My husband is always game to try new ales whenever he has the chance, and it's even more fun when he has a few friends to share them with. He recently had a chance to try Rickard's Red Ale and he enjoyed it's fresh taste with some nuts and he loved the experience of the new red ale. Cracking a cold ale on a relaxing Saturday night with wonderful company and delicious appetizers is what we really look forward to during the holiday season!
"The first-ever Rickard's, this full-flavoured, Irish-style ale boasts a remarkable character that's perfect for any occasion.
Traditionally brewed with a slight hoppy bitterness, these medium-bodied ales are famous for their candy-like caramel malt sweetness and signature red copper colour.
Rickard's Red makes this style its own by carefully blending roasted malts with a touch of brewer's caramel for a striking, ruby red appearance and a bold, refreshing taste.
Suggested food pairings: Its unique maltiness and hint of caramel marry well with grilled meat or hearty chili. Try it with your next meal or better yet, start cooking with it."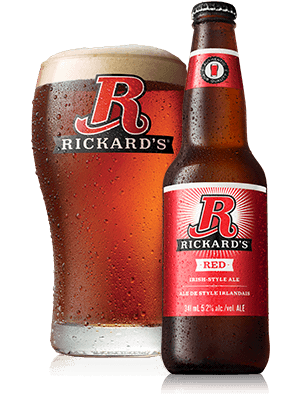 It was so good that I heard mention of serving it with some chili and some crusty rolls for a fun evening with friends, or even with some grilled steak right before a good football game on TV. So if you are looking for something fresh to serve this holiday season, reach for some Rickard's Red Ale for serving with hearty meals or delclious snacks as part of a relaxing evening at home.