A favourite dish at our house is salad and we love a crunchy salad with almost every meal. In fact, my family prefers a colourful salad over cooked vegetables any day of the week. With Christmas just around the corner, I have created a menu for our turkey dinner and I included this delicious recipe for an easy chopped salad which is chalk-full of good stuff. For any special meal, I like to serve a variety of side dishes, and this fresh salad is so easy to prepare with the help of my new Cuisinart Elite 7 Cup Food Processor. The Food Processor did all of the chopping and slicing work for me, so this salad took only 5 minutes to put together, and all I to do was wash a bowl and chopping blade afterwards. And I love dishes AND tools that get me out of the kitchen faster and make my meal prep a breeze!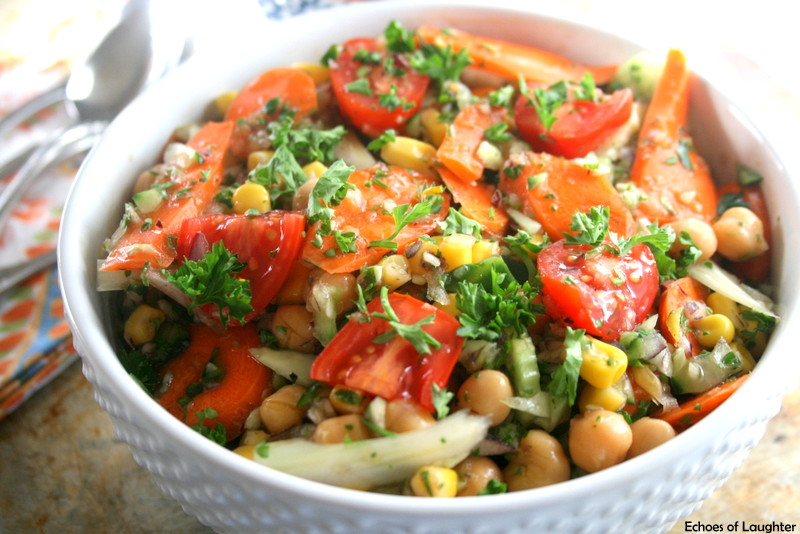 All of the ingredients for this salad were things that I already had in the fridge, so I only had to do a little prep like some washing and a few rough cuts to make sure the vegetable fit into the feeder tube for the food processor properly. This recipe came out of the booklet of recipes that came with the Cuisinart Elite 7-Food Processor. I love recipes that come with an appliance because I know that it has been tested many times so that home cooks can get perfect results with their new appliance. The Food Processor was so easy to assemble and use…I was chopping and slicing almost immediately!
This Cuisinart food processor is the most user-friendly food prep tool on the market. Just the right size, this 7-cup model features On/Off/Pulse touchpad controls and all of Cuisinart's best basic food processing attachments. It is so quick that home chefs can do multiple batches in minutes. The cooking options are endless. This product is available in stainless steel, which I love because it fits in with the many stainless steel and black appliances we already own!
Here are the many features of the Cuisinart Elite 7 Cup Food Processor:
7-cup work bowl with pour spout, handle and measurement markings
SealTight system – seals bowls and locks blades
Easy On/Off locking system with push-button release
Reversible slice and shredding disc
S blade and dough blade
Electronic touchpad controls include On/Off/Pulse with blue LED lights
Comes with a spatula
All removable parts are dishwasher safe
Made with BPA-free materials
I had a lot of fun trying it out for myself the first time to make this delicious chopped salad!
As I fed the vegetables into the tube, they were cut with the slicing blade almost effortlessly.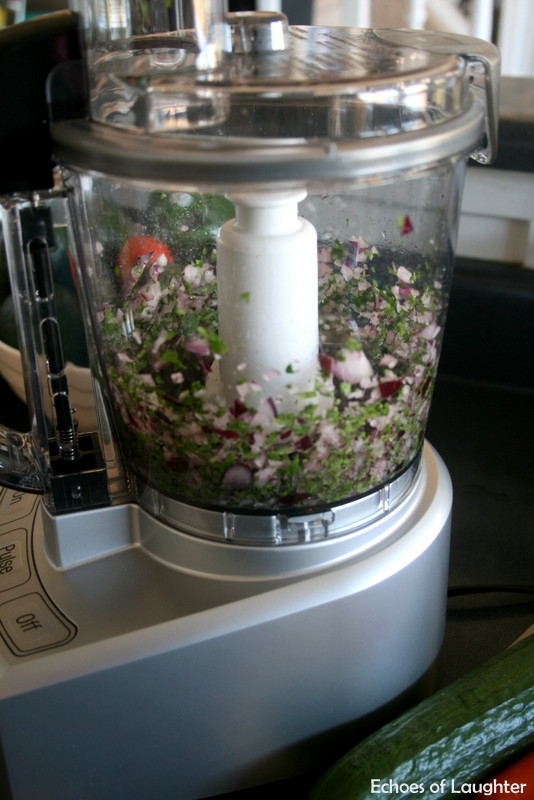 When I was finished slicing all of the vegetables, I just had to scrape them into a salad bowl and add the rest of the ingredients!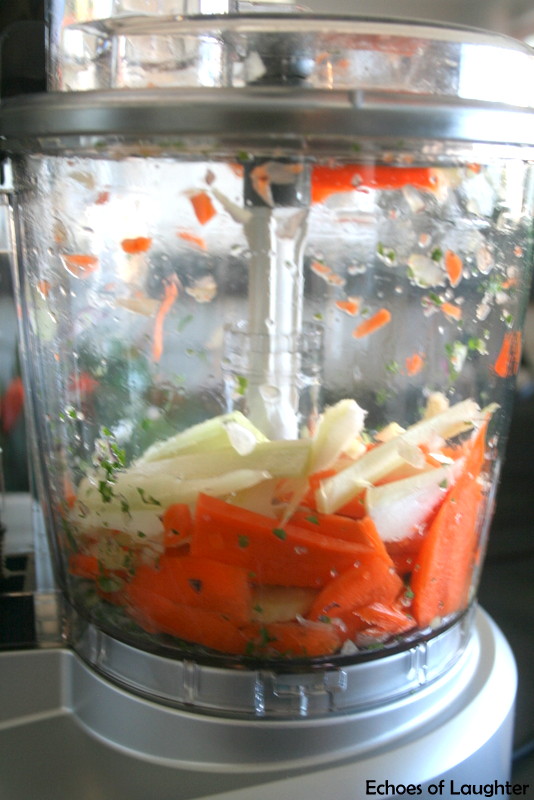 And in under 5 minutes, I had this beautiful and colourful crunchy salad ready to serve!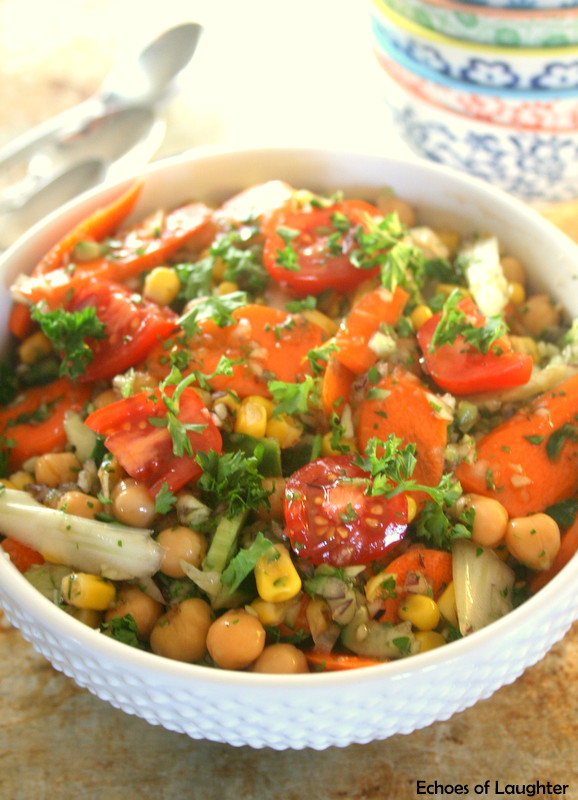 Chopped Salad
2015-11-23 03:41:16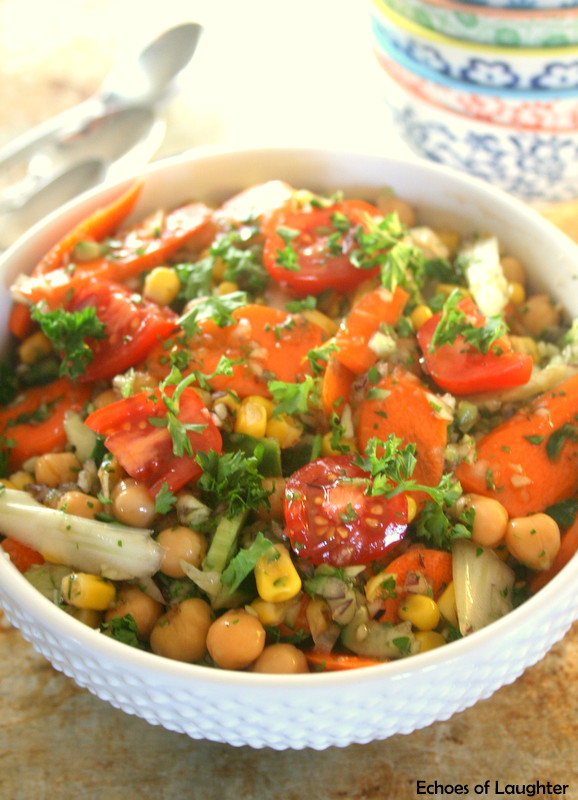 This delicious, garden fresh salad is always a bit hit-even among non-salad eaters!
Nutrition Facts
Amount Per Serving
* Percent Daily Values are based on a 2,000 calorie diet. Your Daily Values may be higher or lower depending on your calorie needs.
Ingredients
1/4 large red onion, peeled and cut into 1 inch slices
1/4 cup parsley, stems discarded
1/2 medium cucumber, seeded and cut into 1 inch pieces
1 celery stalk, trimmed and cut to fit feed tube
1 medium carrot, peeled and cut to fit feed tube
1 pint of grape tomatoes, halved
1/2 cup corn, fresh or froze
1 cup canned chick peas, drained and rinsed
1/2 teaspoon kosher salt
1/4 teaspoon freshly ground pepper
21/2 tablespoons basic vinaigrette
Instructions
1. Insert the chopping blade into the work bowl of the food processor. Add the onion and parsley; pulse to chop. About 5 pulses.
2. Add the cucumber to the work bowl and pulse to roughly chop, 5 pulses. Add onion, parsley and cucumber to mixing bowl.
3. Remove the chopping blade and insert the slicing disc. Fit the carrot and celery together in the feed tube and slice. Add to the bowl along with the chick peas, corn and tomatoes.Toss all ingredients together together with salt, pepper and vinaigrette. Taste and adjust seasoning if necessary. Serve immediately.
Echoes of Laughter https://echoesoflaughter.ca/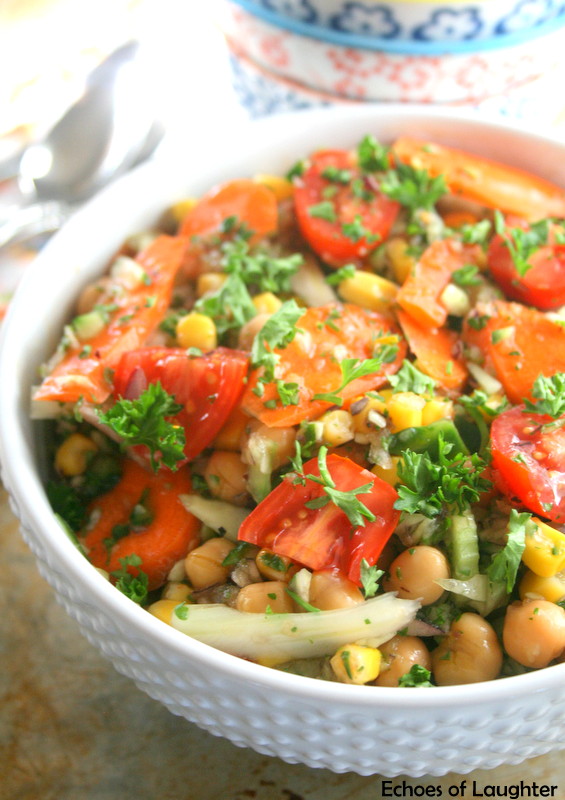 I love tools that make prep work for meals so easy, and I am really looking forward to having the Cuisinart Elite 7 Cup Food Processor in my kitchen during the Christmas season as my handy dandy sidekick to help me prepare foods throughout the holiday season! From salads, to homemade stuffing, cookie dough and pie crusts…it will make my work in the kitchen so much easier!
You can find the Cuisinart 7 Cup Elite Food Processor, along with many other kitchen tools, at Best Buy and BestBuy.ca. Free shipping on orders over $25.
Disclosure: This post was generously sponsored by Best Buy. All opinions are 100% my own opinions and as always, I only work with brands and products that I use and love in my own home.