Hello dear friends! Welcome to this fall harvest home tour! I hope you are enjoying the sunny days, cool nights and crunchy leaves of Fall! I am so happy today to be able to share a peek of our home decorated for Fall. Fall is my most favorite season to decorate for because I love the warm colours of the harvest season, along with adding lots of warmth and coziness to our home. This year, I have teamed up with a whole group of talented bloggers to bring you tours of homes lovingly decorated for Fall!
I love adding just small touches of seasonal decor to most of the main floor of our home.The first room as you enter our home is this little mudroom area. I recently gave it a makeover to add more functional storage. I love this space so much with it's storage unit, rustic mirror and twig deer head. For fall, I added a simple wreath with berries, a bowl filled with pine cones, balls and a small flower as a nod to the season.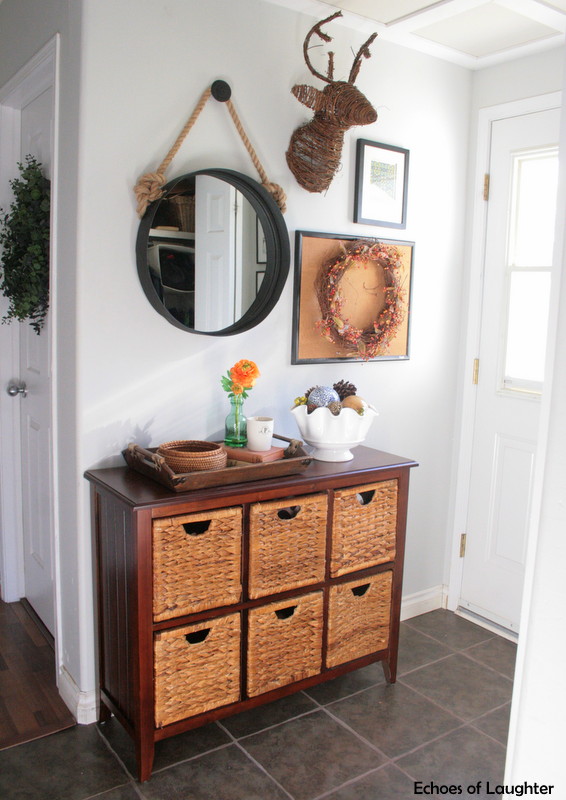 I am a huge fan of thrift shopping, so the berry wreath, brown tray and basket came from a local second hand store.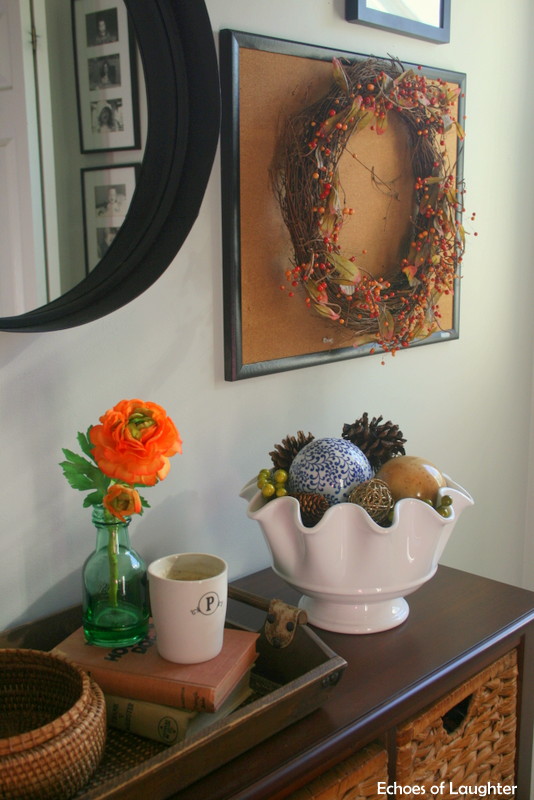 I love antique books in any room. They lend a warmth that is very homey.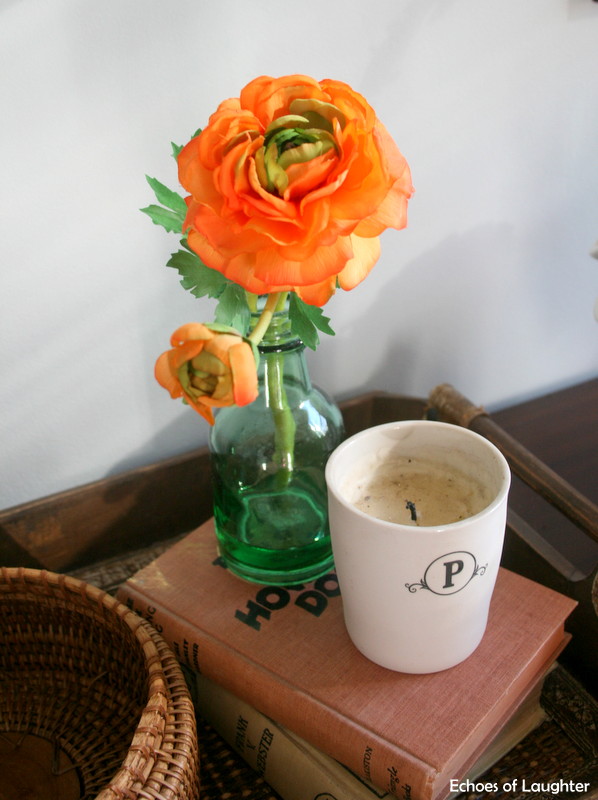 This is our main dining area adjacent to the kitchen. Fall leaves in a vase is the easiest & most-budget friendly harvest decor that anyone can add to their home.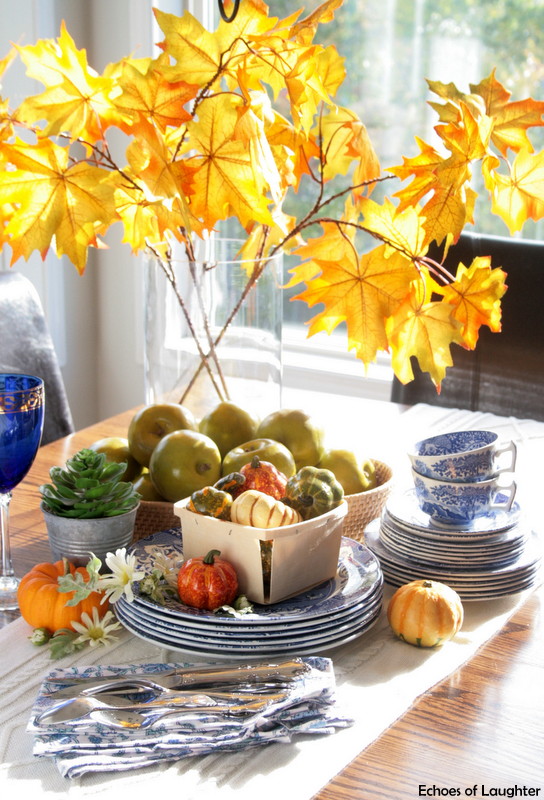 My blue willow china is my favorite china and I have used it for every season.
Last fall I painted our entire main floor a pale gray and I absolutely love the light and airiness it lends to our small home. For fall, I put away the seashells and turquoise decor and replaced it with warm wood accents, fluffy faux fur pillows and warm throws.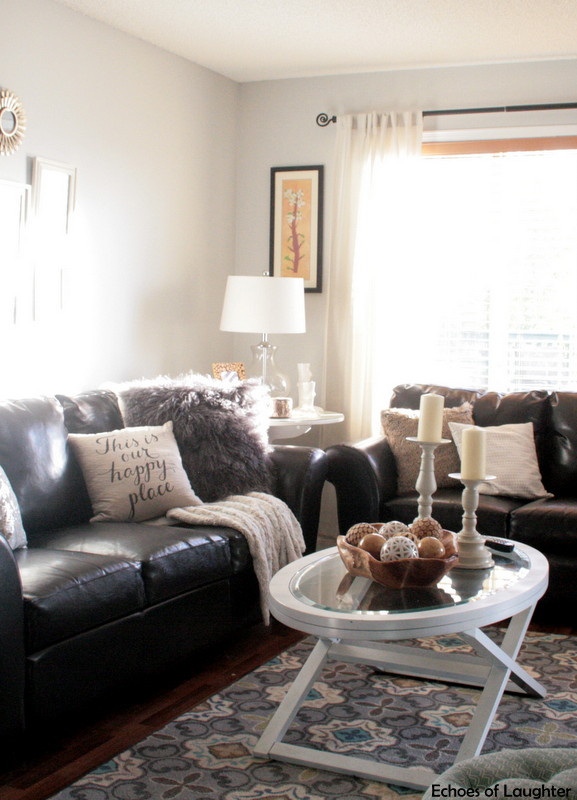 My family loves throws for movie-watching and reading.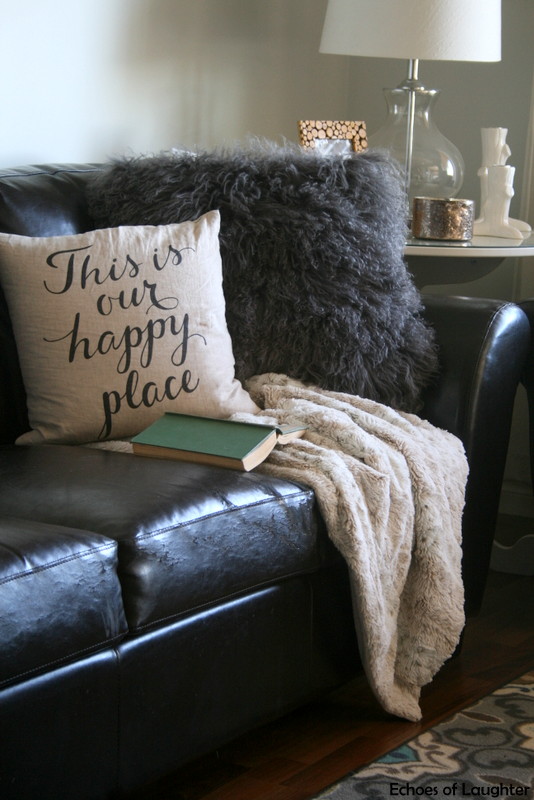 The gorgeous warm wood bowl on the coffee table was also another thrifted find.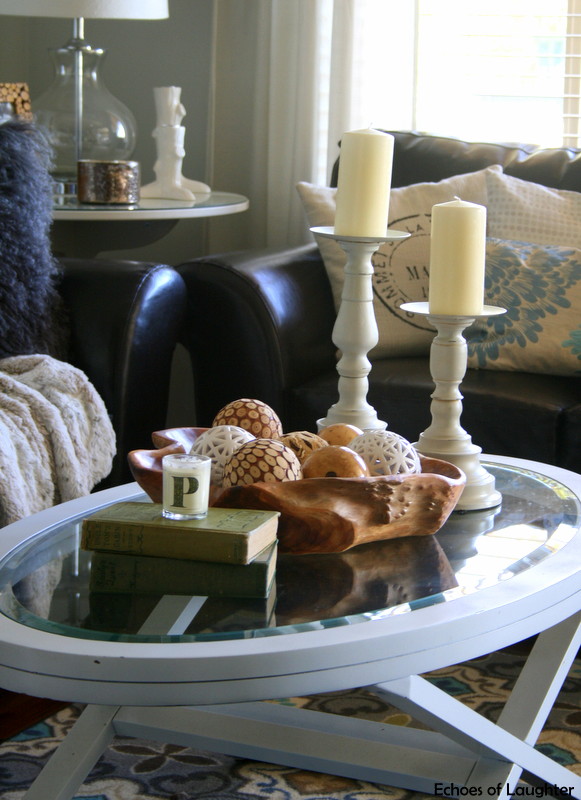 Filled with various textures of balls, it makes a lovely centerpiece for the coffee table.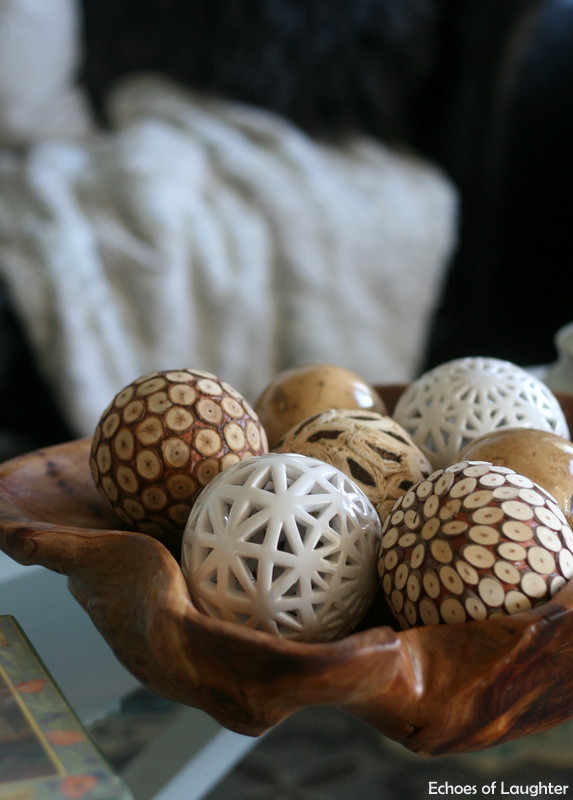 This is where we spend the majority of our time for the winter as this area hugs around a nice gas fireplace which keeps every thing cozy and warm.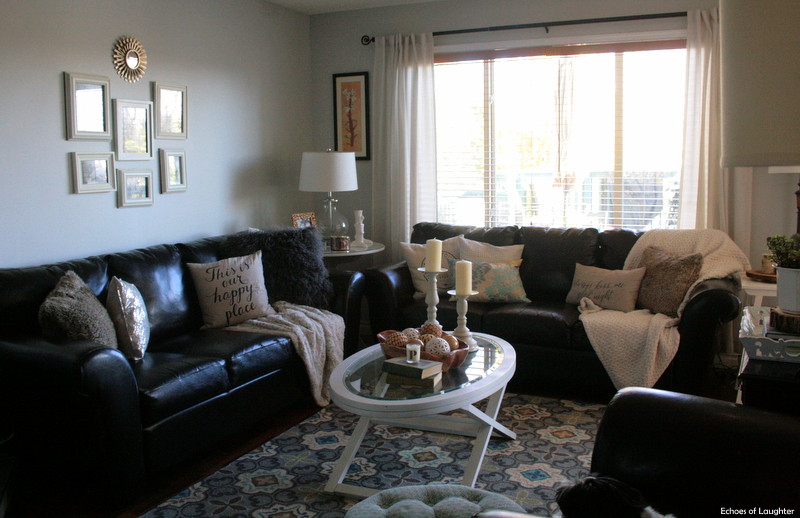 At the other end of our living room is a very small dining area which we like to use when entertaining. I keep this table decorated with a pretty vignette, but when we have guests, it table holds appetizers and drinks.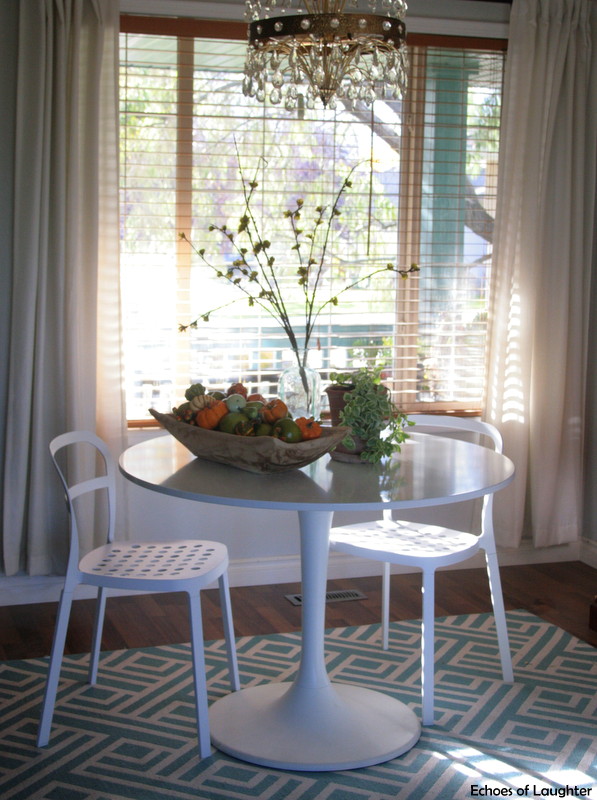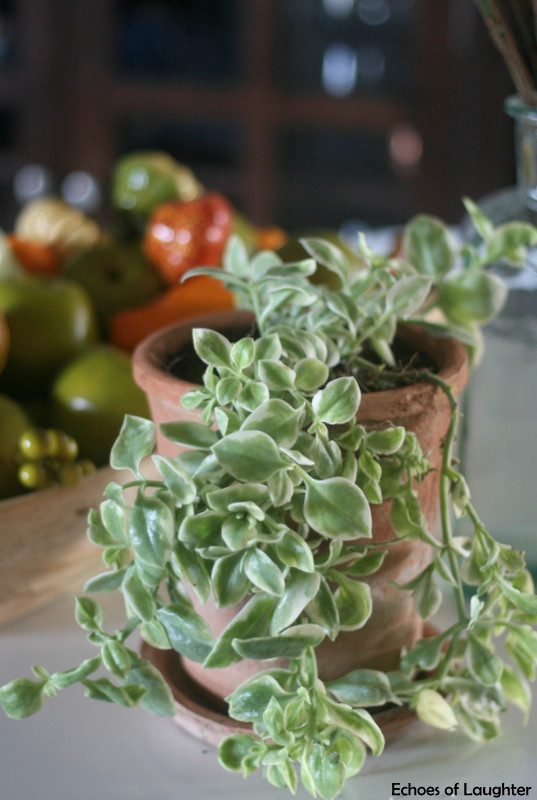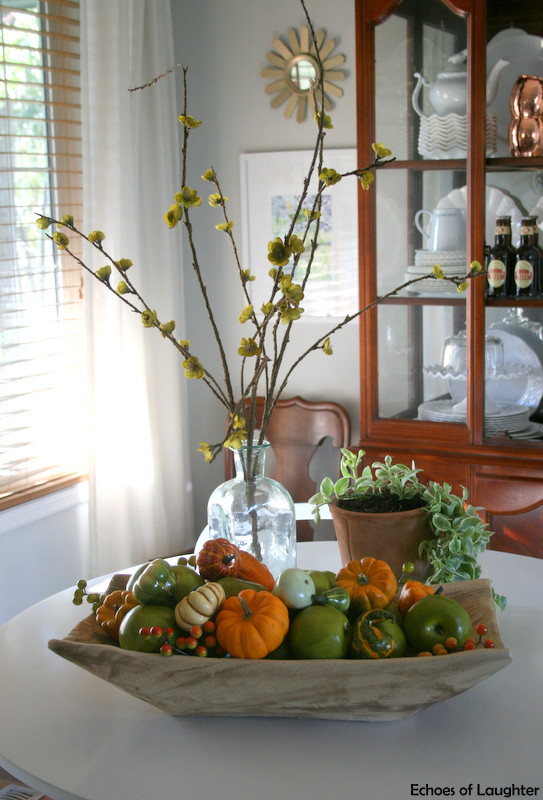 And I also decorated the china cabinet for Fall. This holds much of my china and serving dishes, but for Fall I added some warm copper Moscow mule mugs, pine cones, an antique clock in warm wood, and a few other nods to Fall.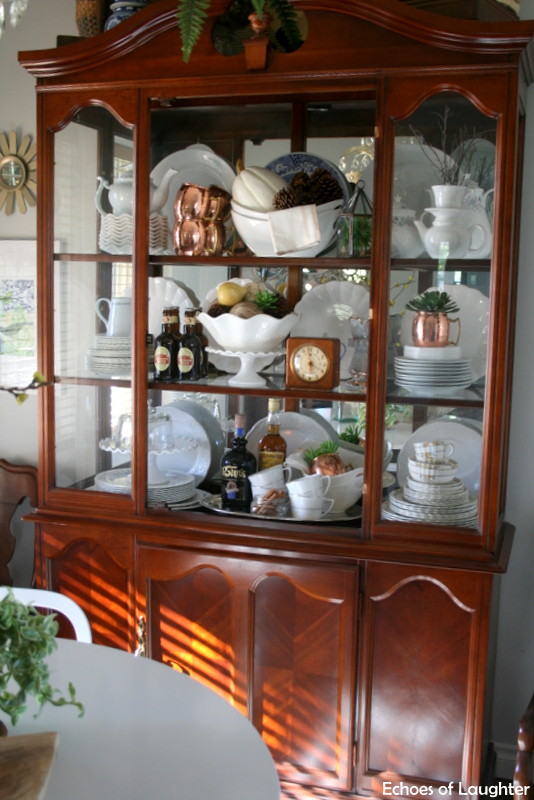 I also set up a little hot toddy area with some butterscotch liqueur, coffee-flavored liqueur and cinnamon sticks. What is Fall without a hot toddy area?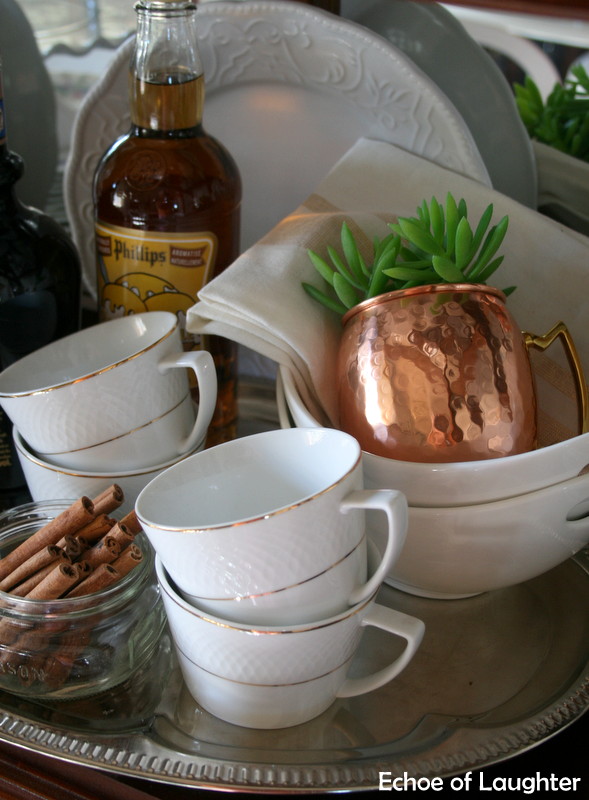 And the amber colour of these ginger beer bottles is such a pretty colour for the season, so I added some inside the cabinet as well. We use ginger beer for making Moscow mules.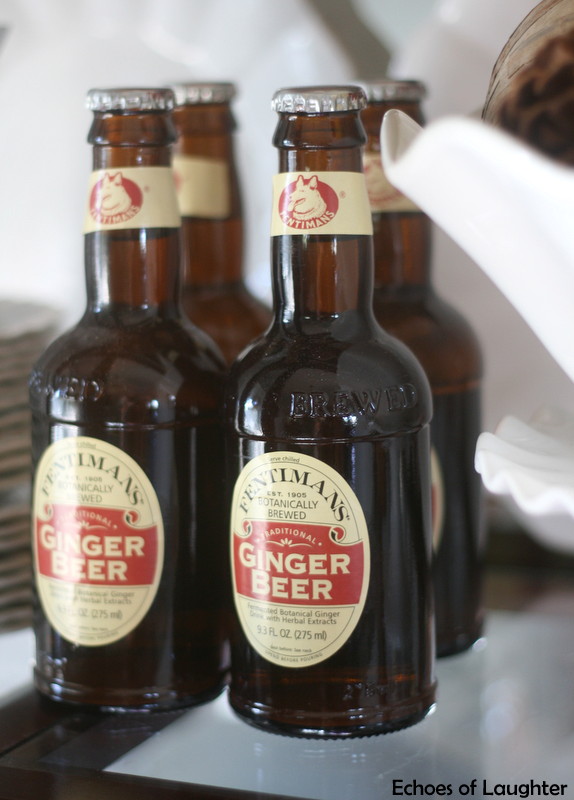 Thank you so much for visiting my Fall home tour! I loved having you visit!
Now it's time to tour our some other Canadian homes for beautiful ideas for Fall. This Monday, Tuesday and Wednesday we're giving you an exclusive tour of our homes with lots of autumn decor inspiration: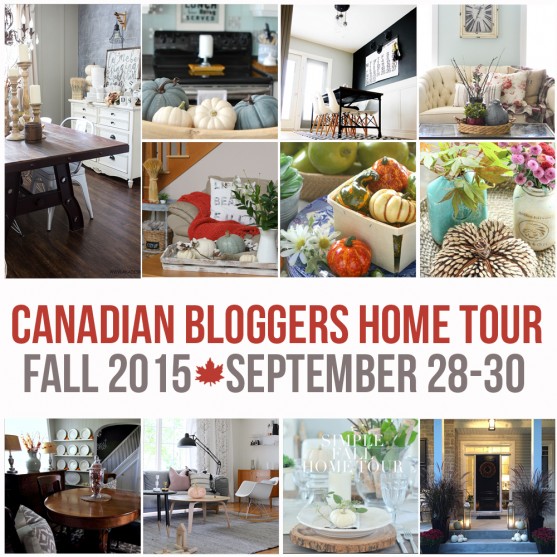 Now tour some other Canadian homes for beautiful ideafor Fall. This Monday, Tuesday and Wednesday we're giving you an exclusive tour of our homes with lots of autumn decor inspiration:
Monday, September 28
Tuesday, September 29
Wednesday, September 30
Here are some of my favorite ideas for Fall: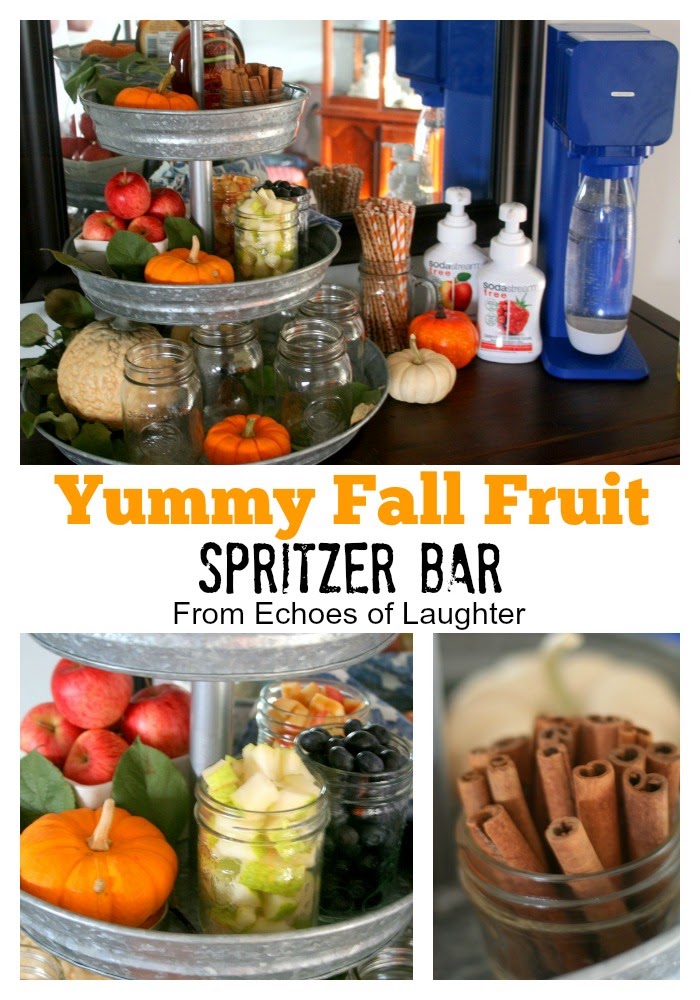 Thanksgiving Table Favours