I was so excited a few weeks ago to learn that I had been selected to a Campbell's Canada Ambassador. I have loved Campbells soup since I was a kid, and my mom used to make a beef and tomato soup casserole that I loved. To this day, Campbells Tomato Soup is my favourite canned soup and I consider it a comfort food to me. So working with Campbell's Canada is a perfect fit for me because not only do I love their products, but as a busy mom, I really appreciate that Campbell's recipes are Simple to Make,Easy to Love. You will find a whole collection of easy family recipes on the CookWithCampbells.ca website and over the next few months, I will be sharing recipes that I have tried and made for my own family.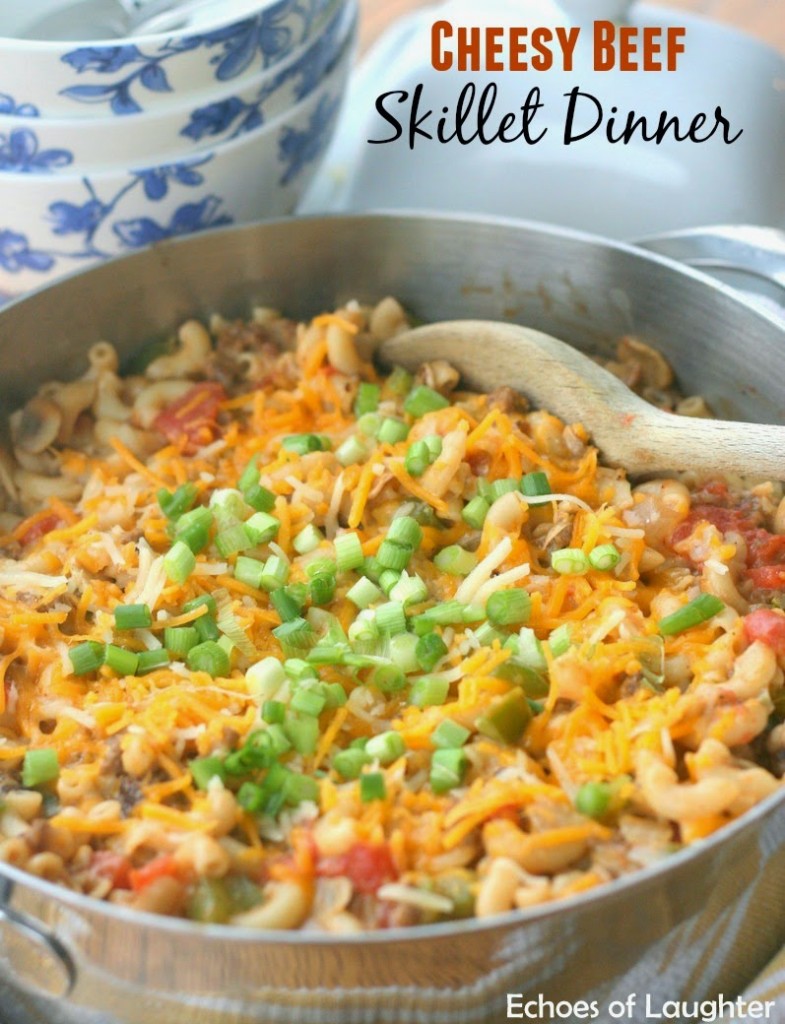 I like to meal plan every Sunday for dinner for the week, and I find that these recipes fit in so well because I almost always have the ingredients on hand. I love that Campbells recipes often call for things that are already in the pantry or freezer.
Easy recipes are a busy mom's meal planning dream!
With cheese and beef, how can you go wrong? It was delicious and fast to make and it was a very satisfying dinner!
This is definitely a recipe that we will be enjoying again!
Cheesy Beef Skillet Dinner
Ingredients
| | |
| --- | --- |
| 1 tbsp (15 mL) | canola oil |
| 1 lb (454 g) | lean ground beef |
| 1 tbsp (15 mL) | steak spice |
| 1 | onion, chopped |
| 1 | green pepper, chopped |
| 2 cups (500 mL) | button mushrooms, sliced |
| 1 can (796 mL) | tomatoes, diced |
| 1 can (284 mL) | CAMPBELL'S® Low Fat Cream of Mushroom Soup |
| 1 tbsp (15 mL) | Dijon mustard |
| 2 cups (500 mL) | macaroni, cooked to al dente and drained |
| 3 cups (750 mL) | aged Cheddar cheese, shredded and divided |
| 1/4 cup (60 mL) | green onion, chopped |
Directions
1. Heat oil in a large, nonstick skillet set over medium-high heat. Crumble in ground beef; season with steak spice. Cook, breaking up into small pieces, for 5 to 7 minutes or until browned. Add onion, green pepper and mushrooms. Cook, stirring occasionally, for 5 to 7 minutes or until vegetables are tender-crisp.
2. Stir in tomatoes, soup and mustard. Reduce heat to medium-low. Simmer for 5 minutes or until slightly thickened. Stir in cooked macaroni and 1 cup (250 mL) cheese until well combined.
3. Sprinkle the top with remaining cheese and green onion. Cover and remove from heat. Let stand for 5 minutes or until cheese is melted.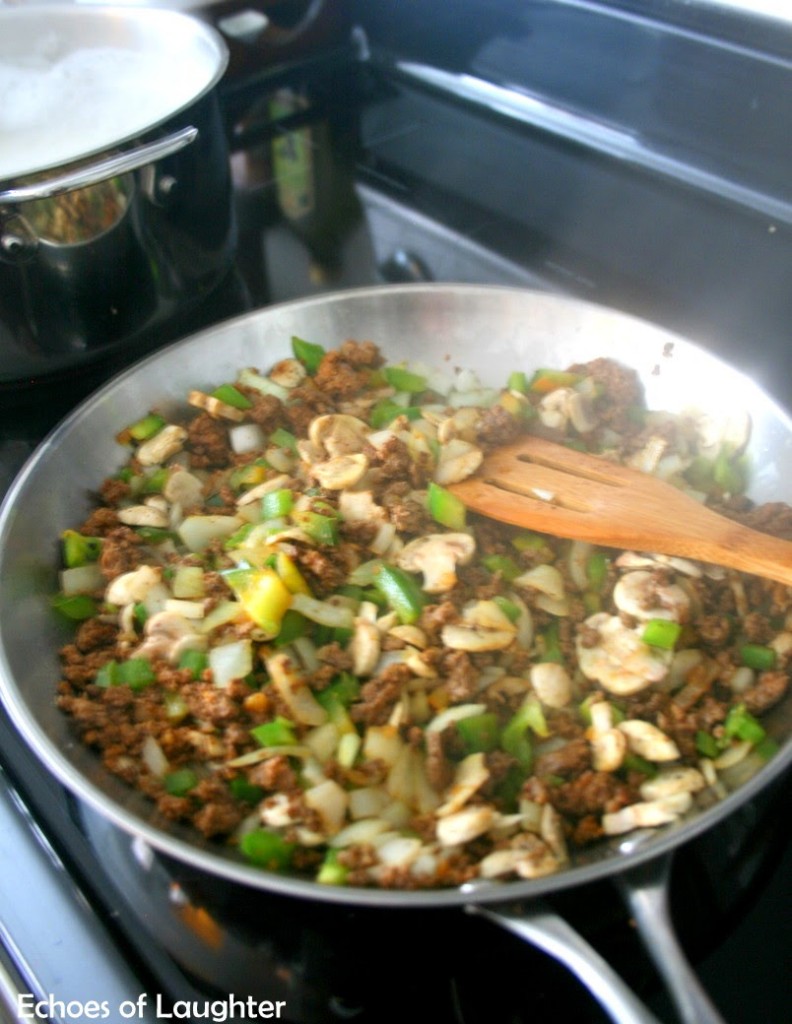 One of the things that we loved about this dish was it's creamy flavour. It is a great recipe for kids because it is not too spicy.
And with tomatoes, mushrooms, and green pepper, they are lots of added flavours and textures.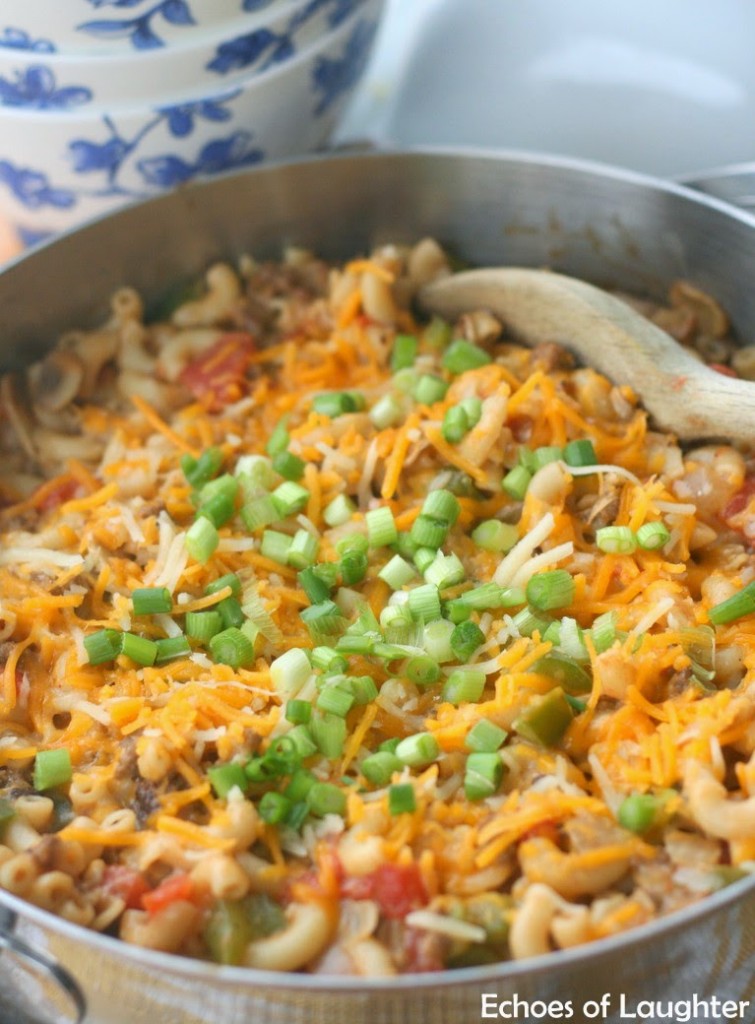 This is a great casserole for a pot-luck or giving to a family as well.
With it's family-friendly ingredients and being Simple To Make, Easy to Love, it is a keeper for sure!
Disclosure: I am part of the Campbell Company of Canada Ambassador program with Mom Central Canada and I receive special perks as part of my affiliation with this group. The opinions on this blog are mine.

This post is linked to:
Monday Funday,