With 2 kids and 2 dogs in this house, my floors often look frightful. So when the folks at Hoover contacted me and asked if I would like to try out their Hoover® Floormate Deluxe Hard Floor Cleaner, I jumped at the chance because when it comes to cleaning, I need all the help I can get. And floors are my nemesis. Seriously…they can be clean one minute, then full of footprints and dog prints the next.
The Hoover® Floormate Deluxe promises to make cleaning your hard floors easy. So I put it to the test with my laminate floors. The first thing I noticed when I took it out of the box was how light it was. I remember the days when my grandmother had a big heavy machine to wax her floors, so this floor cleaner, at around 14 pounds, is certainly small & light and easy to use, even for a short person like me.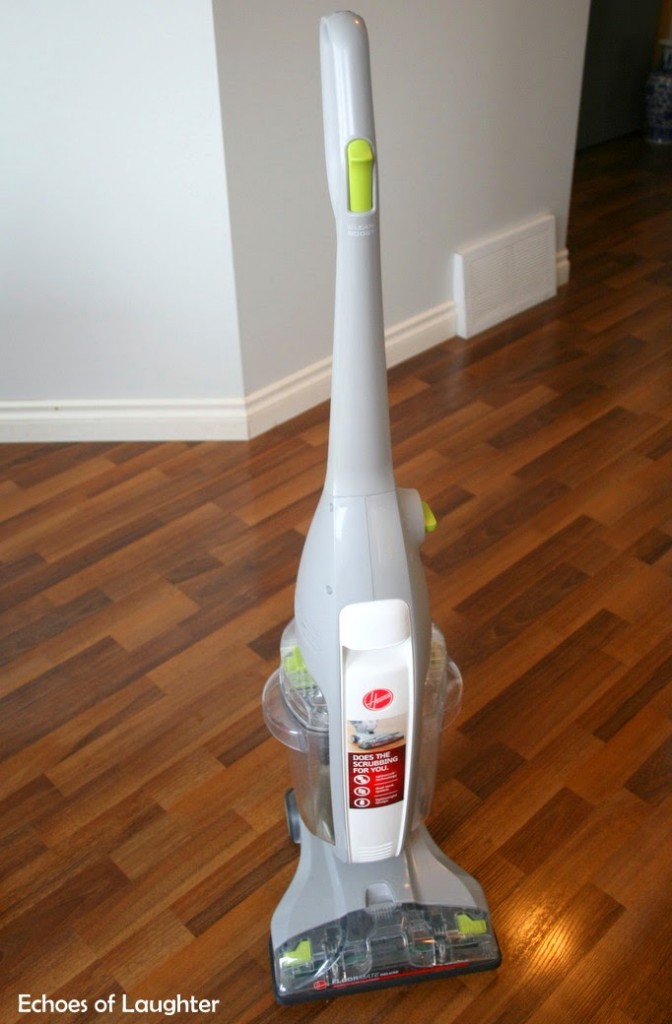 And here is the way my floors look on a day when it's wet outside and my dogs have been outside. After a wet day, my floors are in desparate need of a good cleaning.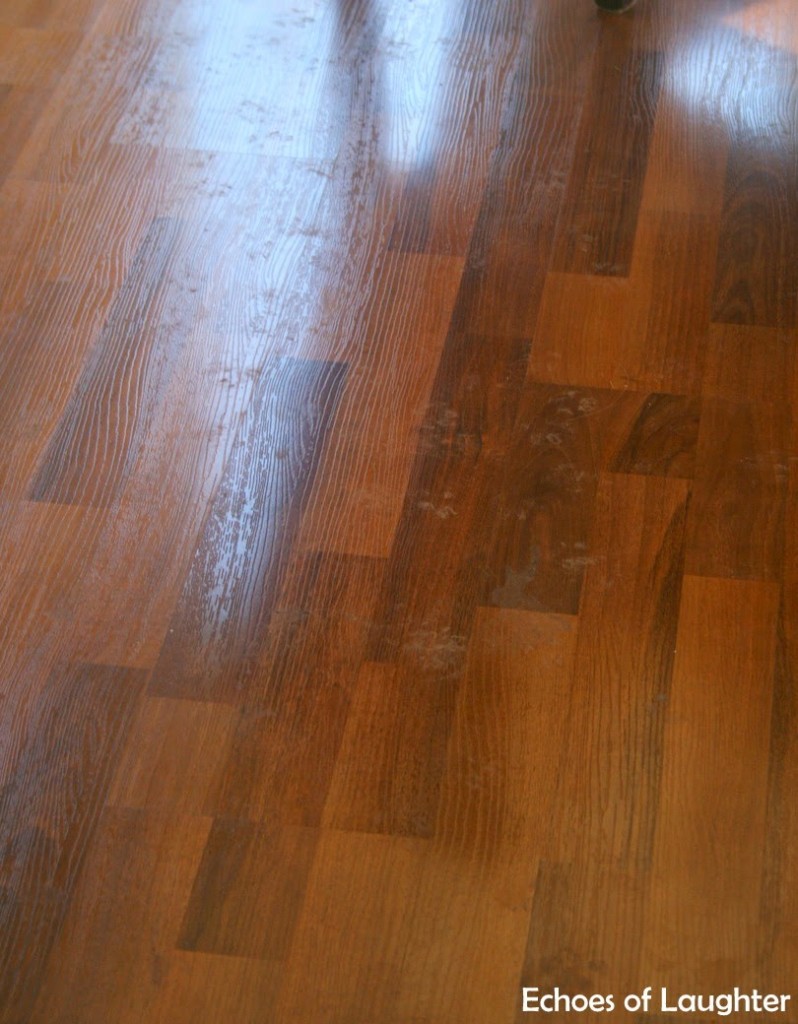 So after I read the manual, I set up my floormate to get to work. The first thing I did was fill the clean water tank with water and then I added a small capful of the cleaner that came with it. The tank holds 1.5 quarts of water, which is enough clean water to quite a large area of floor.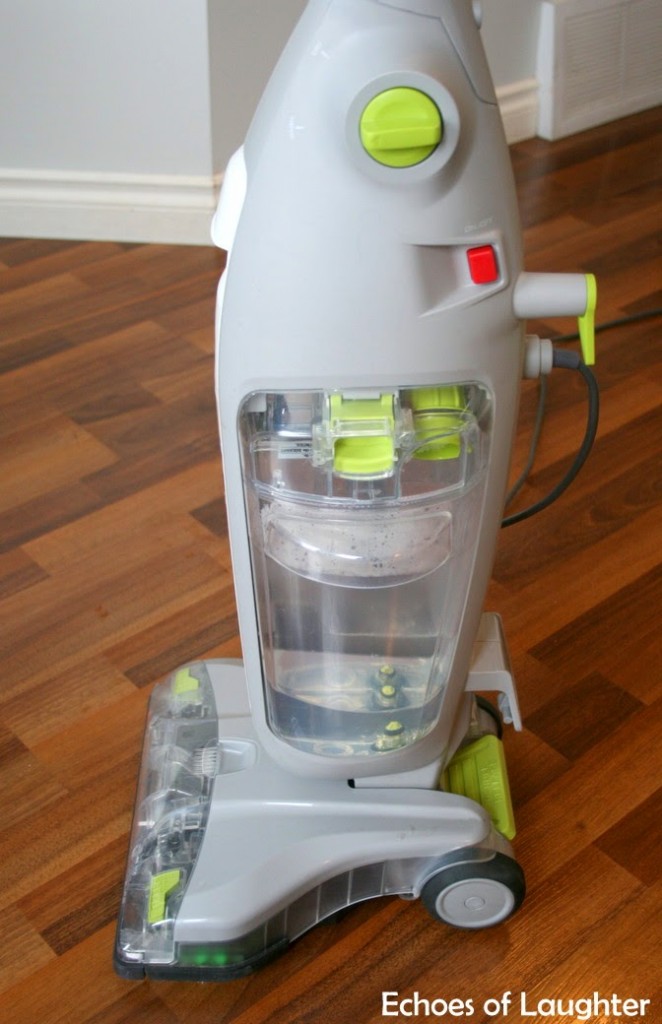 All I had to do was press and release to remove the tank.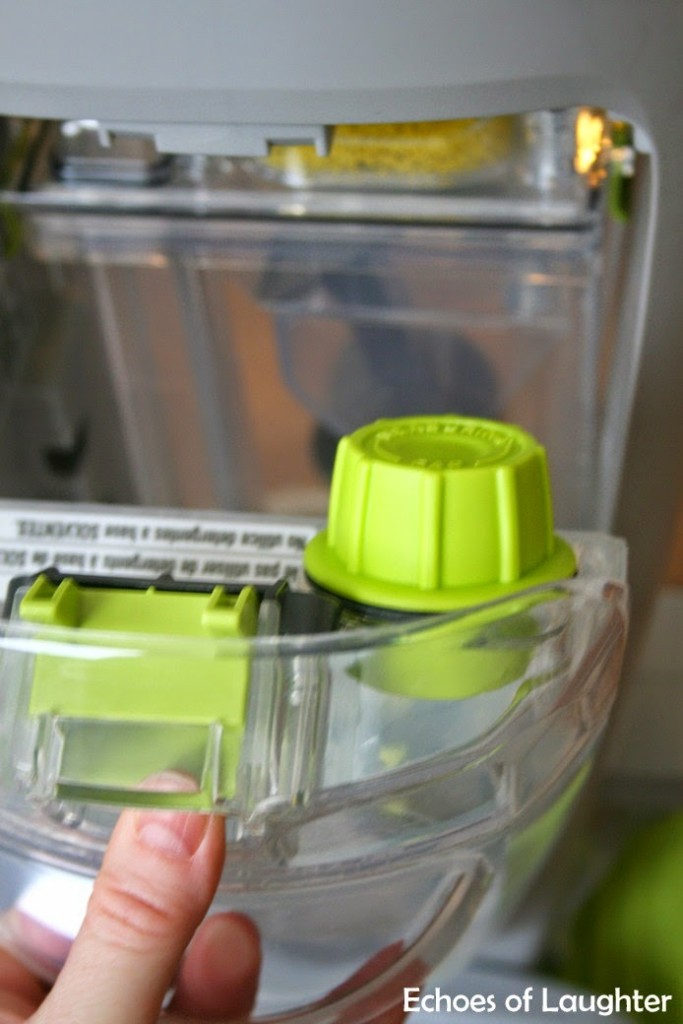 And then I took the tank to the sink and removed the cap to till it with water to the fill line.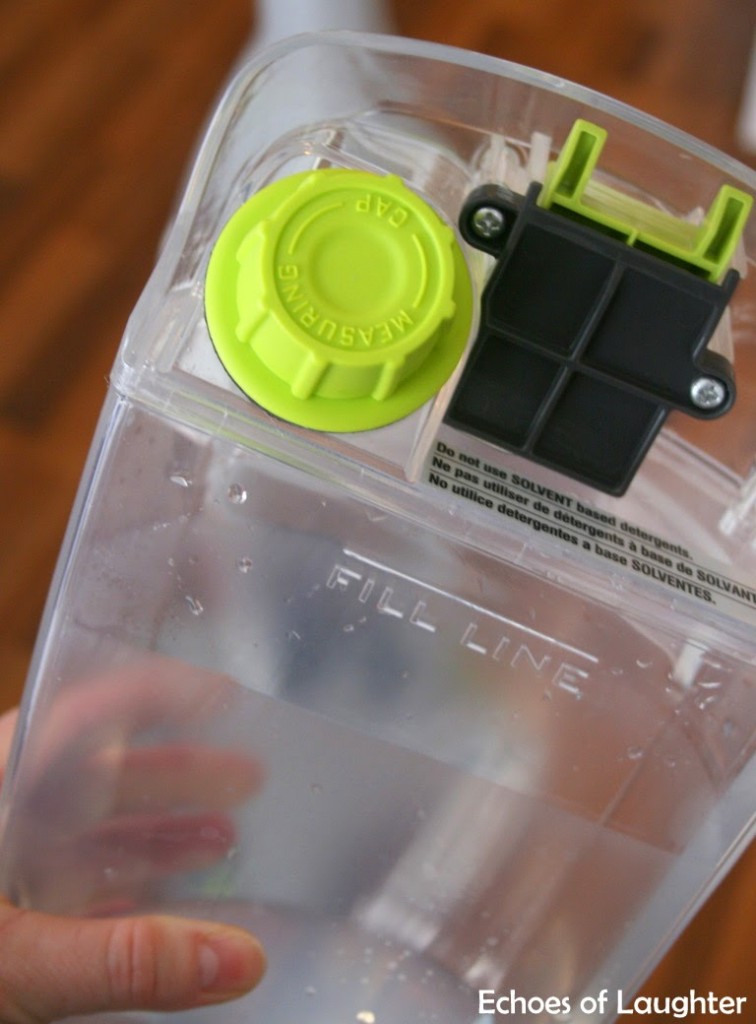 And then I set about cleaning the floors with the Hoover's Multi-purpose SpinScrub technology exclusive to Hoover® with patented counter-rotating brushes gently wash and scrub hard floors from all angles. These brushes deliver a gentle cleaning spin which is suitable for sealed wood, vinyl , tile and grout. I used the floor cleaner by moving it just like a vacuum cleaner in back and forth movements. There is both a wash and dry mode so that water is released on the floors while they are being scrubbed, and then the dry mode sucks up the water to leave floors clean and dry. I used it on both my laminate and tile floors to clean and just look at the dirty water tank after I was finished. I was shocked to see just how dirty the water was….which was proof that my floors needed a thorough cleaning.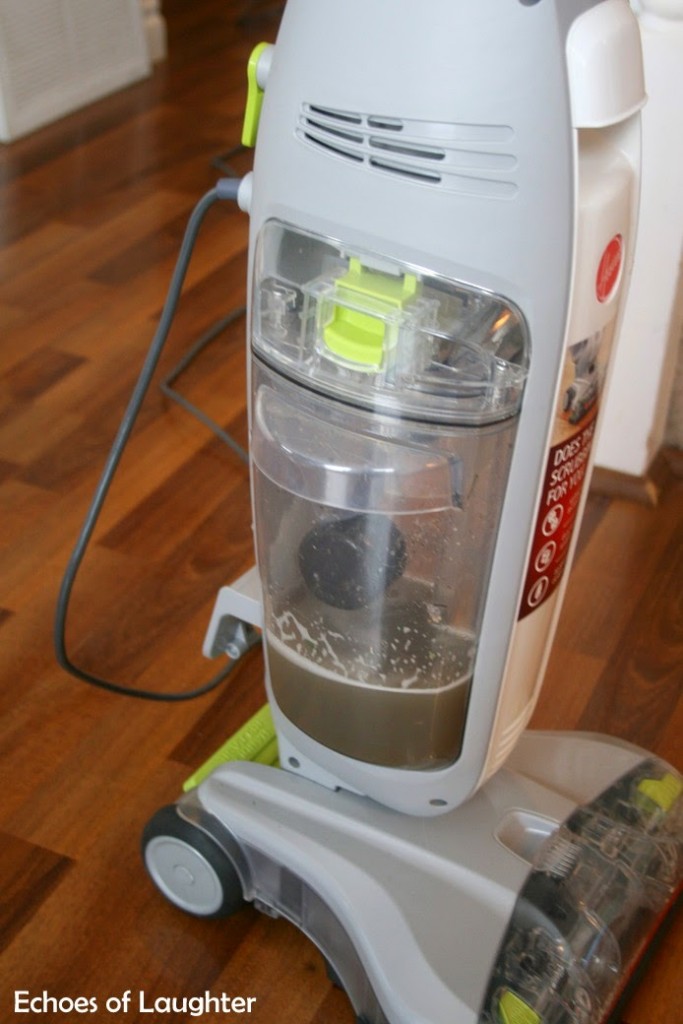 In a short amount of time, I had sparkling clean floors. Just look at how clean they look. The dirt and muddy footprints are gone.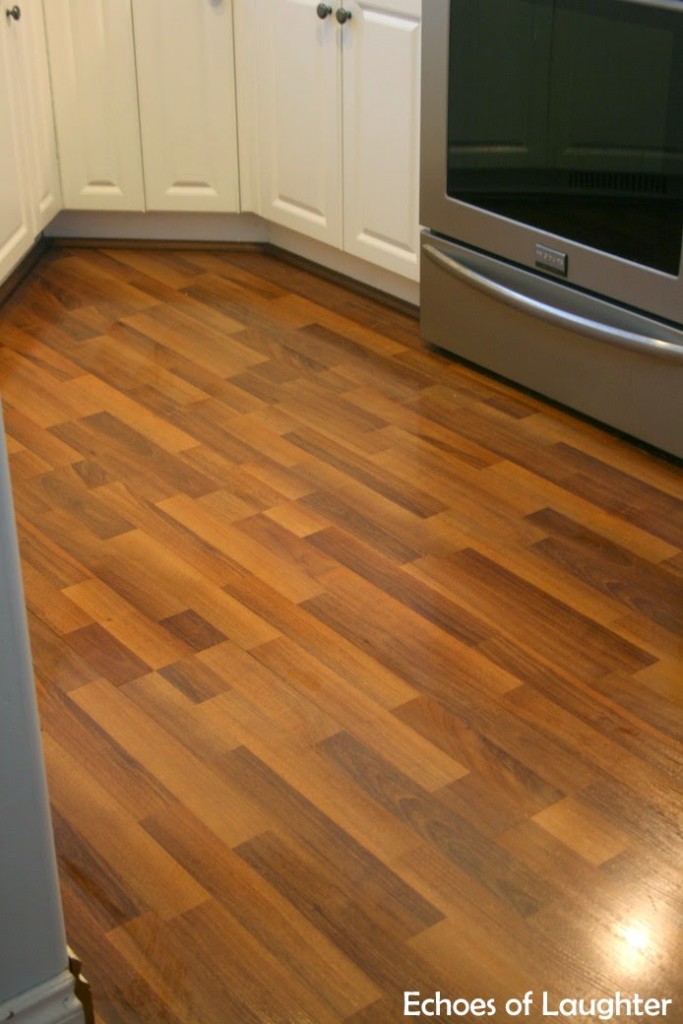 Let's have a look at the before and after again , shall we?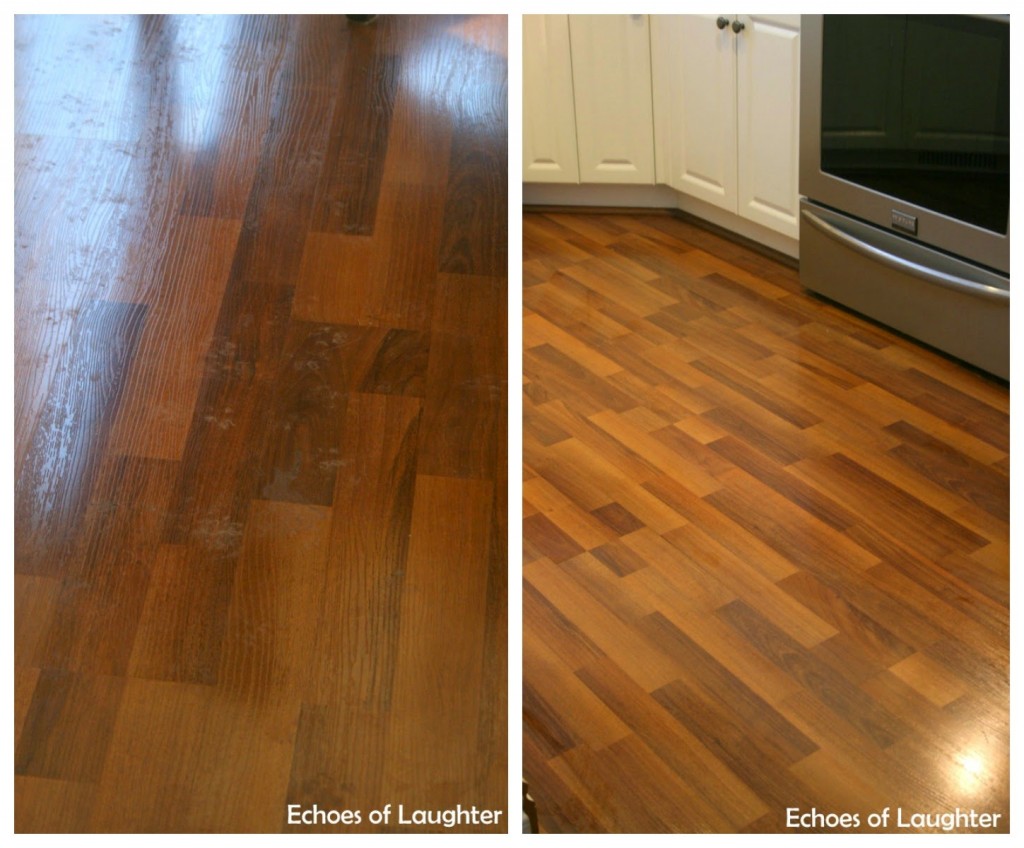 I loved how easy it was to clean my floors with the Hoover Floormate Deluxe. It made cleaning my floors a breeze with little effort other than moving the machine back and forth and pressing a button to change from wash to dry. As a busy mom with a million things to do every day, having this floor cleaner to help with my floors makes my life so much easier. And having a clean floors makes me very happy and less stressed, which is a great feeling to have!
Disclosure: I was provided with a Hoover Floormate Deluxe for purposes of review. All opinions are 100% mine.