It's February and that brings a lot of winter activities for those of us who have snow at this time of year! A lot of small communities and cities play host to various winter and skating carnivals during this month…in addition to whatever outdoor fun your family enjoys such as skiing,skating or tobogganing. Years ago, when my daughter first started skating as a little 4 year old, there was one parent who brought a hot chocolate basket to the rink for all of us to enjoy. I so appreciated that warm cup of hot chocolate. Since it's right in the middle of the time for the best winter fun, I created this basket of hot chocolate yummy-ness that can be taken anywhere!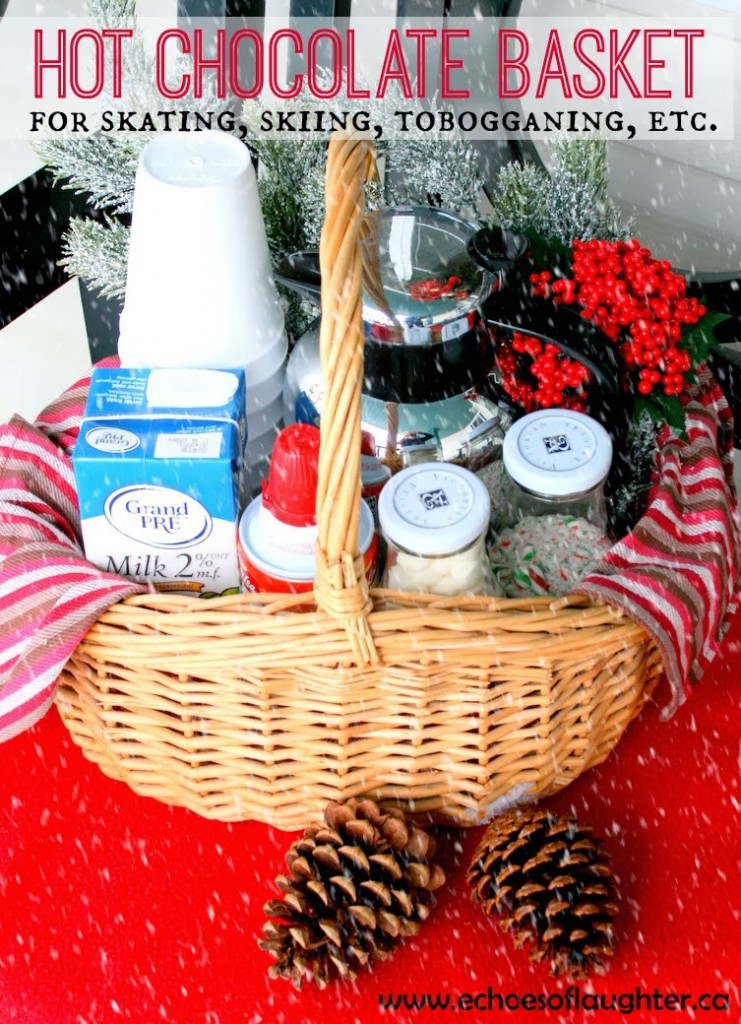 This basket is so simple and easy to throw together. Just use a large size basket and add these things:
– a thermal carafe for hot chocolate
-Styrofoam cups or reusable to-go cups
-marshmallows
-crushed peppermint or candy canes
–Shelf Safe Milk
-whipped cream in a can
-napkins
And here are a few tips too. Fill the carafe with your favourite hot chocolate just before you leave home. It can also be filled with just hot water and different packages of hot chocolate mixes can be offered as well. I also like use to a carton of Shelf Safe Milk for this basket. It tastes great and it doesn't require refrigeration until it's opened. That means I can leave this basket in my car, just adding hot chocolate in a carafe and a can of whipped cream each time we go out. Shelf Milk has all of the same nutrition as conventional refrigerated milk, it's just pasteurized at a higher temperature. And the carton is designed to keep the milk safe from life and air.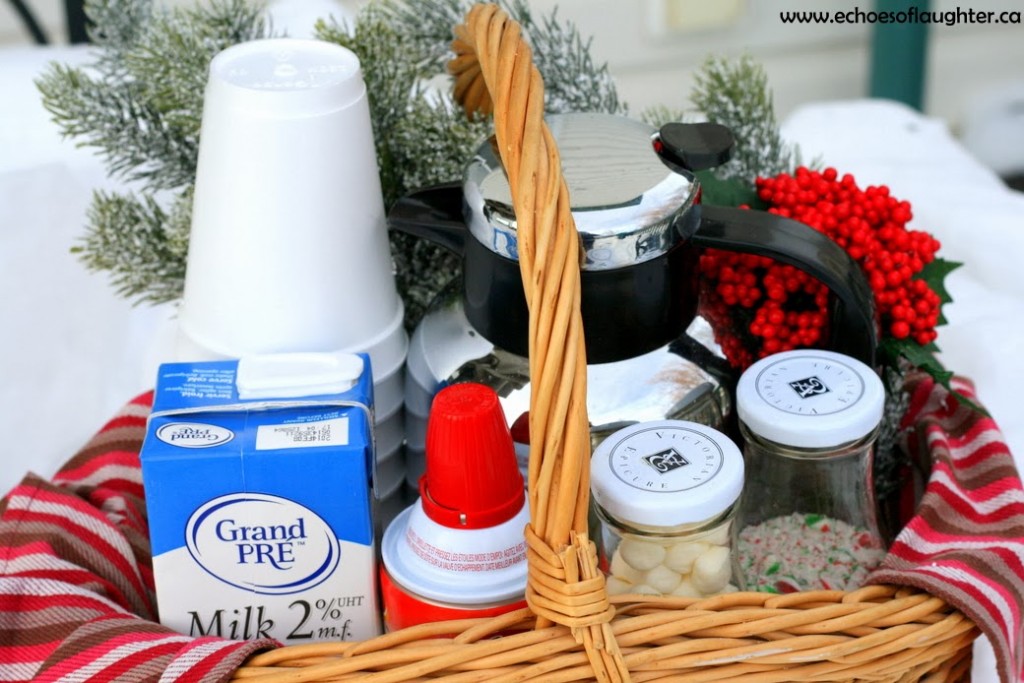 As a busy mom, I always finding having some Shelf Safe Milk on hand is a great help for times when we are out of fresh milk. It's good to know that there is some in the pantry that can not only go into our hot chocolate basket, but also on cereal in the morning or be used to mix up those muffins for school lunches. Having Shelf Safe Milk has saved me more than a few times, and having a carton in our on-the-go hot chocolate basket is just the perfect ticket.I have also purchased cartons of Shelf Safe Milk to donate to the food bank because I just cannot imagine having children and not being able to buy them milk.