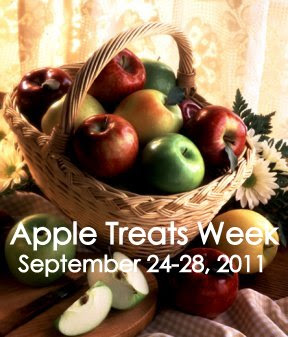 I have declared next week 'Apple Treats Week' here at Echoes of Laughter.
I grew up in the Annapolis Valley of Nova Scotia, which is famous for it's apple orchards & high tides.
Apple picking is a regular part of our fall activities…and in the kitchen apple smells are plentiful…whether it be applesauce or pies.
So next week, I will share with you some of my very favourite apple recipes.
All of them will be fairly easy recipes with regular baking ingredients.
They will be perfect for sharing with a cup of tea…or packing in a lunchbox!
And I will be using fresh apples from the lonely little tree I have here in my own backyard.