Sloppy Joes.
I loved this meal as a kid. I never knew whether my mom made them from scratch or a package, but they were always so good.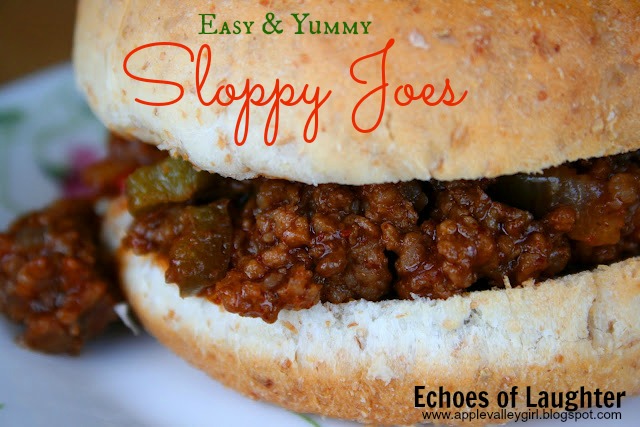 I haven't made sloppy joes for my family much over the years. Maybe a handful of times.
But then I stumbled on a recipe for homemade sloppy joes. This recipe was just the right punch of spicy, but not too spicy, and very,very tasty. The 'joes' disappeared in no time and everyone had happy tummies.
Here is the recipe that I used…I think it came from "Taste of Home" magazine a few years ago.
Sloppy Joes
1 pound ground beef or 1 bag of frozen Big Batch Beef.
1 cup finely chopped onion
½ green pepper, finely chopped
½ red pepper, finely chopped
¼ cup finely chopped celery
½ cup ketchup
1 tablespoon vinegar
2 teaspoons chili powder
1 ½ teaspoons Worcestershire sauce
1 teaspoon sugar
1 teaspoon salt
Hamburger buns
Directions:
1. In large skillet, cook beef, onion, red pepper, green pepper and celery over medium heat until meat is no longer pink and vegetables are tender crisp. Drain fat. OR Start with 1 bag of Big Batch Beef and dump into frying pan on medium heat. Stir with a wooden spoon until thoroughly heated.
2. In small bowl, combine the ketchup, vinegar, chili powder, Worcestershire sauce, sugar & salt. Stir into beef mixture. Simmer, uncovered, for 10 minutes, stirring occasionally. Serve on buns.
Suggested sides: sweet potato fries and a salad or veggie tray.
Sometimes a simple, easy meal will do just fine! I love this meal for both cold winter days and hot summer days….it seems to work with both!