My 'jewellery mess' was a project that I tackled on the weekend. I was keeping my earrings in a pretty white bowl, but that led to a lot of digging and digging and digging. I could never seem to find two matching earrings. I would end up dumping the whole white bowl on the bed to find what I was looking for. This was a source of frustration to me because I am just like everyone else in the morning…. in a hurry to get dressed and downstairs to make a lunch or drive a child to school. So I went to the local dollar store to buy two little craft boxes. Now my earrings are sorted. I can easily pick out the lovelies that I want with no dumping involved. I just keep a few pretty pairs in the white bowl and the rest of the pairs stay here. I know that I am not the first person to do this…yet it's a brilliant solution. I don't know why I didn't think of this sooner.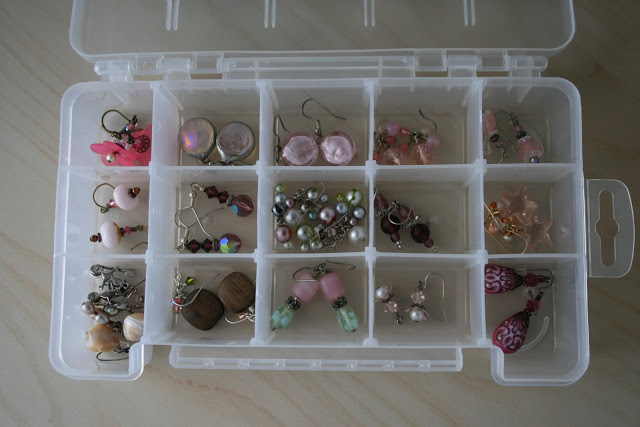 This is a solution I came up with for my necklaces. I bought dollar store adhesive hooks and installed them on the inside of the vanity doors of our ensuite bathroom. I usually put on makeup and jellewery in the ensuite bathroom because it has the best light, so this is where the necklaces should be. A few of my favorite necklaces are hung on a jewellery tree, but the rest are conveniently stored here….accessible but out of sight. This keeps the ensuite bathroom looking clutter free and pretty.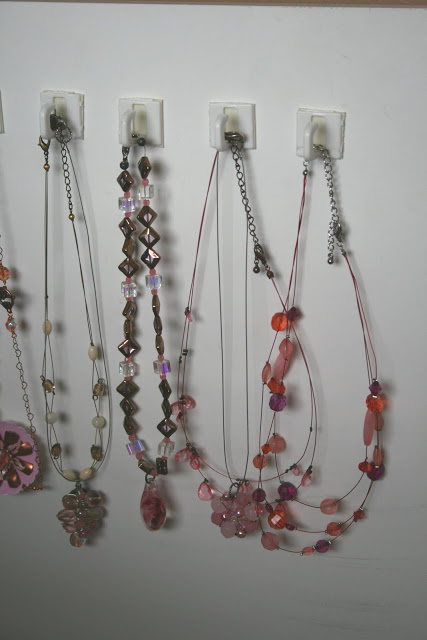 Now I have no excuse for not looking a little gussied up with the jewellery in record time!
This post has been linked to: