preparing for Christmas and December is for enjoying Christmas. I read this amazing piece of advice last year on one of my favorite blogs…Restyled Home. That lovely Linda is chock full of great advice and creative energy!
So far I have finished Christmas shopping for the children. Yes…I said finished. I visited the largest local mall two weeks ago (when it was still October) and hit a home run with my list.
I picked up Santa gifts and stocking stuffers and the whole, darn SHE-bang. What a wonderful feeling! This means I can afford killer-shark traffic, over-full parking lots and slow check out lanes when December comes! Yee-ha!
Over the last month, I have picked up new Christmas wrapping paper, new tags, Christmas cards, and carry-out containers for homemade goodies. Tonight I picked up several rolls of scotch tape for a planned 'wrapping day' next week.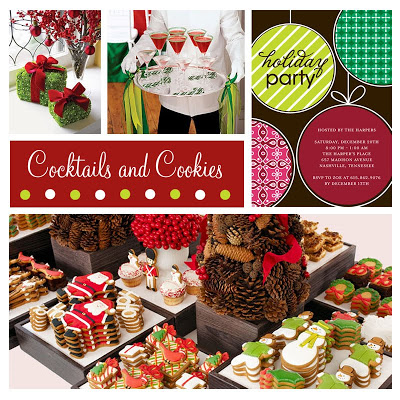 I am also having so much fun visiting some of my favorite blogs to see what ideas for Christmas other people are sharing. I love this photo from "The Party Dress" for an idea of a "Cocktail and Cookies" party. Makes you want to invite all your girlfriends over, doesn't it?