With the release of the upcoming new Star Wars movie just weeks away, Star Wars toys have never been more popular! Both my husband and son love the Star Wars series and like many, are so excited to see the latest installment of this movie franchise! Thinkway Star Wars toys, which can be found at stores across Canada this holiday season, are the most amazing light & action Star Wars toys I have seen in a long time! If you have Star Wars fans to shop for on your list this year, you will want to check out these amazing action toys! They are truly the cat's meow this year! Meow!
The Darth Vader Deluxe Animatronic figure is produced based on digital data from Star Wars: Episode VI Return Of The Jedi. This Dark Lord's highly interactive Lightsaber™ is powered by new dynamic technology. Hold the Lightsaber and wave it for incredible real time interaction with light and stereo battle sound effects! Raise his left arm and watch him come alive with voice and animated actions!
INTERACTIVE TRAINING/BATTLE MODES
Press his chest panel button to activate Battle or Training mode. Wave the Lightsaber for awesome light & stereo battle sound effects! When you are ready to train with the Dark Lord, press his chest panel button then quickly hold his right hand and make different Lightsaber moves. The Lightsaber will illuminate with amazing sound effects! Darth Vader will know how you move the Lightsaber and coach you to join him on the dark side.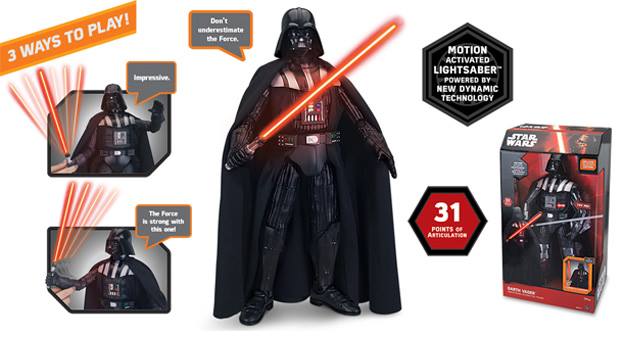 This highly interactive Animatronic Stormtrooper has voice, lights, sound effects and 4 exciting ways to play! Raise your voice and the Stormtrooper will engage in Battle Mode. You may also raise his right arm for Blaster firing action and sound effects with light! Talk to the Stormtrooper and he will respond to your voice! Raise your voice and he will react differently! –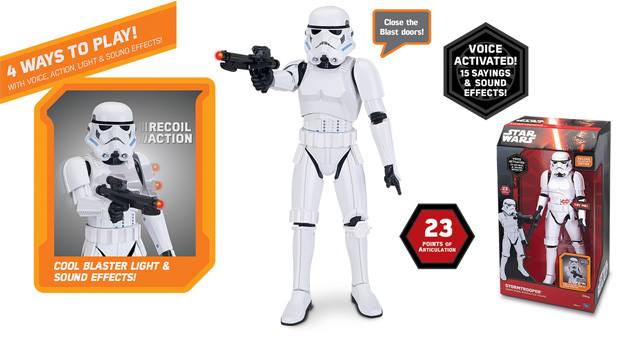 The At-At U-Command with Remote Control is one of the evil Galactic Empire's most destructive vehicles of war, the awesome AT-AT! Send instant or pre-programmed commands to AT-AT via remote control! Use the 10 buttons to program over 1000 action combinations.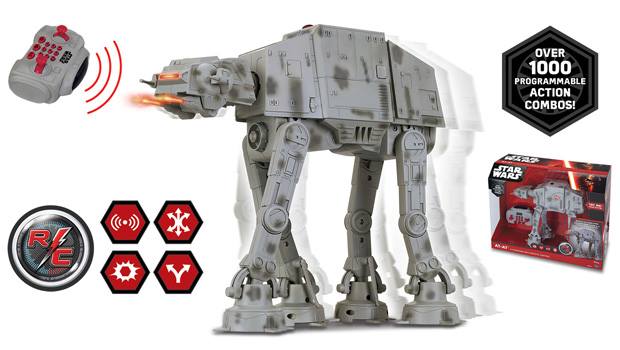 Any fan of Star Wars will be absolutely thrilled to open one of these incredibly beautiful Star Wars Toys by Thinkway this holiday season!