Hello there! Thank you so much for joining me again today as I document Skipping Breakfast Day 2. If you read my blog post yesterday or watched my Skipping Breakfast Day 1 video on Youtube, you know already that I have partnered with Kellogg's Breakfasts for Better Days program this week to help spread awareness about the negative effects of children arriving at school without breakfast and how it affects their day. It's a sad fact that in Canada, 1 in 7 children arrive to school missing breakfast, and this has a profound affect on their education. Please watch the video below as I share what it was like to skip breakfast and how it affected my morning. I am someone who normally eats breakfast every morning, so this challenge is not easy!
As I shared in my video above, according to the second annual Kellogg's Breakfasts For Better Days Survey of Canadian teachers, students who miss breakfast lose an average of 104 minutes of learning time every single day! That is 61 days of learning time that is missed due to hunger. The survey also found that an overwhelming 92 per cent of teachers agree that hungry students participate less frequently; 90 per cent say that those same students are unable to concentrate in the classroom and 78 per cent of Canadian educators assert that they are more legarthic than their peers. More information is available in the info graphic below, but clearly Canadian students have a lot to lose by skipping breakfast, as there is a direct link between missing breakfast and lost education.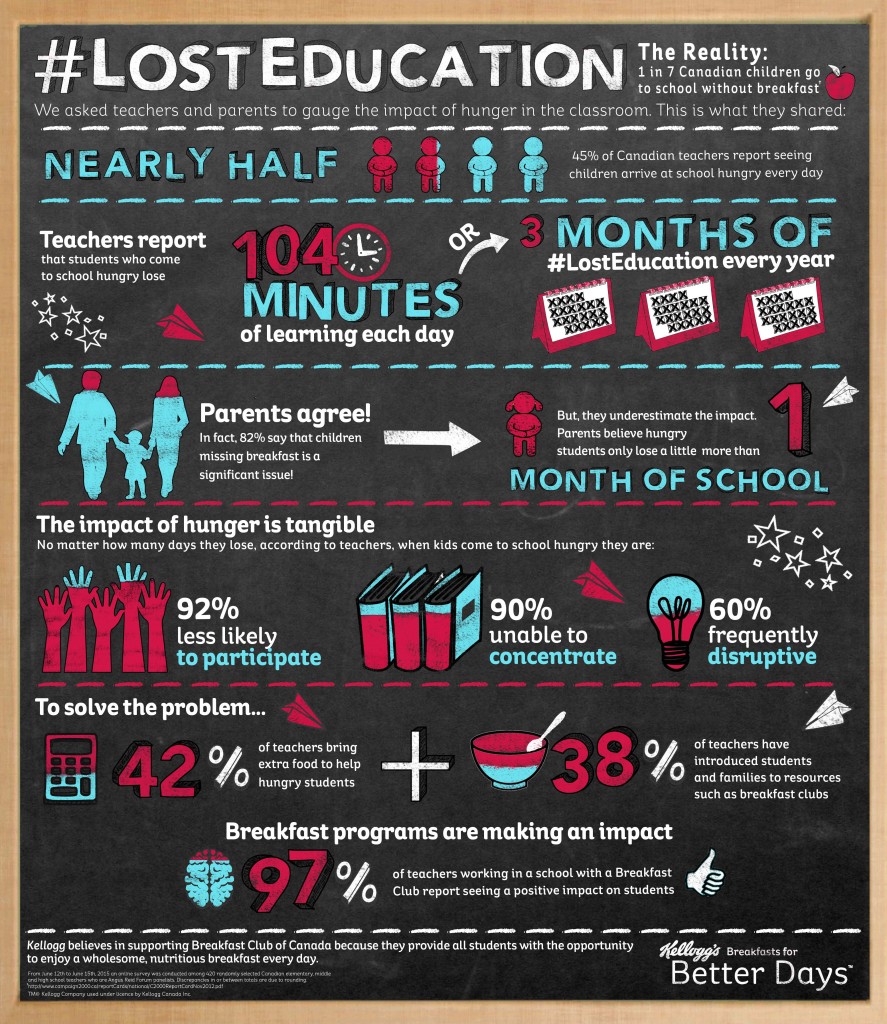 Kellogg's wants to work towards change and they are donating a portion of proceeds from cereal sales, to a maximum of $100,000, to it's breakfast partners across the country.Kellogg's has also made a global commitment to donate one billions servings of cereal and snacks, half of which are breakfasts, to children and families in need by the end of 2016. You can help by simply purchasing a box of cereal to support the Breakfasts for Better Days program.
Please follow the conversation this week about Kellogg's Breakfast For A Better Day by following #LostEducation
Disclosure: This post was sponsored by Kellogg's Canada. All opinion are 100% my own opinions. As always, I only partner with brands that I love and use in my own home.