There is nothing that makes me happier than making a good meal for my family! Home-cooked meals are not only budget-friendly and can help the family's food allowance go far, but are far more healthy than eating out. What I am about to show you is very simple, basic food that is prepared to cover a few meals and it is something that the kids can help with too! I know that there are a ton of posts out there showing how to make meals for the freezer and or crock pot, but my family enjoys those types of meals only once a week and not all the time. And although I like to do my prep for meals on Sundays, it really can be done any day of the week. I am going to share with you a few tips on how to get a few meals ready for the fridge to feed a busy family. This type of meal prep works great for a busy stay-at-home mom with small kids by making dinner time less stressful.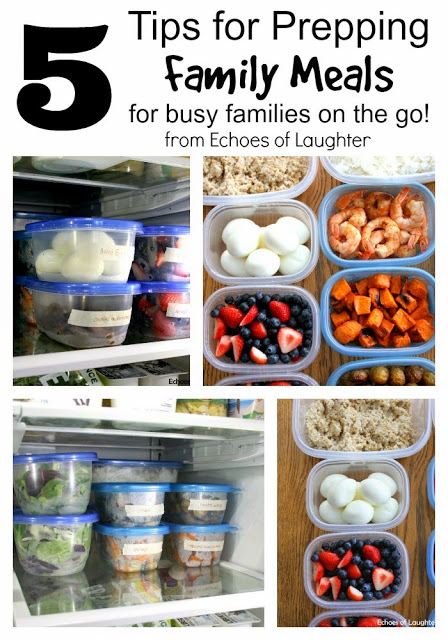 1. PLAN. For the first step, decide on the foods you would like to prep and make a plan. If you want to save some money, start with what you already have in your fridge, pantry or freezer. If you have greens and vegetables in your crisper, make a big salad! Pull some meat out of the freezer to thaw.
See what vegetables you have in the pantry that can be roasted. Fruit to cut up? Get busy!
All of these foods can be stored quickly and easily with GLAD® food storage products that will keep everything fresh until ready to eat.
2. BREAKFAST. I always prepare 2 or 3 breakfast items. This week, I made steel-cut oatmeal, boiled eggs and mixed berries. But you could also make pancakes, waffles, breakfast sandwiches or quiche to have ready in the fridge. Since steel cut oats take some time to cook, it is so much easier to have it pre-cooked in the fridge for busy mornings. It takes hardly any time to heat a bowl of oatmeal in the microwave. Sometimes I double up batches of oatmeal, and throw some in GLAD® Freezerware or Freezer Bags and tuck into the freezer for later. Washing & cutting up fruit makes it much easier to grab for snacking, breakfast or dessert.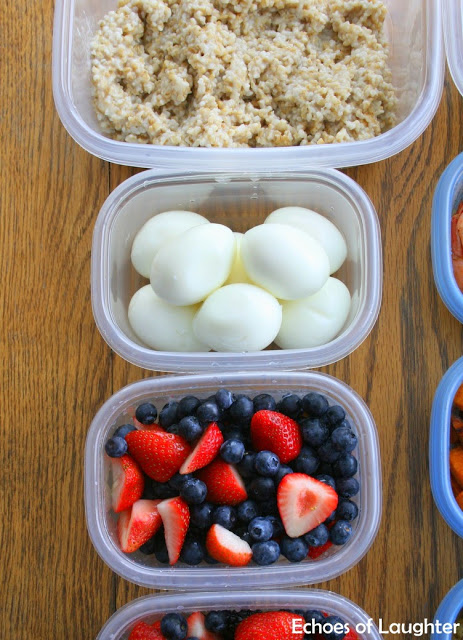 3. MAKE A SALAD. I always make a big salad and I use whatever is in the vegetable crisper so there is less food waste. I don't add tomatoes until just before serving because tomatoes can go soft very fast. A salad already prepared in the fridge can be eaten with meals or packaged for lunches to take to school or work. I make salads for my husband & daughter to take for lunch often and I love these super cool GLAD® Lunch To Go containers with a small container for the salad dressing that snaps right on the lid. Such a brilliant solution for traveling with salads to eat on the go!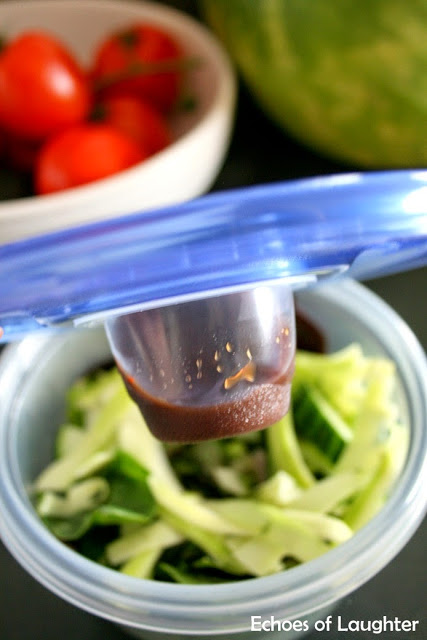 4. PROTEINS & VEGETABLES. For prepping dinners, I usually cook 2 proteins, roast 2 different vegetables and fill our rice cooker with a batch of rice.
This week, I made shrimp & steak for proteins that can be thrown on top of salad or eaten with rice or potatoes and salad for meals.
I also roasted sweet potato and mini new potatoes and sauteed some mushrooms.
This will be enough for 2 or more meals, and then later in the week I will make something in the slow cooker or pull a meal out of the freezer.
With food prepped this way, we can eat meals together as a family or there is the option of healthy food in the fridge in case someone arrives home late or needs to eat early.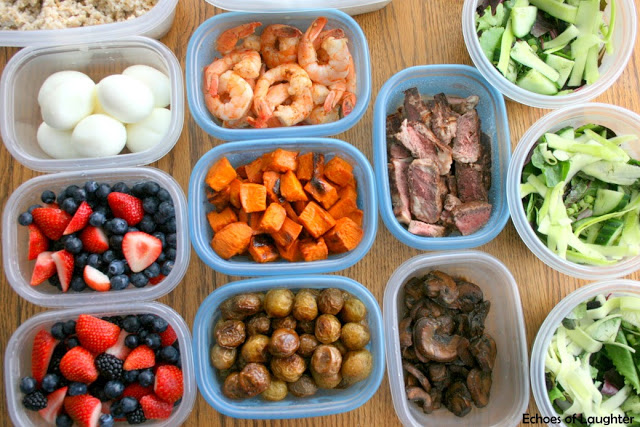 5. To pack all of this food into the fridge, I love and rely on GLAD® containers. They are the perfect size and stack perfectly in the fridge to maximize space. They are lightweight, easy to handle and to wash. They are also leak proof and keep food fresh. I simply use some masking tape and a marker to label the food containers, and it peels off easily when the containers are empty and ready to wash!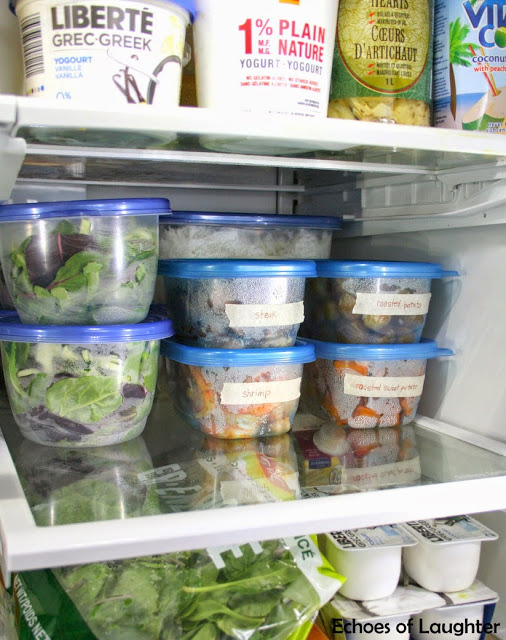 I love GLAD® containers, bags and cling wraps as they are the perfect kitchen helpers for storing and keeping foods fresh. And I can't tell you how happy I am when dinner time arrives and I know that I have fresh, delicious food ready to be heated and served to my family.
GLAD® food storage products makes life so much easier!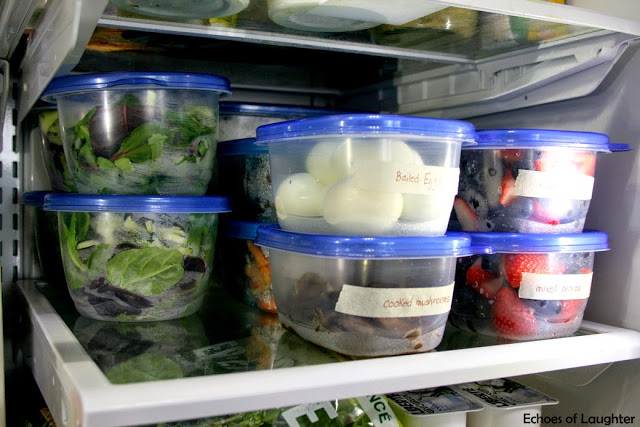 It actually only takes me about an hour to prep food for a few meals and pack it into the fridge
It is something that I really look forward to each Sunday to kick off the week right with healthy food ready to feed my family. And although the food doesn't last all week, it sure does make the beginning of the week much easier.
I wish I had thought of doing this when my children were much younger because it would have saved me a lot of meal time stress with busy & hungry toddlers. I also would have ate so much better when I was in University if I had prepped food like this for the week.
With summer picnic, camping, potluck and barbecue season just around the corner, GLAD® food storage containers are perfect for storing and taking food along on outings and trips as well.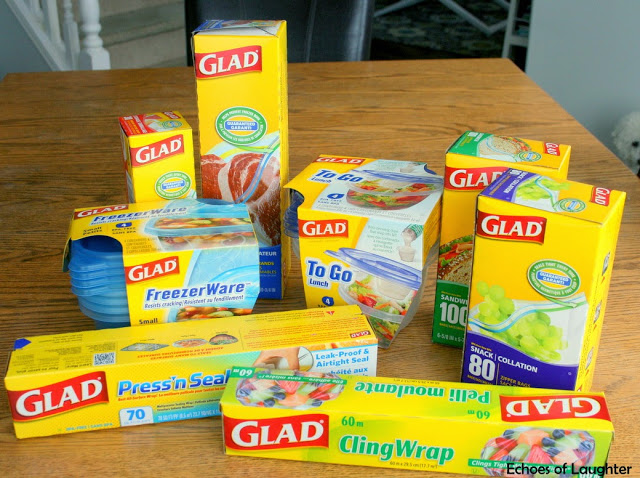 So many fun summer events happen around food, so it is wonderful to have a collection of GLAD® food storage products to keep food fresh and safe for travel.
Investing in GLAD® food storage products is a wise decision for any family as it saves money and promotes healthy eating habits!
And if you don't already prep food ahead of time for your family, I highly recommend it.
Meal planning and prep will rock your world!
Disclosure: This post was sponsored by GLAD®. However, as always, I only with brand/products that I use and love in my own home. All opinions are my honest opinions.