Disclosure: I am participating in the Burbrae Farms campaign managed by SJ Consulting. I received compensation in exchange for my participation in this campaign. The opinions on this blog are my own.
Hello there! I hope you are well and enjoying October so far! We are seeing many mornings now with dew, or dare I say it, frost, on the ground in our neck of the woods, which means that winter will soon be on it`s way. In our home, that means get out the fluffy blankets, slow cooker and bacon and eggs!
We cannot survive cold winters without bacon and eggs….it`s just the rule in our house! Cue all the frying pans and egg dishes…we are ready for them! That`s why when I saw this recipe for
Apple & Bacon French Toast Strata
, I could hardly wait to make it for the hungry bunch at my house!
But before I get to this recipe, I have a piece of happy news to share with you….I am excited to share that I am an Ambassador for
Burnbrae Farms
for the next 12 months! You may recall that I visited
Burnbrae Farms in June
and learned so much about this amazing family-owned business that started from humble beginnings and has grown to be Canada`s largest egg producer.
So I am very honoured to be working with and representing this company here in my blog space where I will get to share nutritional news and yummy recipes with you each month!
I will also be working with two other Burnbrae Farms Ambassadors as well…
Stephanie from Spaceships and Laserbeams
and
Morgan at Wildly Fit
.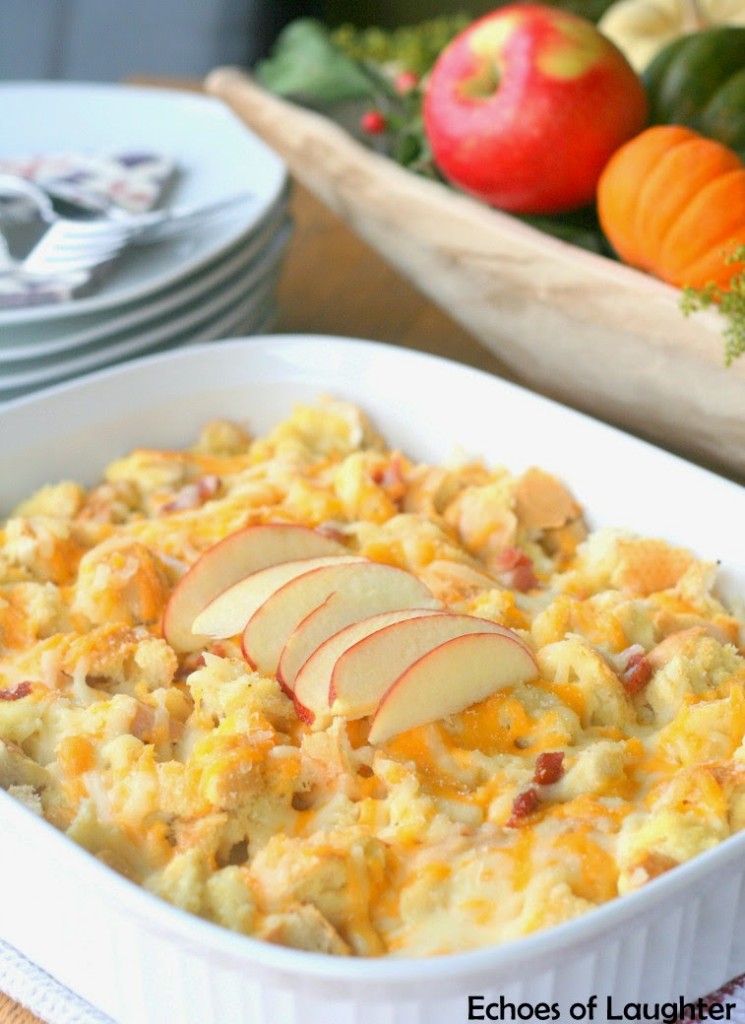 This Apple & Bacon French Toast recipes rocks!
And it smells so good while it is baking!
It is not only a delicious breakfast, but a great anytime meal in my opinion. I served it to my family for dinner because it is delicious and we love eggs, and I know that they keep my very physically active kids fueled up.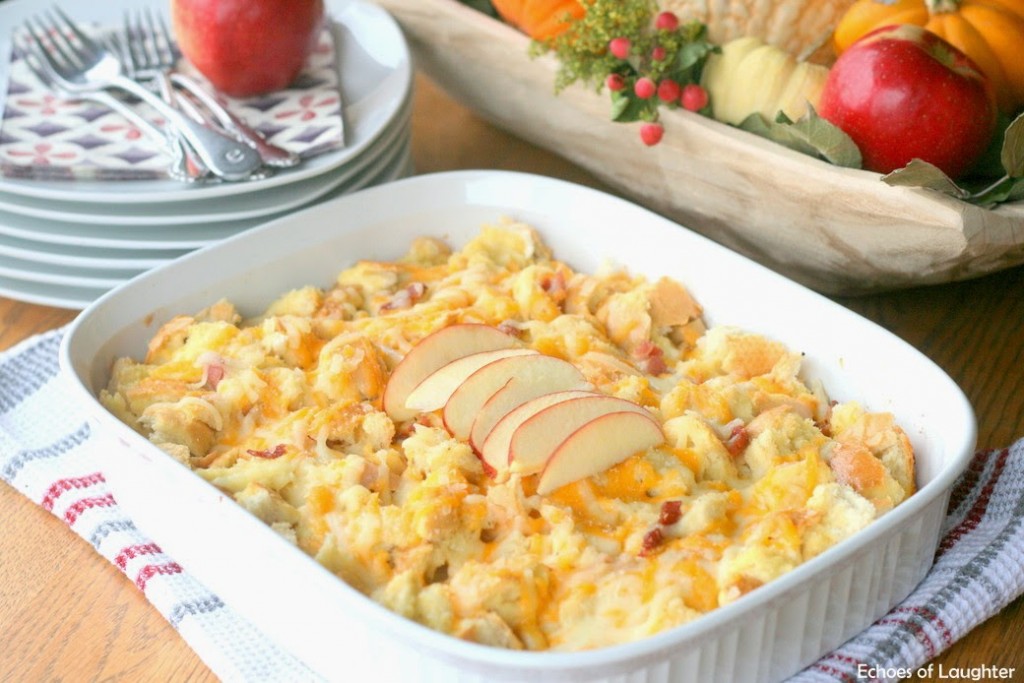 And busy families can rejoice because this recipes is made all the more easy with the help of
Burnbrae Farm`s Egg Creations
! So after assembling a few other ingredients, this healthy egg blend is poured over the dish which makes it convenient to make and bake.
New Egg Creations French Toast blend is a refrigerated egg white based pre-mixed product that doesn`t require any additional ingredients or mixing. Just shake, dip and poor into your recipe and cook for a fast breakfast that is full great nutrition.
And I love having it in my fridge for my teenage son who is a busy hockey player and who is hungry ALL the time. He makes french toast with it for a fast meal!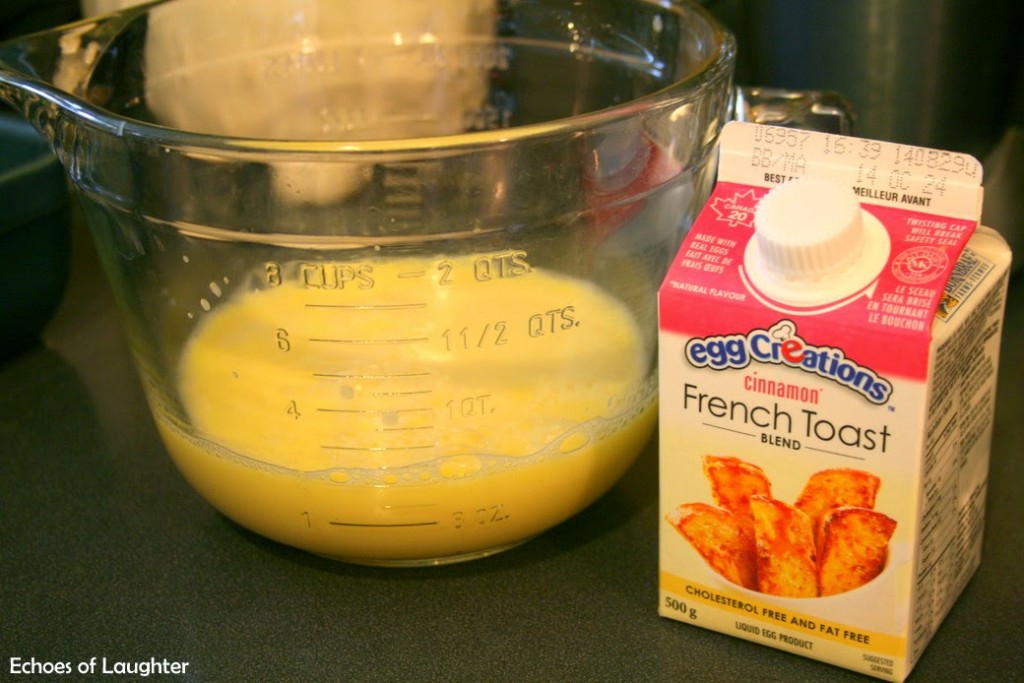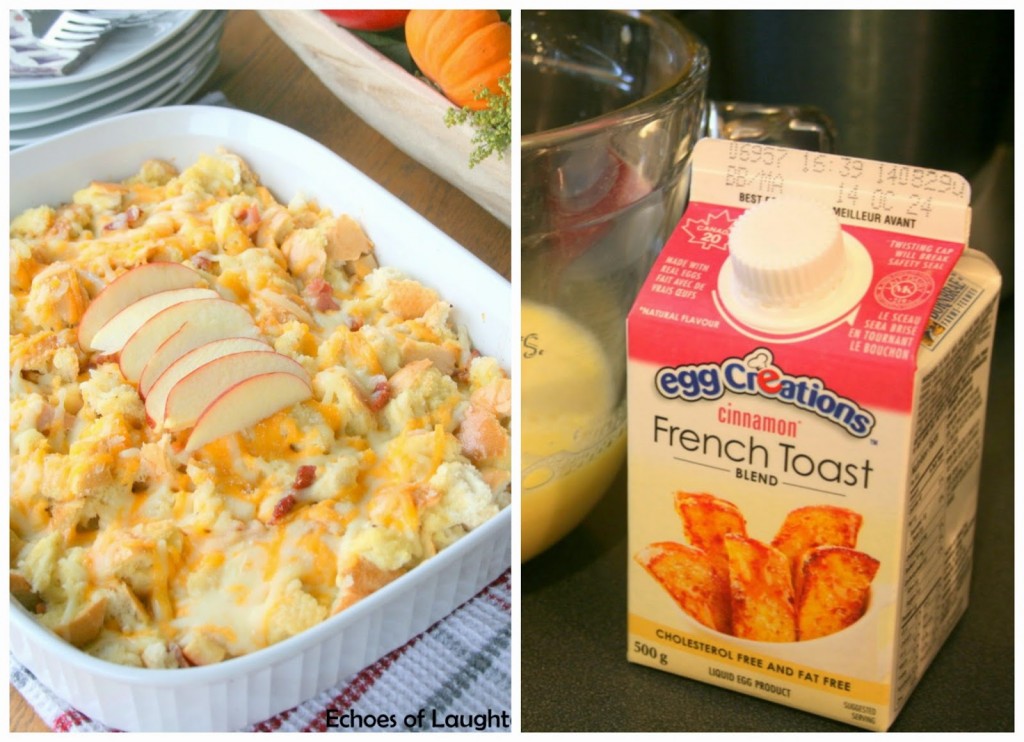 Apple & Bacon French Toast Strata
This sweet and savoury strata can be prepared the night ahead and simply popped in the oven when you roll out of bed. Serve with a large platter of fresh fruit to complete your brunch menu.

INGREDIENTS
| | | |
| --- | --- | --- |
| 8 | slices bacon, chopped | 8 |
| 2 cups | diced apple, such as Granny Smith or Honey Crisp | 500 mL |
| 12 cups | cubed day old French bread | 3 L |
| 1 carton | Egg Creations™ French Toast Blend Maple, well shaken | 500 g |
| 1/2 cup | milk | 125 mL |
| 3/4 cup | shredded aged white Cheddar cheese | 175 mL |
| 1/4 cup | chopped toasted pecans (optional) | 50 mL |
| | Maple syrup | |


DIRECTIONS
1. Set a large skillet over medium heat. Add the bacon and cook for 5 minutes or until slightly crisp. Remove half of the bacon pieces; set aside. Drain off all but 2 tbsp (30 mL) of the bacon fat. Add the apple to the skillet. Cook for 5 minutes or until bacon is crisp and apple is slightly tender.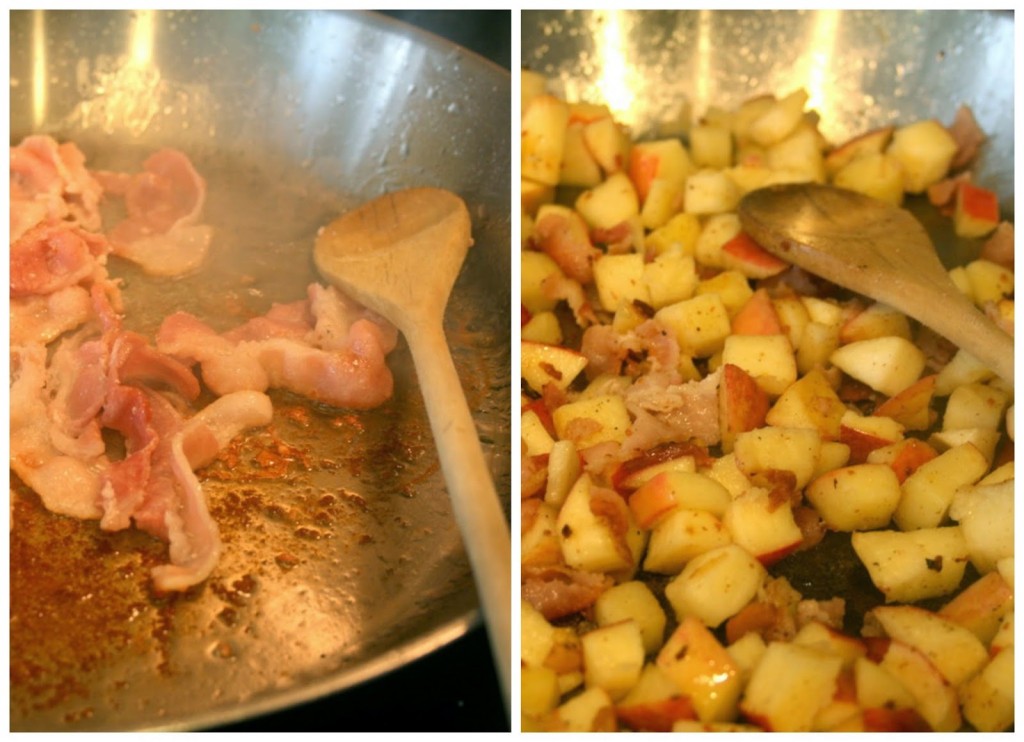 2. Grease a 9 x 13-inch (3 L) casserole dish. Toss the bread with the skillet mixture. Spread out in an even layer in the prepared casserole dish. Whisk eggs with milk; pour evenly over the bread mixture. Cover with foil and let stand in the refrigerator for at least 1 hour or overnight.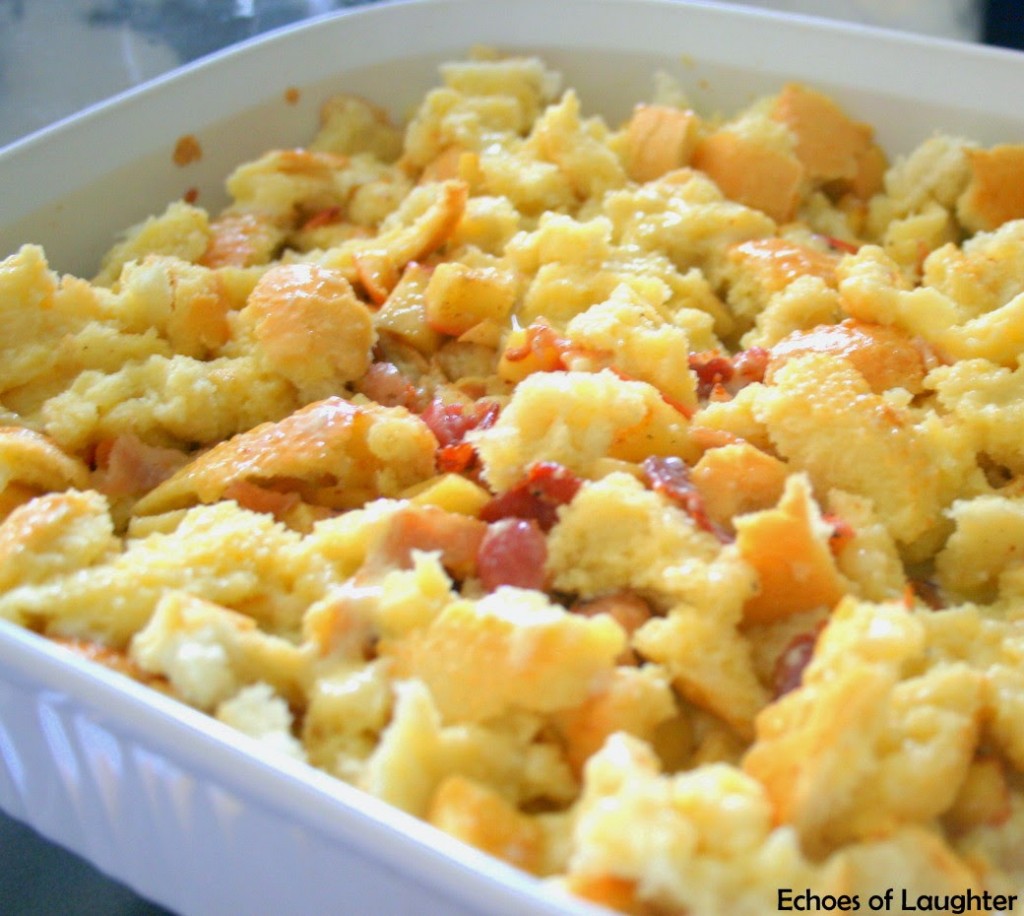 3. Preheat the oven to 350°F (180°C). Place the casserole in the oven and bake for 30 minutes. Uncover and sprinkle with reserved bacon, cheese and pecans (if using). Bake for an additional 25 minutes or until top is golden brown. Cool slightly and serve warm. Serve with maple syrup on the side.
TIPS
Substitute whole wheat bread for the French loaf for added fibre.

NUTRITIONAL INFORMATION PER SERVING
Calories: 239 | Fat: 6 g | Saturated Fat: 3 g | Carbohydrates: 34 g | Fibre: 2 g | Protein: 12 g | Sodium: 577 mg
A beautiful dish that is delicious to serve to your family and easy to prepare is something to add to your recipe rotation for breakfast, brunch, dinner!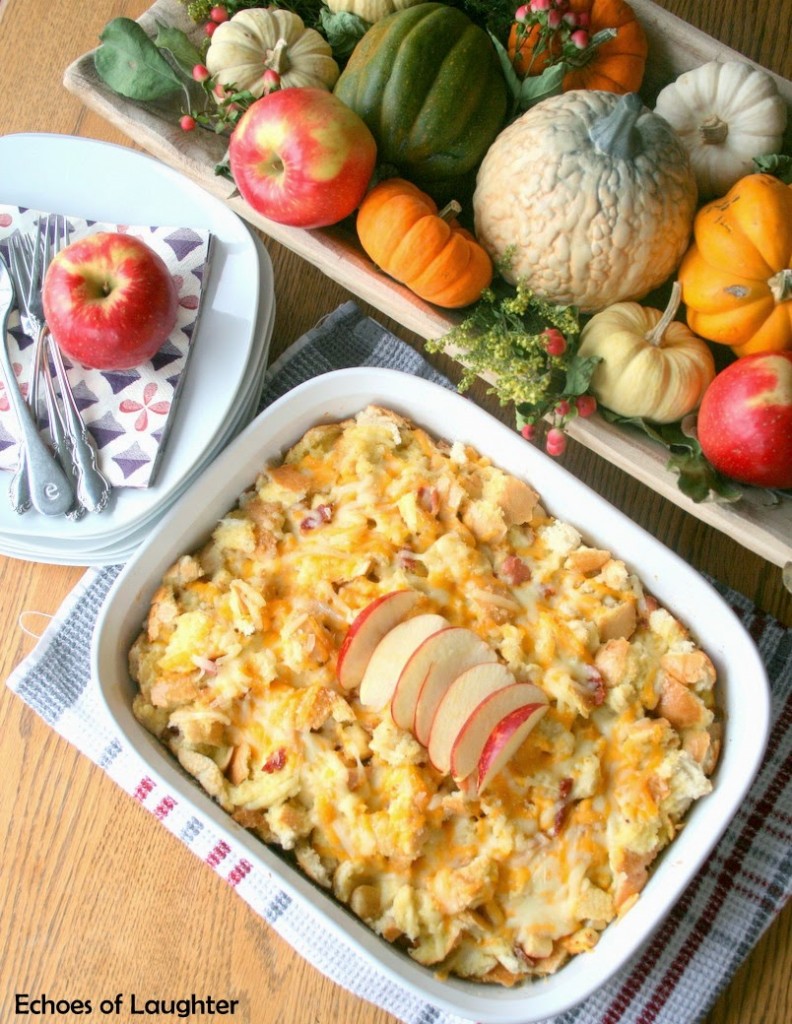 To celebrate sharing this fabulous recipe from the Recipe Nest at Burnbrae Farms, I am hosting a giveaway.
One lucky reader will win $25 in coupons from Burnbrae Farms so you will be able to create delicious egg dishes at home for your family too!
Open to residents of Canada 18 years of age and older. Void where prohibited. Contest Rules Subject to Change.
For more great recipes and information, please follow Burnbrae Farms here: