Hello dear friends! Lately I have been really into serving food in small size portions. There is just something fun about taking a dish and de-constructing it.These little Spinach Salad Bites are a fun spin on traditional spinach salad that can be served as an appetizer or snack.. With a little dipping sauce or drizzled salad dressing, they are a great way to get kids to try new foods too. They are also a great summer time appy for when days are warm and you like to serve something that is great with iced tea or wine and doesn`t require turning on an oven. And we do have those days coming soon…hot days where you don`t want to turn on the oven. Remember those? I love to serve these as an afterschool snack to my kiddos.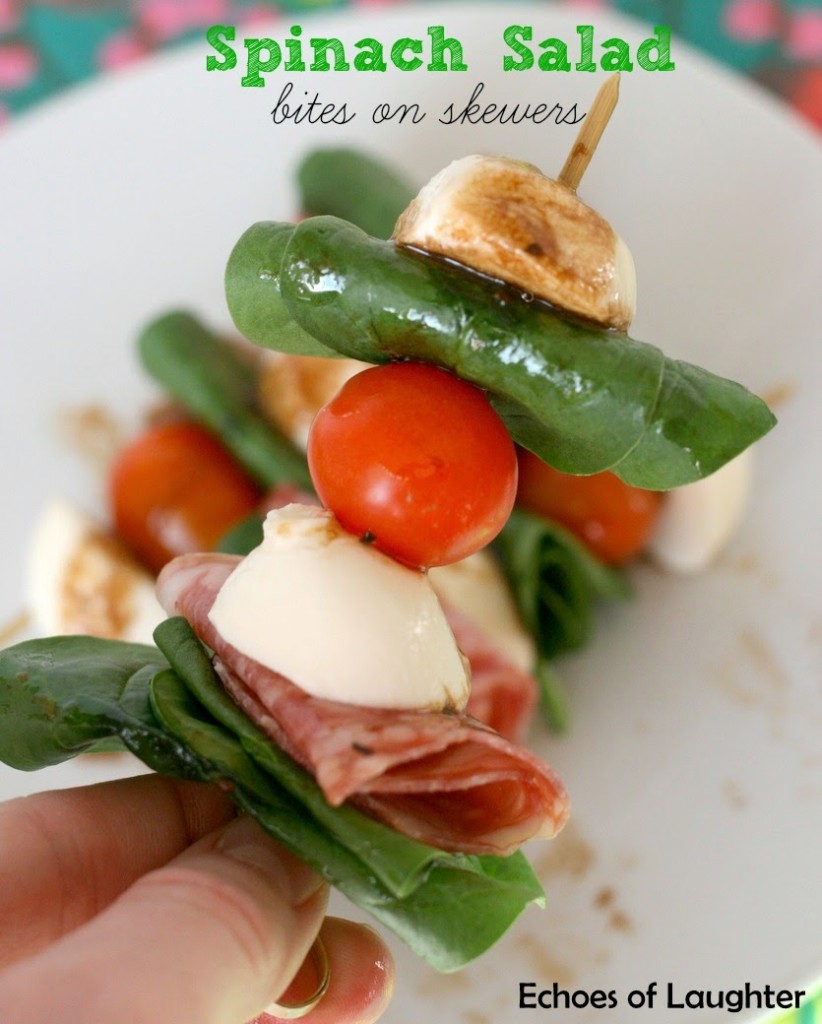 These little bites can be a great fun for kids to make too. And the ingredients can be changed up so that any kind of cheese or meat can be used. Although traditional spinach salads have bacon, I used a spicy salami instead to keep all of the ingredients simple. And this is a great way to "eat your greens" !
Spinach Salad Bites
Ingredients
Baby spinach leaves
Grape tomatoes
Spicy salami, ham, lean turkey, etc.
Boccocini or small cubes of cheese
Mini-skewers
Balsamic salad dressing, or dressing of choice, such as ranch.
To make:
1. Start with a layer of 3-4 spinach leaves. Fold over and thread on skewer.
2. Add salami, cheese, more spinach leaves and finish with a cheese cube.
3. Drizzle with balsamic dressing or serve a dipping sauce such as ranch.
4. Serve or refrigerate for a few hours until serving time.
These are so, so good and don't take a lot of time to make. They would also make a great little lunchbox item too!
Looking for more delicious spinach recipes? Try these by some of my amazing blogging friends: