My grandmother made these Pineapple Cherry Bars often while I was growing up. They were one of my favorite treats out of her kitchen. Sadly, my grandmother suffers from Alzheimer's now and doesn't bake anymore. I haven't had these bars for many year, but lately I had a strong desire to taste them again, so I made them for my family. When I asked my grandmother for her recipe, she was not able to find the recipe that she had used for years.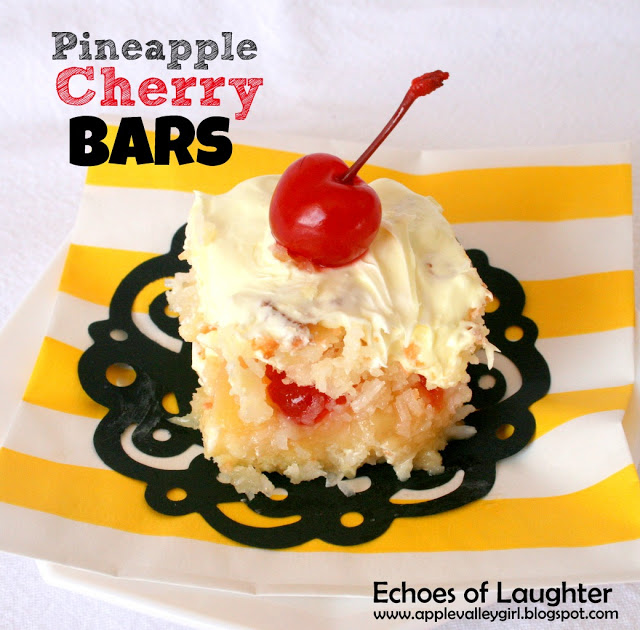 I was able to find the recipe in one of my other Grandmother's old cookbooks. You know that a recipe is well-loved when it's pages are stained and smudged. Just look at these pages as proof: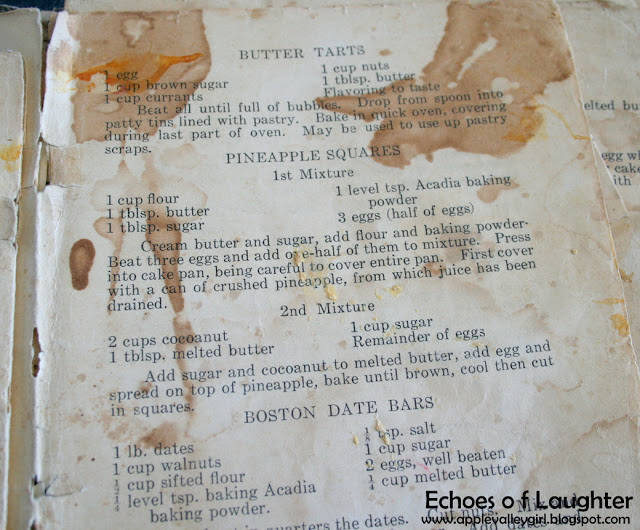 You might notice that the original recipe did not call for cherries, however, adding cherries was my Grandmother's special touch. I love them with cherries in them. But you can leave them out if you wish. I also frosted these bars and garnished the bars with a cherry to give them a fun look, but we always ate them without frosting and the extra cherry on top.
Pineapple Cherry Bars
Ingredients:
1 cup flour
1 tablespoon butter
1 tablespoon sugar plus 1 cup sugar
1 teaspoon baking powder
3 eggs
2 cups coconut
1 tablespoon melted butter
1 14 oz. can crushed pineapple or pineapple tidbits, drained well
1/4 cup maraschino cherries, chopped
Directions:
1. Preheat oven to 350. Butter bottom of 8×8 pan.
2. Cream together 1 tablespoon butter and tablespoon of sugar. Add flour and baking soda.
3. In small bowl, whisk together 3 eggs with fork.
4. Add half of egg mixture to flour mixture. Mix well and spread in bottom of 8×8 pan.
5. Spread drained pineapple on top of flour mixture. Sprinkle cherries on top of pineapple.
5. Mix together 1 cup sugar, 2 cups coconut, remaining egg mixture and 1 tablespoon melted butter. Spread with spatula over pineapple & cherry mixture.
6. Bake at 350 degrees for 30 minutes and coconut layer is lightly browned.
7. Allow to cool for several hours in pan before cutting into squares. Frost if desired.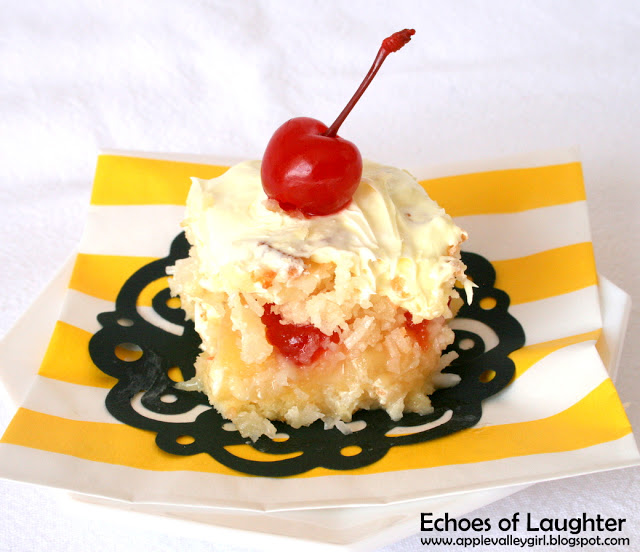 These lovely gooey bars are still one of my favorites. I had to stop myself after eating just one!
I love squares and bars and make them often. Here are some my other yummy recipes: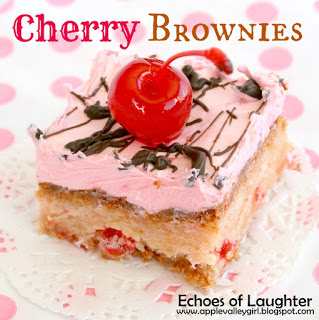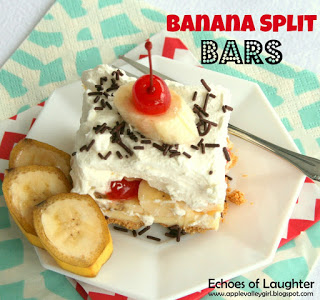 And more recipes can be found on these boards on Pinterest:
Thank you so much visiting!