On Monday, I experimented and combined two things I love…ice cream sandwiches and salted caramel flavour.
With the recent heat wave in our city, the boy and I went out and bought 4 different kinds of
Chapmans
ice cream.
Oh. Yes. We. Did.
It just only seems right that if we must suffer out this heat, then some ice cream therapy is required.
We bought vanilla & chocolate ice cream. Peanut butter crunch frozen yogurt.
And ice cream sandwiches.
Except….I got a hankering for something in salted caramel….so I played with my food.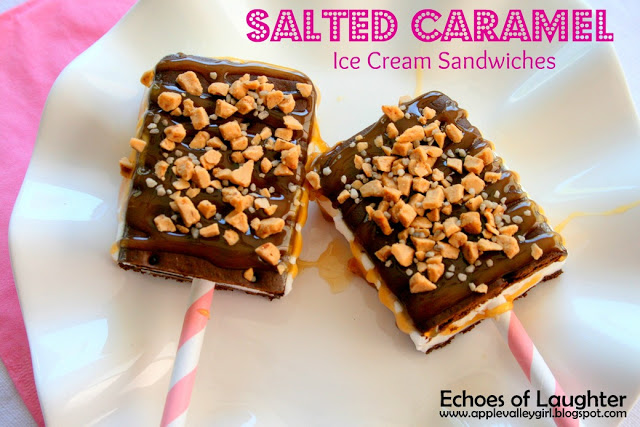 It was a super easy creation.
I cut an ice cream sandwich in two. Added some sticks. Drizzled the sandwiches with caramel sauce, skor toffee bits and sprinkled with some smoked salt.
Placed in the freezer for an hour…and then OH MY!
How yummy!
Making these would be fun for a party or for a kids' event.
And they are much cheaper to make using regular ice cream sandwiches than buying the ice cream novelty treats….which cost bunches more.
{For the sticks, I used super adorable pink striped cocktail straws from Greenmunch. You can find them
here
.}