I always remind my children that I appreciate small gestures from them much more than big gifts when it comes to special occasions.
I don't care about diamonds, or expensive purses or trendy shoes….just give me little gifts of love any day of the week.
A few years ago, my daughter went Christmas shopping for me on her own with her own money, and she bought some Burt's Bees lipstick and hand salve for me.
I loved that she knew that these things were my favourite little everyday things.
My son often brings me a glass of water with ice or a small treat on a plate when I have gone to bed early to read a good book.
It's these kinds of things that make me feel loved.
This brings me to a Mother's Day breakfast.
I love when others make food for me…it means they know that a break from the kitchen is a wonderful gift…and, for instance, a breakfast tray would be an amazing and luxurious treat.
This is what my dream breakfast tray would look like…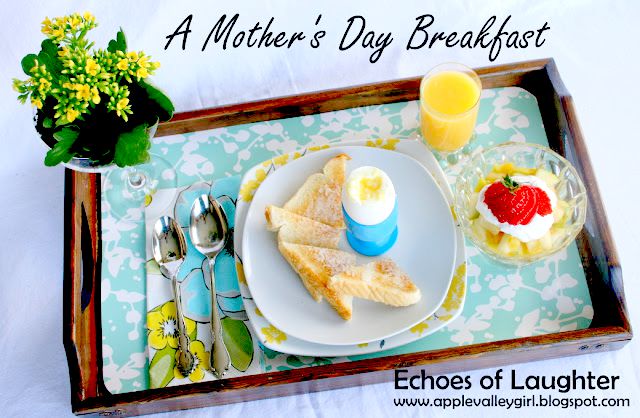 Orange juice…a soft-boiled egg with toast…
a delicious fruit salad garnished with a bit of whipped cream and strawberry.
Simple yet filling.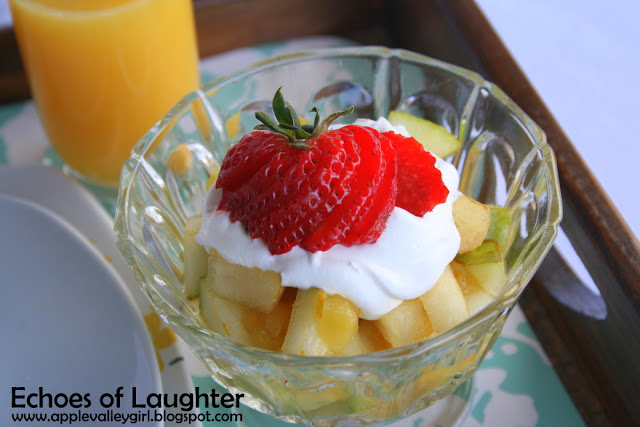 I lined the tray with this pretty turquoise place mat and used this awesome flower print paper napkin…both from Superstore….love that store!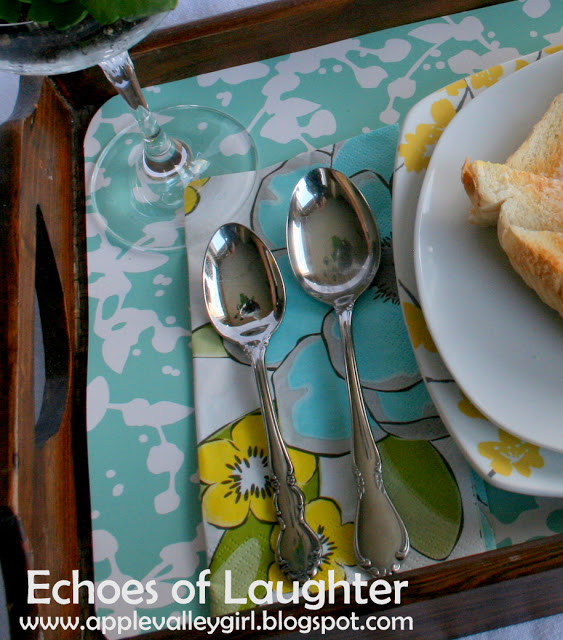 I completed the tray by adding this mini-terrarium that I shared in yesterday's post.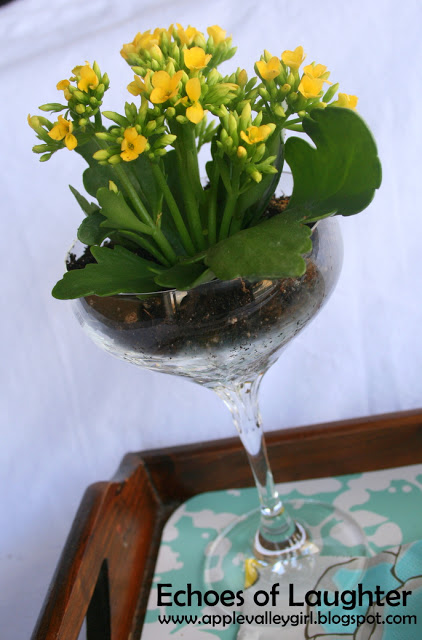 (So, dear children, if you are reading Mommy's blog, here is a small hint as to what special surprise you could make for Mommy!)
And if I lived closer to my own Mom, I would surely consider surprising her with a special meal on a pretty tray for Mother's Day.
My son does not enjoy making crafts at all, but I know he would gladly make something like this for me if I suggested it.
My daughter would be more likely to tackle a bigger meal on her own….2 few years ago she made a terrific greek supper for me on Mother's Day…complete with dessert.
It was wonderful and I was so proud of her.
So don't be afraid to suggest to your children that you would love a break from the kitchen on Mother's Day…and see what they come up with!
Cooking for people is a time-honoured way of showing love!
This post is linked to these terrific parties: