With all of the Christmas baking I did for Christmas Cookie Week in November, you would think I would be tired of cookies…..but here's the thing…I NEVER get tired of cookies.
There is nothing better than a cookie and a glass of cold milk.
I have been on the search for a terrific ginger cookies recipe.
I found this recipe online, so I got busy in the kitchen to give it a whirl.
It turned out great….and the best part…..it made 7 dozen cookies!
Perfect for sharing!
And here is my 1 mantra for cookie making:
1-If you are going to make them….you may as well make a lot! With school lunches & after school snacks…they disappear like crazy!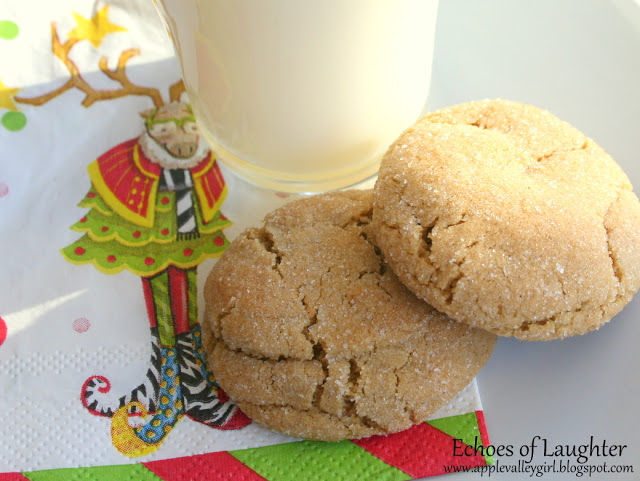 Gingerbread Softies
These cookies flatten and crack as they cool. The secret in keeping them soft is to remove them from the oven as soon as they are set but before they start to brown.
2 cups sugar
1 1/2 cup shortening*
2 eggs
1/2 cup molasses
4 cups flour
4 tsp. baking soda
2 tsp. cinnamon
2 tsp. ginger
l/2 tsp. cloves
l/2 tsp. salt
Cream together the sugar and shortening. Add eggs and beat until thick. Add the molasses and stir until combined.
Sift together the flour, baking soda, cinnamon, ginger, cloves and salt. Add to creamed mixture and stir just until blended. If the dough is very soft (hot day? warm kitchen?), wrap it in plastic wrap and chill in the freezer for 30 minutes.
Shape into 1" balls and roll in granulated sugar. Place on greased cookie sheets. Bake at 350º for 7 – 10 minutes or just until set but before they start to brown.
* This is a very old recipe and, like many cookie recipes from the 1950's, and uses vegetable shortening instead of butter. You can substitute 1 1/2 cups melted and cooled butter for the shortening but you will have to increase the flour to 4 1/2 cups and definitely chill the dough before using.
I hope you enjoy these wonderful cookies!