Whew! Can you believe it's Thursday already?
I don't know about you, but it has been a very tiring week with all the back to school stuff!
I have a 15 yr. old who is getting up at 5:30 am to have a shower & do her hair & makeup before school, so naturally I am awake as soon as her bedroom lights pops on.
I am looking forward to everyone sleeping in a little on Saturday morning!
***
So this week the hot topic is organizing for back to school.
***
And today's subject is creating a Launching & Landing Pad for School.
If you don't have an area designated for this….the floor can quickly become a dumping ground for backpacks, shoes, & books, etc.
And often, it becomes Mom who is left to pick things up & put them away.
You can change this by setting up a few things in your home that provide a place for these things to go.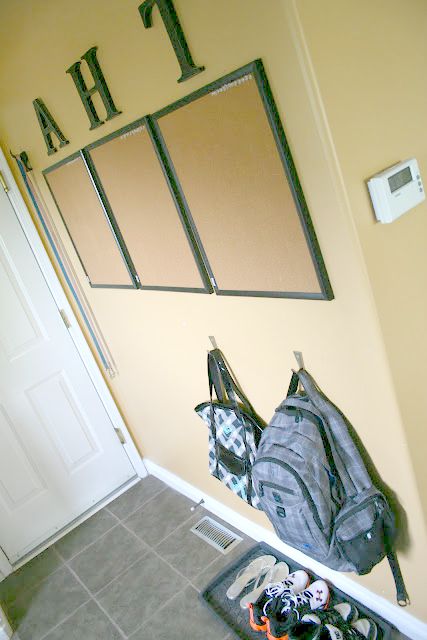 In my house, we are lucky enough to have a small mudroom that has a coat closet.
I have installed a few things to make it a perfect 'Launching & Landing Pad' for our kids.
The first thing that I installed was a set of 3 bulletin boards…1 for each child & 1 for me.
They are basic black bulletin boards from Superstore.
I have hung our initials above each board.
It is the perfect Information Station.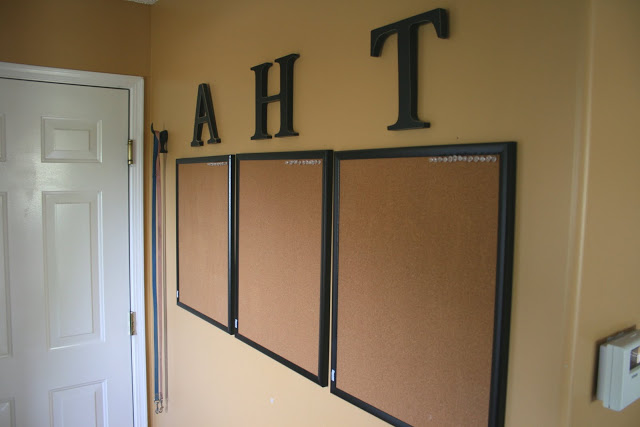 During the school year, these bulletins boards are essential….they hold monthly school schedules, bus schedules, field trip notices, birthday party invitations, sports schedules and anything that we need to refer to on a daily basis.
For me, I LOVE having this information front & center by the door.
When Hunter first started school in 2001, I kept school information in a file folder.
Then later I stored it in a binder.
When we moved to this house in 2005, I set up these bulletin boards.
By far & away, I find the visual of a bulletin the best method for me.
Not having to flip thru a file folder or a binder when you are trying to find info on a rushed school morning is such a better way to be organized.
Next, we have a Back Pack & Shoe Station.
Each child has a hook for their bag and there is a boot tray for shoes & wet boots in winter.
When they arrive home from school, they know to take off their shoes & hang their school bag.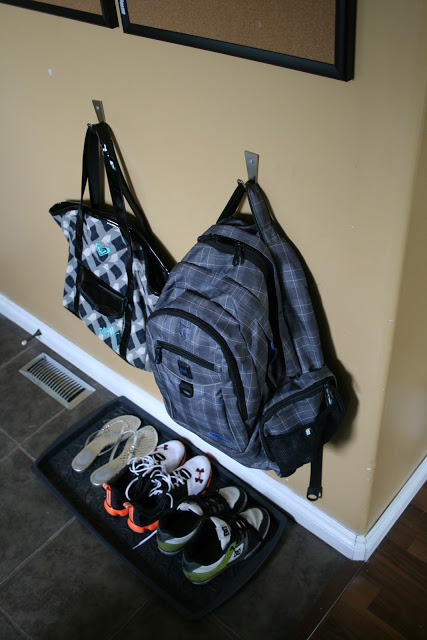 And lastly, we have a coat closet in this area.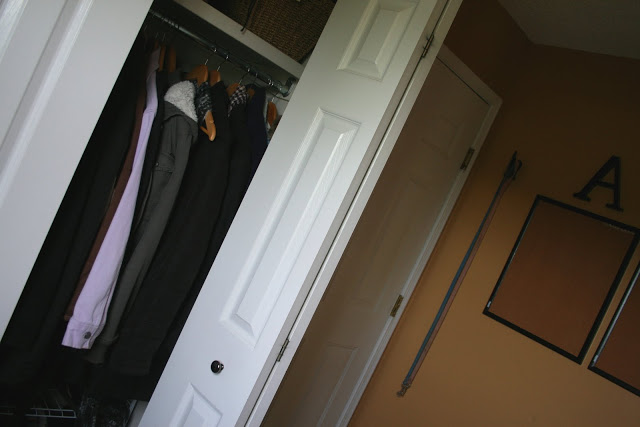 All of these things together make a perfect Launching & Landing Station for school mornings.
If you don't have a mudroom in your home, I would suggest carving out an area in your home where you can install an Information Station, a Back Pack & Shoe Station and an area for coats.
You can buy hooks for hanging backpacks at most stores, but make sure they are heavy duty hooks for heavy backpacks. Ours are actually drilled into the studs in the wall.
Whether you decide to use a bulletin board, a file folder or a binder for school information, it should be easily accessible to you on school mornings.
You could hang smaller bulletin boards, cork tiles, or whatever works for your situation.
A backpack station could be cubbies in a closet, the inside of a bench or a floor of a closet…as long as it works to keep mess off of the floor and the children actually use it!
A small boot tray is also a worthwhile investment to keep things neat & tidy.
You may have to experiment a little to see what works for your family!
Thanks so much for visiting me this week and sharing all of your wonderful comments!
I'll be back tomorrow with some suggestions for handling all those papers that come home in those darn backpacks!