This is one of our absolute favourite meals in the winter.
It's so good on a cold chilly day.
You can also make it in the slow cooker…or on the stove top in a dutch oven.
You can change the vegetables and beans to suit your family's taste.
It freezes well too.
It can be served with tortilla chips, pita bread, rolls or bread.
It makes a terrific meal for a crowd too….great after a winter skating party or tobogganing.
I served this to my book club…and everyone wanted the recipe.
It's great after Christmas…when everyone is all 'turkeyed' out.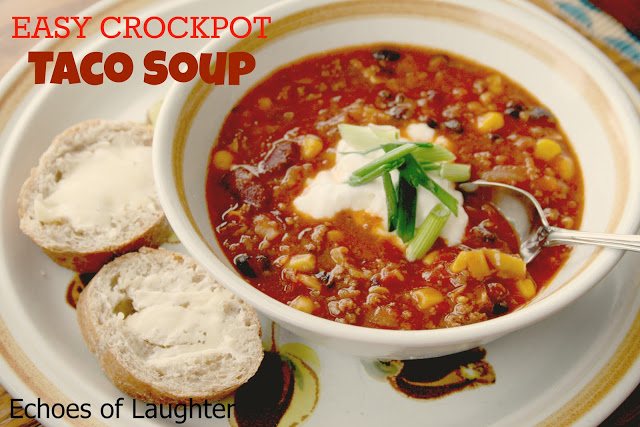 Taco Soup
16 oz. can chili beans ( I used can of baked beans instead.)
16 oz. kidney beans
16 oz. can black beans
8 oz. can tomato sauce (I use 19 oz. can)
15 oz. can diced stewed tomatoes ( I use 28 oz. can.)
16 oz. can whole corn
16 oz. creamed corn
pkg. taco seasoning ( I use 2-3 Tbsps. of taco seasoning from a large container from Costco.)
1 Tbsp. chili powder
1 lb. ground beef (I have also used ground pork.), fully cooked. OR 1 bag of BIG BATCH BEEF.
1 onion, chopped, 1 green pepper, chopped & 1 red pepper, chopped
1 sm. can chopped green chilies
Directions:
1. Do not drain any of the canned foods. Add all ingredients to a crock pot and add taco seasoning to the soup.
2. Brown the ground beef in a pan with the chopped onion and add this combination to the crock pot OR add 1 bag of frozen BIG BATCH BEEF to crock pot.
3. Simmer for at least 4-5 hours. Serve warm and garnish with optional toppings: shredded cheese, sour cream, tortilla strips (cooked in frying pan with olive oil and grated parmesan cheese).
4. To make on stove top…cook meat with veggies OR start with one bag of BIG BATCH BEEF, taco seasoning and chili powder in large dutch oven. Then add all other ingredients and let simmer for about 30 minutes.
Bon Appetit!