The Brown Butter Pumpkin Layer Cake on the cover of the latest issue of Fine Cooking.
A delectable pumpkin spice cake with a topping of pecans, brown sugar and crystallized ginger.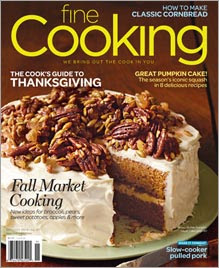 Doesn't it look scrumptious?
I am having guests for Thanksgiving dinner…and I am so excited to make this cake!
I started reading Fine Cooking a few years ago.
It is my very favourite cooking magazine.
Everything recipe I have tried from this mag has been outstanding.