Whenever my mom comes to visit, I take the opportunity to send back with her to Nova Scotia a few little birthday gifts for people I love…which saves me in mailing costs.
Plus, I am terrible at getting things in the mail sometimes.
My Grandmother's birthday is in early September and I wanted to send her something. She lives in a small one bedroom seniors apartment and, therefore, does not have a lot of room for stuff. Knowing this, I decided to send her something that I know she will love….a recent picture of her great grandkids.
I snapped this picture while on our recent visit to Lake Louise. I chose this simple black & white frame and then prettied it up a little with some scrapbooking supplies. I punched a paper flower with my fav flower punch and embellished it with a button. Then glued it to the picture mat.
Simple dimple.
It just gives the picture a bit more interest, yes?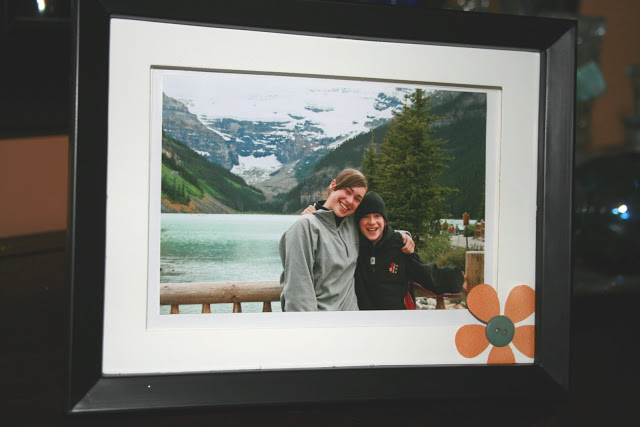 I feel sad that I won't be seeing my Grandmother this summer.
I hope that by sending her a little something that she knows how much I love and miss her.