This post was inspired by Grace over at Sense & Simplicity….who is one of my favorite bloggers. She did a lovely post about the things that she loved about her home and I am going to follow her example.
First let me say that it took a long time for me to love my house. We had made a coporate move for my husband's job…..placing us 3000 miles across the country and leaving our newly built dream home behind in another province. We had just completed a custom built home with a beautiful kitchen and I never imagined that we would be leaving it in just 4 short years. But my mother constantly reminded me that it was "just a house" and she was right. You can make a home where ever you live. Listen to your mother people…she is always right.
I should also mention that we bought this house during a 5 day house-hunting trip. Yes, you read that correctly. 5 days. So, we took what was available in our price range. My task was to make it our own.
When we arrived at this house, it was empty for 2 weeks while we waited for the arrival of our furniture. So during 2 hot weeks in July, we painted, painted, and painted. Normally the painting is my job, but my husband helped me by rolling while I did the cutting in. Our 'new to us' home was in sore need of some updating and TLC. We live in normal middle class house in the 'burbs' of a big city and we wanted to make it feel like us inside. Since our new province has long, very cold winters….I wanted a warm colour for the main floor, so I chose Benjamin Moore's 'Gingeroot'..which is a warm yellowy brown. We did the entire main floor in this color and I love it. It looks great with brown furniture, white furniture and the blue & white colour scheme that I love and has been in every home that we have lived in.
One of the things I love about my home is little vingettes displaying treasures I love. So this post shows some of my favourite vignettes around our home, as well as some of the spaces.
This first vignette is in the corner of our living room. It features one of my favorite books called, "Live Good", along with some coral and an old book that belonged to my Grandmother. The artichoke tealight is from Anthropologie.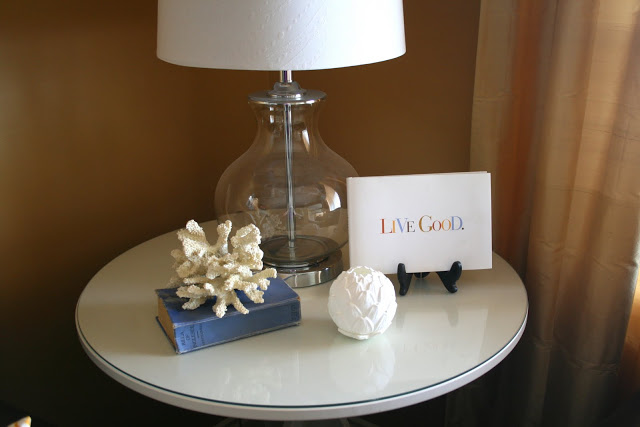 The next picture shows a favourite corner in my living room. Many nights, you can find me curled up here reading home decor magazines with a cup of tea, or watching tv or both. The quilt folded over the back of the sofa is something I made in a beginner quilting class and it has many of the Amy Butler fabrics I love. I also made 3 of the 4 throw pillows on the sofas from Amy Butler fabrics too. I love her fabric designs. On the wall behind the sofa is part of the
'family wall'
which shows 3 generations…Ron and I, our parents and grandparents. I love being surrounded by family photos.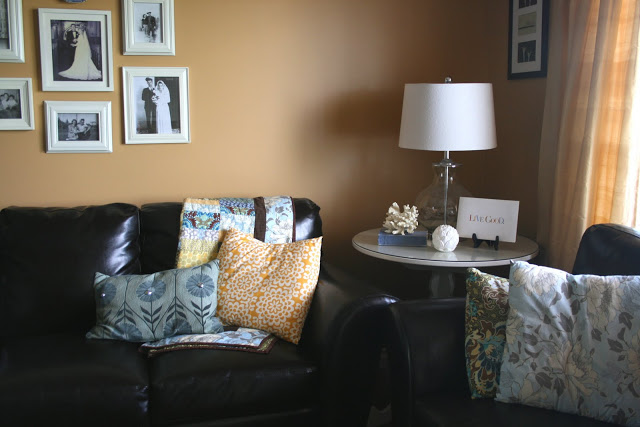 This is the martini bar in the living room. I purchased this cabinet and mirror from Zellers 2 years ago because I needed something for wine glasses and such. The cabinet fit the space and the budget perfectly. My husband and I usually try to celebrate Fridays with a martini or two. My mother taught me how to make martinis. I love her! I am also known for trying to ply my girlfriends with martinis when they visit. On the top of the cabinet is a simple silver dollar store tray with a collection of vintage glassware.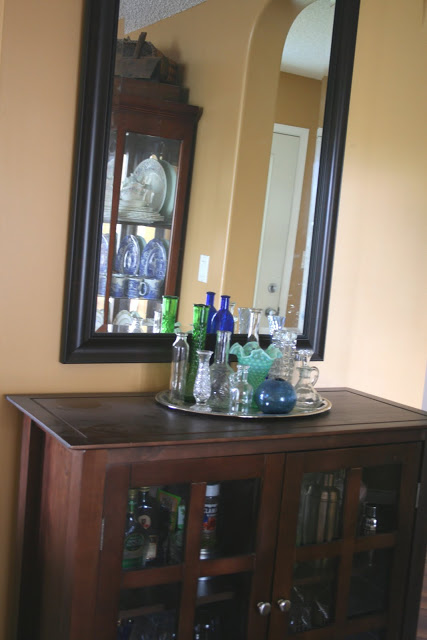 This odd little corner is by the front door and it stood empty until 2 years ago when I started moving from reading scrapbooking blogs to more and more decorating blogs. I was inspired to use things I already had to style this little place. The pictures are precious to me…given to me by people at work from my job before I moved and they show the beauty of my hometown. The little lamp was given to me by my mother years ago for my first kitchen and the stack of vintage books belonged to my Grandmother.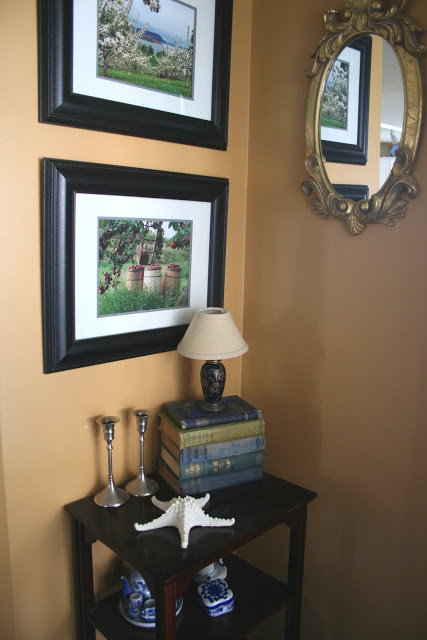 This is a vignette on the top of my fridge. No surface is safe in my home. The tattered little blue box was my Grandmother's recipe box and I still have all her recipes inside, many of them in her own handwriting. The wooden box is full of sterling silver that was given to me. The blue & white platter was a $3 Goodwill purchase because I love blue & white dishes. The Ikea cookie jar houses my cookie cutters all in one spot. The miniature white teacup & saucer was given to my daughter when she was 3 years old by a family friend.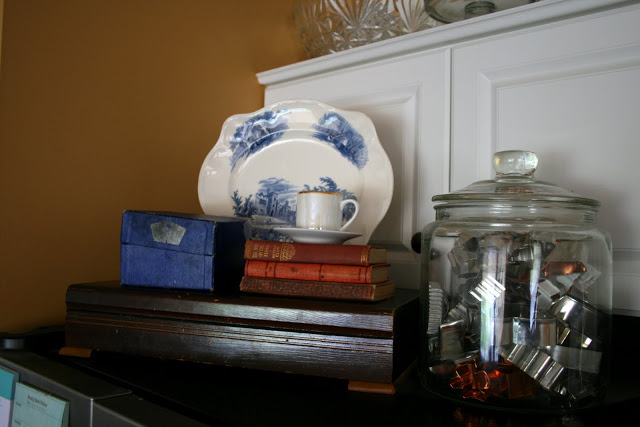 Our bedroom. I have made another pillow from Amy Butler fabric for the bed. I love this spot…it's a cosy place for reading at night and frequently the kids will crawl in to read & cuddle with me or watch a little tv.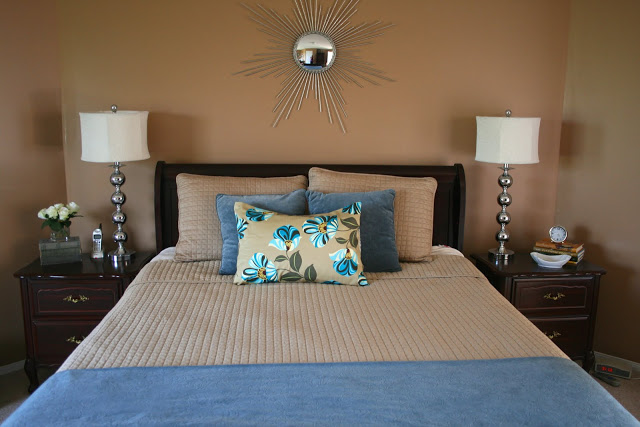 I'm crazy about my daughter's room. We just re-decorated this room last August with fresh paint and new bedding. The colour is Benjamin Moore's 'Whisper of Gray'. I also love how neat my daughter keeps her room…which I think is a testament to how much she loves her 'new' room. When you love something, you want to keep it looking neat and tidy.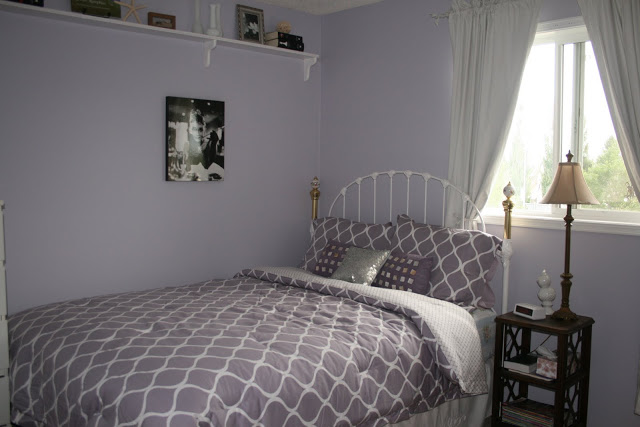 I love the large, bright window over the soaker tub in the master suite. I adore a hot bath when I get home from having spent too many hours at a cold arena watching my daughter figure skate.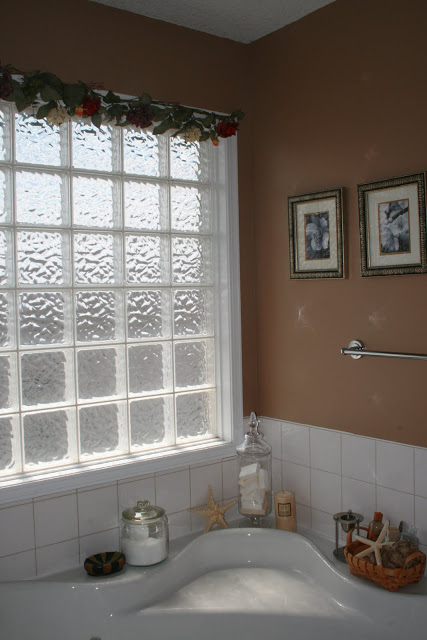 And this is, of course, my most recent project. It features my childrens'art projects throughout the years. The wall colour is Benjamin Moore's 'Mont Saint Anne' which is a wonderful blue/grey.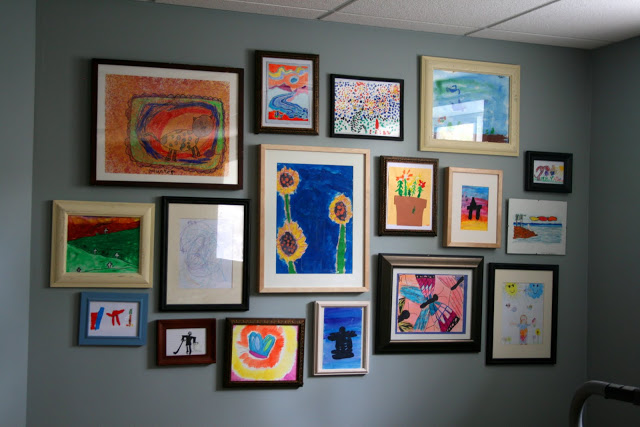 This is a little nook at the top of the stairs which I made into my own
little home office/creative space
. The vintage doll on the top shelf belonged to my Grandmother's sister Ethel, who died in 1929 at age 14. I love blue & white and have used that colour scheme in my house lots over the years, but for my office nook, I wanted to add another favourite colour-pink!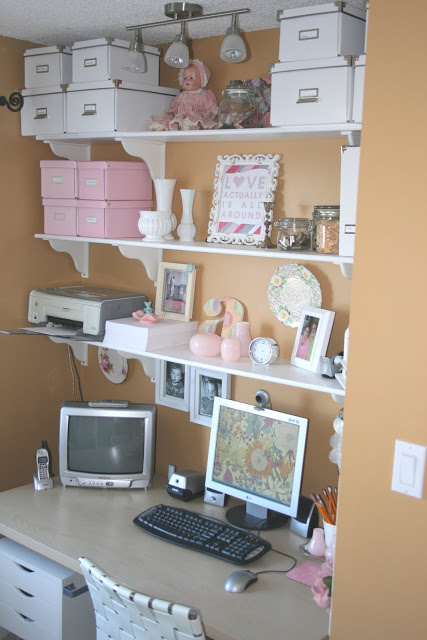 Thanks for taking the time to look at some of the things I love about my home. It's clear to me after writing this post that I really do love to surround myself with little things that I love and have meaning.
And for the record, there was quite a bit of dusting involved in taking the pictures for this post.