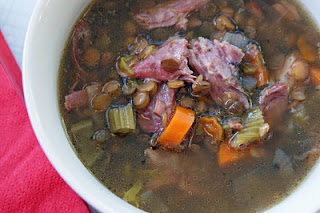 I find it so ironic that the shortest month of the year also feels like the longest month of the year. Yes, February, thrown in the middle of winter, seems to go on forever. When the calendar turns to March, you can actually think spring. But February just seems to perculote in it's cold glory. I find myself exceptionally lazy these days….no gumption or motivation to do much of anything. I just walked away from a half-emptied dishwasher because the notion struck me to go blog. My husband will not be so happy when he enters the kitchen and hits his shin on the open dishwasher door.Then he'll call my name in exasperation. I think he has grown used to my sometimes half-witted ways.
We have been sick here at my house for the better part of almost 3 weeks now. First Tyler with a tough cold and an incessant cough. Then me, with a cold that turned into a flu/feverish illness….. and now Hunter. She has a stubborn cold with head congestion and a cough. Yesterday, I took her to the doctor for the first time in more than 5 years. We ended our run of 13 years of no antibiotics with the diagnosis of a sinus infection and a head throbbing so much that bending over felt like an explosion of the skull. I caught her holding her head like it was going to fall off while trying to put on her boots.
Yesterday I was surfing the net for a two bite brownie recipe. Those little bites are so darn good. I keep telling myself that they cannot be that hard to recreate at home, but alas I have had 2 failures with 2 different recipes. The brownies were just too chewy and not tender like the ones you buy. So yesterday, my google search brought up a blog called 'Dinner with Julie'. Not only did she have her own two bite brownie recipe, but they were also low fat. Bonus! I started reading her blog and I learned that she is a food writer, food stylist, journalist, and sometimes commentator for CBC in Calgary. Not only is her blog full of good looking dishes, but her writing is fun and entertaining to read. I immediately added her to my favorites list. I love blogs where the writing is honest and real. So today, I am making Julie's "Ham & Lentil Soup". Just so happens that I have a ham bone with lots of meat on it in my freezer…….courtesy of my mother…she's real handy like that….tucking away little surprises in ziploc bags autographed with her handwriting into my freezer for me to find on a day when I don't know what to make for dinner. This ham soup is a winner….it's meets my requirements for a healthy dose of veg and lentils, but the ham makes it palatable for my boys. I can honestly tell my 9yr. old that it's "ham" soup without being the least bit coy. So tonight we will be tucking into ham & lentil soup with a bit of a french loaf. And I will happily eat away what's left of the month of February with my two bite brownies. Just 5 days left to go…..
(photo: courtesy of Dinner with Julie)