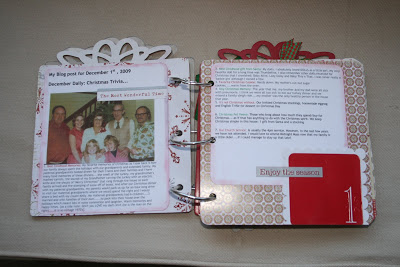 I am finally doing something that I have wanted to try for the last few years…and that is to make a "december daily" album. The purpose of this creative project is to document the simple joys that make up the month of December. Each day of the month of the album has a page to represent something about that day. I chose a 6″x6″ album from a company called "Little Yellow Bicycle" along with coordinating paper, stickers and other pieces. For my December 1st entry, I chose my December 1st blog post on Christmas trivia to represent that day.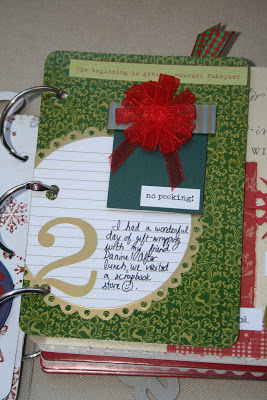 December 2nd was spent with my friend Danine wrapping Christmas gifts. Although I forgot the camera that day..I still documented the day with this page. And I happened to have the perfect embellishment…..a little wrapped present.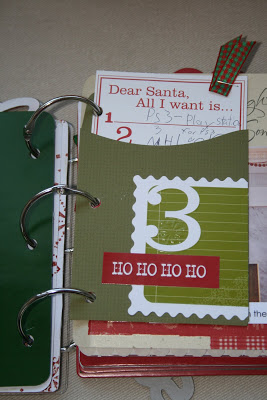 I had Tyler write his Christmas 'wish list' to Santa on Day 3 and placed the list in this little pocket envelope for the entry for December 3rd.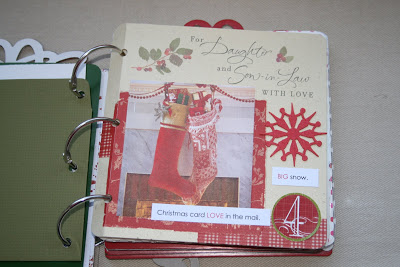 On Day 4, Ron and I received a Christmas card in the mail from my parents and I used the actual card to become the page for December 4th. I cut the card to 6″x6″ it fit into the album. leaving the most important parts of the card to become the background.
I have pictures to be printed for Day 5 and 6, so those pages are not completed yet. I will share when they are ready.
I love the idea of keeping a December Daily. My inspiration for this project comes from Ali Edwards...a well -known scrapbooker, scrapbook author and former editor at Creating Keepsakes Magazine.