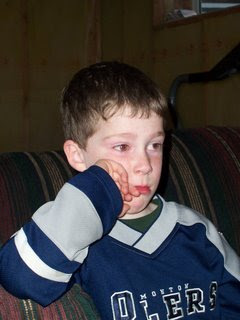 Grace over at
Sense & Sensibility
tagged me for a fun post. For this tag, you need to find the 6th photo posted on your blog and re-post it and tell the story behind it.
I have been blogging on and off since 2006.
I started this blog as a form of memory-keeping.
But it has also evolved into a place to share creative projects, recipes and other things.
But, alas, we digress.
This is a picture of my then 5 yr. old Tyler in the spring of 2006.
The Edmonton Oilers were in the Stanley Cup playoffs that year.
And this picture is from the final game where the Oilers lost their Stanley Cup dreams.
Tyler's little tear-stained face shows all of his heart's dissapointment.
He was so sad that Oilers didn't win the Stanley Cup.
A picture really is worth a thousand words.
Thanks Grace for tagging me! Please go visit her
amazing blog
!