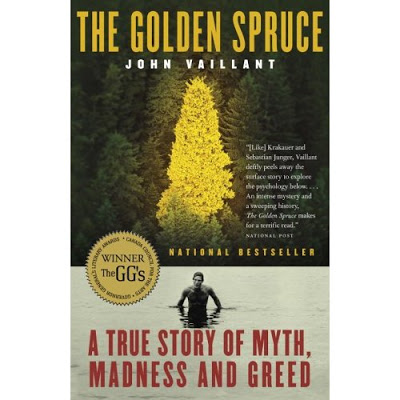 For three centuries, a magical tree stood in the rain forests of the Queen Charlotte Islands, in British Columbia. It was a Sitka spruce, as perfectly shaped and covered in golden needles. It was 16 stories tall and more than 20 feet around and held sacred by the Haida, the Northwest Coast Indians of the region. Tourists gazed at it in awe. One night in 1997, when no one was looking, a man with a chainsaw made a series of deep surgical incisions around the tree's trunk. Two days later the golden spruce came crashing to the ground.
Grant Hadwin, the man who brought down the golden spruce, was a local logger. In love with the outdoors, he dropped out of prep school at 16, and he joined a fraternity whose members were sometimes referred to as "bush apes" and "timber beasts." Mr. Hadwin fitted right in and was known for buying vodka by the case and going on spectacular binges that, even in freezing weather, would leave him unconscious in the back of his Studebaker pickup, or passed out in a snow-filled ditch, dressed only in slacks and shirtsleeves. Two things made Mr. Hadwin different. First, he was expert in sizing up wilderness tracts and laying out the roads that would allow heavy logging equipment to get to prime trees. Second, he was deeply conflicted about the environmental damage that his job entailed. Loggers, paradoxically, love the woods. Most of them learn to turn a blind eye to the consequences of their work.
Mr. Hadwin, as time went on, could no longer do so. He became obsessed with stopping the indiscriminate clearing of virgin forests. His field reports back to the home office contained critiques of logging methods and suggestions that certain forest tracts be left untouched. As the forest disappeared before Hadwin's eyes, he became more & more disturbed.
The book goes on to detail Mr. Hadwin's deep decline into mental illnes, culminating in his cutting down the golden spruce…. he remains 'missing' to this day.
With my long family history in the forestry industry… I find this book especially interesting as I have loggers in my own family and am familiar with the tough scrabble attitude required to work in the forests on a daily basis.