I have a 14 year old son who has been hockey-crazy since he could first walk and talk. And I know how us Canadians are passionate about our NHL hockey teams and players. When my son was a little guy, he loved PLAYMOBIL toys and we had pirate sets and farm sets from their beautiful collection. I was never more excited to see this brand new PLAYMOBIL NHL Hockey Toys for hockey-loving kids this Christmas. From large sets like this NHL Arena to smaller sets like the NHL Zamboni Machine and Players, there is something for every budget to make little hockey fans thrilled this holiday season!
"The first NHL® playsets became available in October – just in time for the start of the 2015-16 NHL® season. The initial PLAYMOBIL NHL figures will focus on the beloved Original Six™ franchises –Boston Bruins®, Chicago Blackhawks®, Detroit Red Wings®, Montreal Canadiens®, New York Rangers® and Toronto Maple Leafs® and– with both player and goalie figures for each respective team, and more teams to come.
The full assortment of playsets and figures allows young hockey fans to transform their playrooms into the ultimate hockey arena, remaining true to PLAYMOBIL's mission to inspire children everywhere to tap into their creativity and explore the depths of their imaginations. As kids morph into hockey stars, the new NHL figures enable them to bring the game to life with interactive functions including skater shooting and puck-stopping goalie action. The extensive line of 16 playsets will also feature a full ice rink with score-keeper, a Zamboni® ice resurfacing machine, NHL referees, and the coveted Stanley Cup trophy.
Richard Brookes, Director of Sales and Marketing for PLAYMOBIL Canada, said, "Fans of the NHL are amongst the most involved and fervent fans of any sport, and that extends to little ones as well. We're excited to be able to give kids and parents everywhere a lineup of great looking, true-to-form NHL figures, allowing them to take their love of their teams from the rink to the playroom."
PLAYMOBIL NHL Hockey Toys range in price from $69.99 for the arena to just $7.99 for individual players.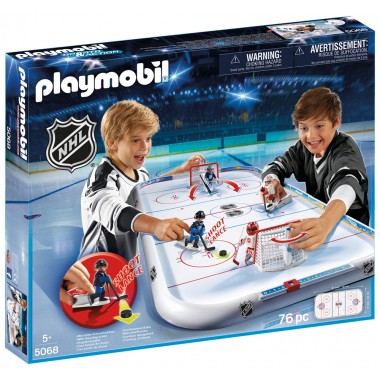 If you happen to be shopping for any little hockey fans this year, be sure to check out this fabulous and fun-filled new line from PLAYMOBIL, which can be found online and at retailers across Canada.
Disclosure: This post was sponsored by Playmobil Canada and enabled me to donate these toys to children in our local area for Christmas.