It is a sad fact that 1 in 7 Canadian children arrive to school without breakfast. If you have been following my blog, Twitter, Facebook, or Instagram this week, you know I have partnered with Kellogg's Breakfasts For Better Days program to help raise awareness about the real cost of skipping breakfast in school children. As part of raising awareness this week, I am skipping breakfast and sharing how it affects my morning. I have shared Day 1 , Day 2, and Day 3 . Today I am giving an update on Day 4 of My Week of Skipping Breakfast Challenge. This has been an eye-opening experience for me as I experienced hunger for myself and how it affects my day. One thing that I noticed today, after 4 days of skipping breakfast, is how tired I am feeling in the mornings. It feels like my body doesn't want to wake up without food.
I have learned a lot as a result of partnering with Kellogg's on this program. According to the second annual Kellogg's Breakfasts for Better Days Survey of Canadian teachers, students who miss breakfast lose an average of 104 minutes of learning time every day due to hunger, and that alone can add up to 3 months of lost learning time over the course of a year. When a child arrives at school without breakfast, it has an immediate affect on the child's day and their ability to learn as you can see by this video Reverse Hunger. Hungry children can suffer from a range of things including: growling tummies, lethargy, loss of concentration, inability to focus, headache, a feeling of not being well and poor mood. There are more facts about the link between hunger and education in this infographic: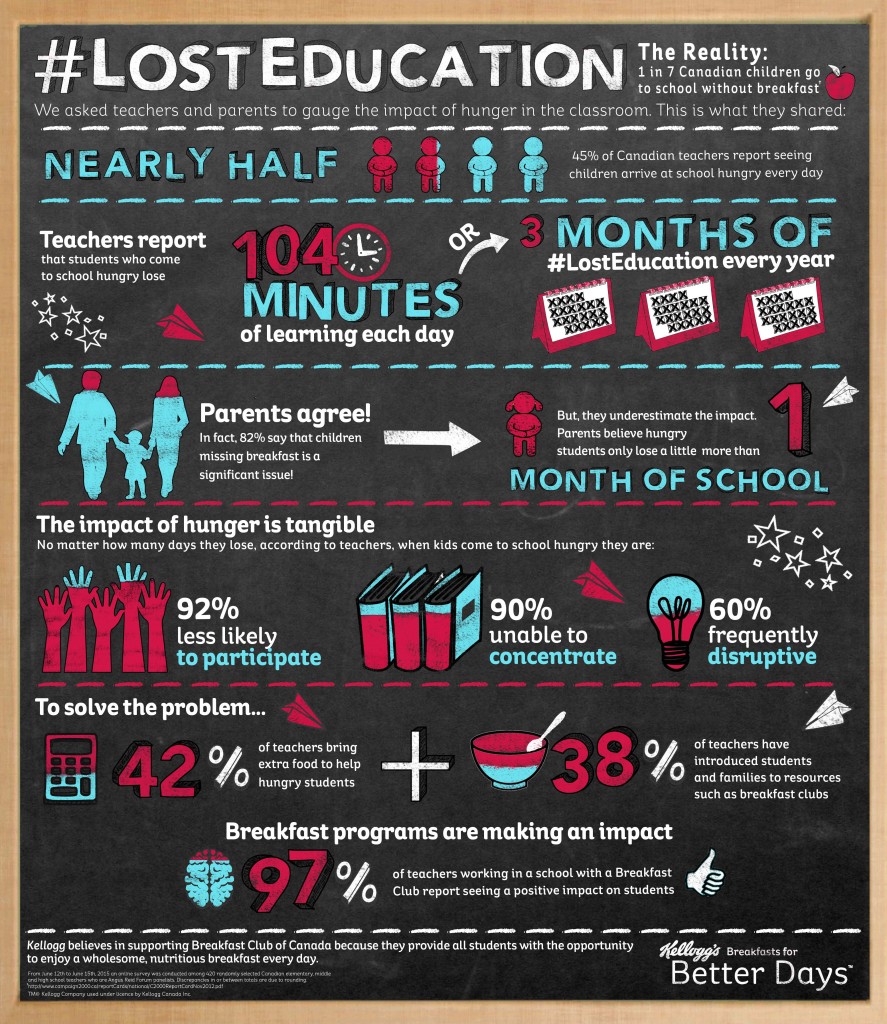 When my daughter started school back in 2001, there was a breakfast program in her school and it was open to any student who wanted to visit. I remember the smell of toast, the clinking of spoons on bowls and the happy chatter of children coming from the breakfast room. I also remember thinking how I was so glad that there was a breakfast program in our school because when I had attended the same school in the 1970's, there was no breakfast program or support for hungry children at all.
No child should have to go through the school day hungry. Kellogg's wants to work towards change and they are donating a portion of proceeds from cereal sales, to a maximum of $100,000, to it's breakfast partners across the country.Kellogg's has also made a global commitment to donate one billions servings of cereal and snacks, half of which are breakfasts, to children and families in need by the end of 2016. You can help by simply purchasing a box of cereal to support the Breakfasts for Better Days program.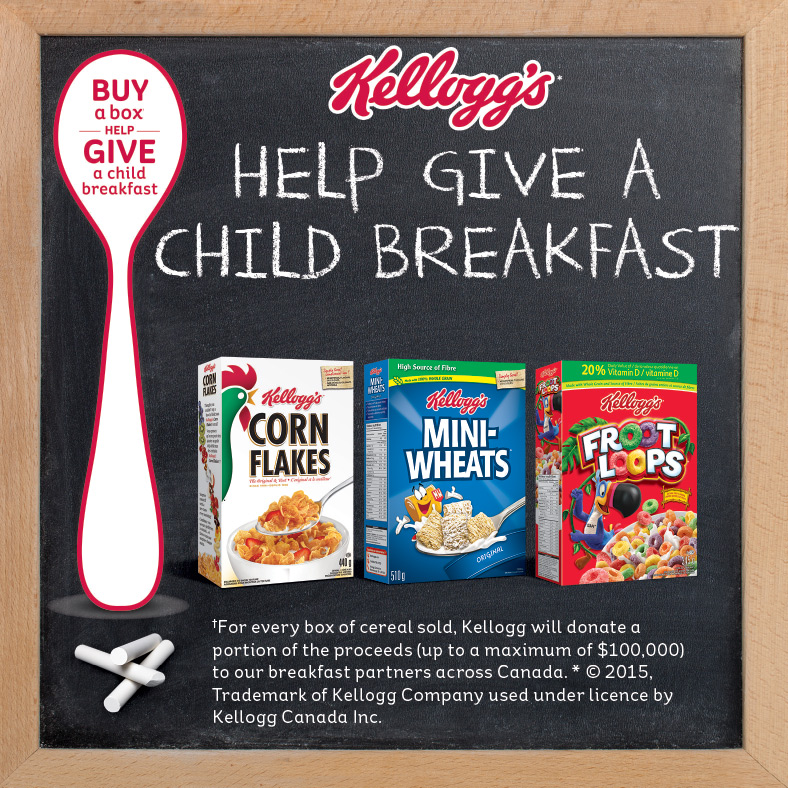 Please follow the conversation this week about Kellogg's Breakfast For A Better Day by following #LostEducation
Disclosure: This post was sponsored by Kellogg's Canada. All opinion are 100% my own opinions. As always, I only partner with brands that I love and use in my own home.