As a mom of both a 2nd year university student and a junior high student, I know that tech tools are at the top of the list for back to school tools for students. They want to be able to work smarter and faster from anywhere….whether it be school, home, library, a friend's house or the local coffee shop. Today's kids are active and on-the-go with sports and other activities, so tech tools that are lightweight, portable and powerfully productive is an important feature. Both of our kids have gotten their own tablet/laptop around Grade 7 so that they could take their work to school or elswhere, if needed, to complete assignments, papers, presentations, projects or to check their homework list. If you are looking for back to school technology for your students, here are some of the latest must have tools, technology and tips to help reach those academic goals, along with some great tips for saving families money!
In today's tech-driven classrooms, a laptop or tablet has gone from a nice-to-have, to an absolute necessity. Thinner and lighter than ever, Microsoft's Surface 3 is the perfect option for work, play and everything in-between. Powerful, productive and portable, the Surface 3 does all the things you love on a tablet like watching videos, playing mobile games or connecting with friends. But when you add the pen and keyboard, the Surface 3 turns into a fully functional laptop. Highlight digital textbooks and makes notes in the margins, develop essays and presentations, take notes in class or even record lectures and seamlessly save them to OneDrive – the Surface 3 does it all. It's no wonder Surface tablets are top of their class 😉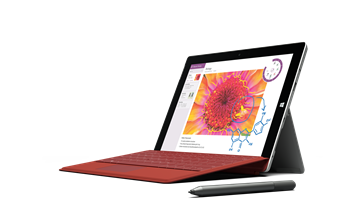 Specs:
· Atom x7 processor and Windows 8.1 – perfect for multitasking
· Provides 10 hours of video-playback and can run downloadable programs just like a PC
· Multiple ports so students can easily plug in a USB, mouse or printer
· Comes with 1TB of free OneDrive storage, so students can access their files anywhere
The Surface 3 starts at $639; pen ($49.99) and type cover ($129.99) sold separately.
WINDOWS 10 UPGRADE ($FREE)
If the laptop you bought last September will do just fine, make sure you've got the latest software update. Windows 10 is a free upgrade to anyone running Windows 7, Windows 8.1 and Windows Phone 8.1 during the first year after launch. Windows 10 combines features you know and love like the return of the start menu, with great new productivity and security features, like Microsoft Edge and Cortana, coming soon. Plus, the service will evolve and get even better over time. New features are delivered when they're ready, without having to wait for the next major release – giving you a safe and secure Windows experience.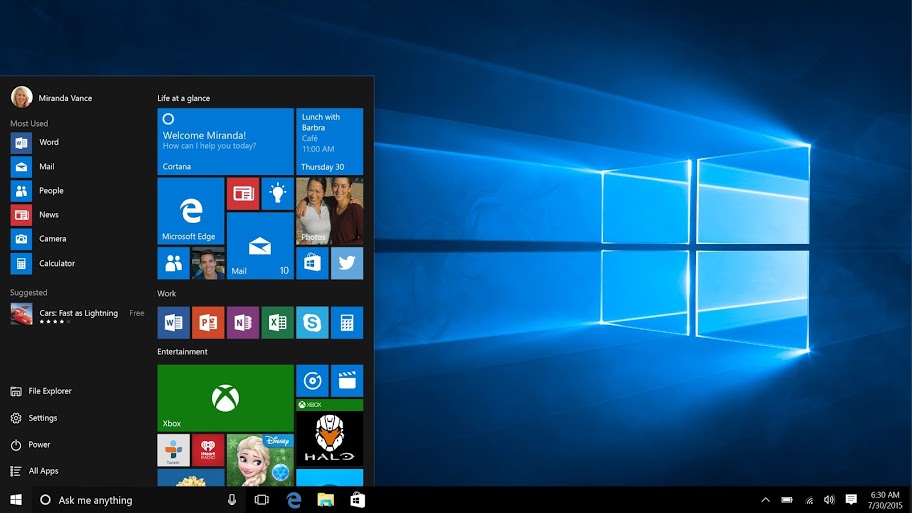 OFFICE FOR STUDENTS ($FREE)
Microsoft Office proficiency is more important than ever. According to a recent IDC study, Skill Requirements for Tomorrow's Best Jobs, Microsoft Office is third on a list of fundamental skills for top-grossing, high-growth employers, which is why Microsoft is working with schools to give over 4 million students across the country access to Office – at no cost to the student or their family.
Here's how it works: if a child or post-secondary student is enrolled in a district school board or individual school which has purchased Microsoft Office for use by its faculty and staff, they are eligible to access Office from their schools through the Office for Students program. All they need to do is log-on to Microsoft.ca/FreeOffice to check their eligibility and download Office. This helps to save families money!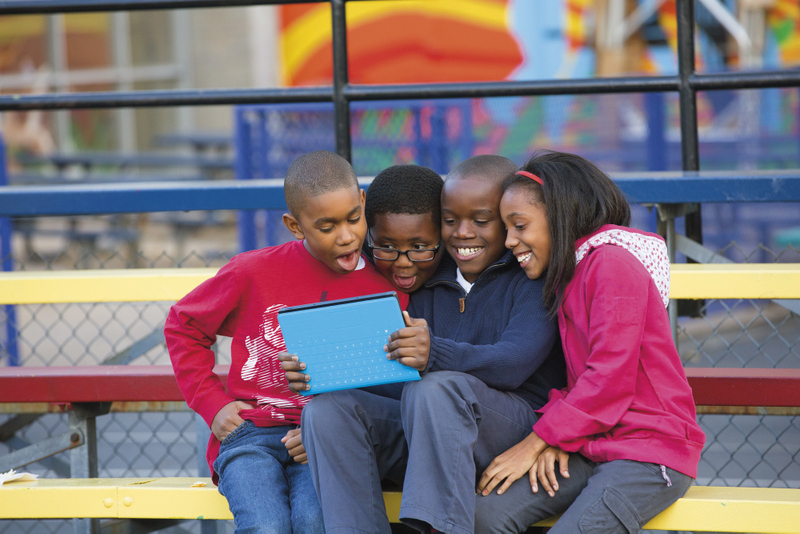 The best part about it, is it's not just for school! Students can download Office on up to five PCs and Macs, iPads, Android tablets, iPhones or Android phones for use at home and in the classroom.
What it includes:
· Word
· Excel
· PowerPoint
· OneNote
· Access
· Publisher
· 1TB of storage on OneDrive
· Office Online for in-browser editing
UNIVERSAL FOLDABLE KEYBOARD ($99.95)
The Universal Foldable Keyboard is perfect for a student on-the-go —its ultra-thin, lightweight, compact design lets students easily take it wherever they go so they can get more done on their tablet or smartphone no matter where they are!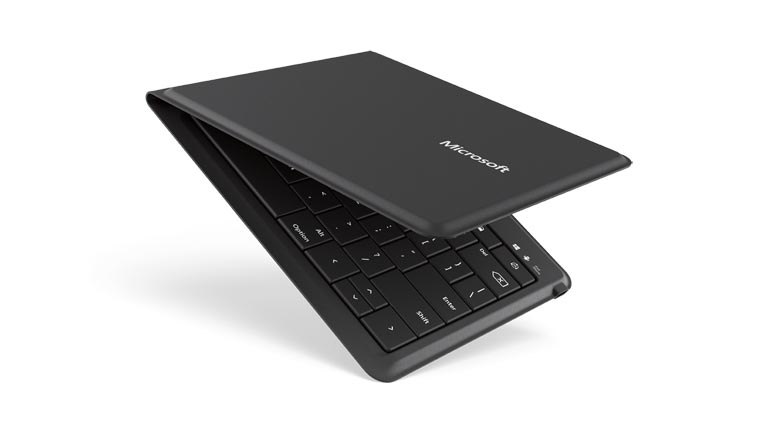 Specs:
· Works across devices: The Universal Foldable Keyboard was designed to work with iPad, iPhone, Android, Windows tablets, and Windows Phone. Pair the keyboard with any combination of two compatible devices and quickly switch between them with one touch.
· Ultra-thin and lightweight: Only 5mm thin, the innovative, foldable design easily fits into a purse, bag, or pocket.
· Full-size keyset: The full-size keyset provides fast, accurate typing.
· Easy on/Easy off: Open the keyboard to connect to your tablet or smartphone. Simply close the keyboard to shut it down
· Spill-resistant design: Water repellent keyset and fabric helps protect against accidents.
· Rechargeable battery: The built-in rechargeable battery provides up to three months of usage on a single charge.
· Bluetooth Smart®: Clutter-free and reliable experience utilizing the latest in Bluetooth 4.0 technology, consuming less power.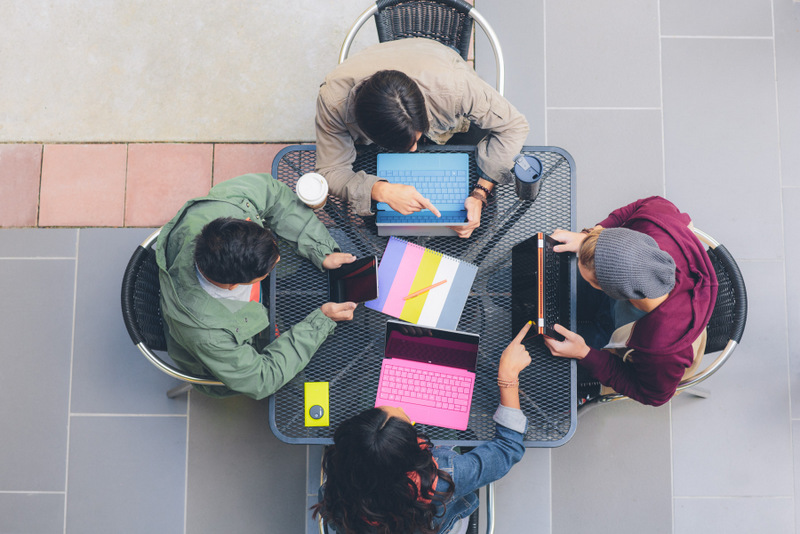 Top Tech Tips for Surviving The School Year
Here are some great tips for families shared by top tech expert Marc Saltzman, that will help students work smarter and families save money!
Forget books, binders and backpacks – today's students also need access to three other Bs: broadband, blogs and Bluetooth.
High school and post-secondary students, in particular, can take advantage of the latest high-tech tools – be it for work and play – to give them the leg up when they head back to the classroom this fall.
Here's a few grade-A tech tips to help students make the most out of the school year.
(1) Take advantage of free apps to stay organized
There are many tools that help students get productive to get things done, but most parents know that Microsoft Office is the cream of the productivity crop: Word, PowerPoint and Excel are a must for writing papers and creating presentations; OneNote makes it easy to take notes and organize research; Outlook helps students stay on top of deadlines, appointments and more.
What many parents don't know, is that Office is available for FREE to students across Canada. Here's how it works: if the student is enrolled in a district school board or individual school that has purchased Microsoft Office for use by its faculty and staff, they are eligible to access Office through the Office for Students program. Visit microsoft.ca/FreeOffice to check the student's eligibility and download Office today.
(2) Upgrade your world
If you purchased a new computer in the last year and a half, your student is probably set for the year, but make sure they have all of the latest operating system upgrades, like Windows 10, so they can take advantage of the newest features.
Free for home users running Windows 7 or newer, Windows 10 is the Windows you know and love, only better. It brings back familiar features like the Start menu, adds new features like Microsoft Edge, which has the ability to type on webpages or annotate using your fingertip or stylus pen. Multitaskers will rejoice with the ability to snap up to four apps in place and Cortana, Microsoft's virtual assistant, is coming to Canada soon, as well. Cortana will help keep track of things that interest you, make helpful suggestions, remind you of appointments and help you stay closer to the people who matter most. Plus, she continually learns about your interests, friends and favourite things, just like a real assistant.
(3) Do the cloud
"The dog ate my homework" isn't going to fly in 2015 – because students can access their work from anywhere thanks to the cloud.
Take advantage of free cloud services like OneDrive, which lets students store their school work and personal files, including research notes, calendar dates, contacts, photos and videos, music and audiobooks, and more. Students can access their files from multiple devices, anywhere in the world, as well as easily share large files with fellow students or collaborate in real-time on projects.
Along with the OneDrive webpage, you can also download the OneDrive app for free for use with smartphones and tablets.
(4) Heed the call
Why should university-bound students pay through the nose for long distance calls back home when they can video chat for free over Wi-Fi?
Skype lets students keep in touch with family and friends with Skype-to-Skype calling, for free, plus you can add video which is more meaningful than audio-only – especially if you're feeling a little homesick (whether students admit it or not).
Skype also lets you message others, share files and call to landlines and mobile phones on the cheap.
(5) Double duty
Many students prefer a laptop for school work but a tablet to do the fun stuff, like checking social and watching videos, so why not get a versatile device that does both!
Starting at $639, Surface 3 is powerful, productive and portable. The Surface 3 does double-duty, allowing students do all the things they love, like playing mobile games or connecting with friends, while also working as a fully-functioning laptop where they can take notes, write essays and create presentations.
The optional magnetic Type Cover keyboard and trackpad is available in multiple colours so students can personalize to their style and, can choose to write, draw and annotate on the screen with their fingertip or optional Surface Pen.
Disclosure: This post was sponsored by Microsoft Canada. However, all opinions are 100% my honest opinions.