Gearing up for a family vacation? I know that once school ends, many families often have vacation plans that include air travel. I used to travel with my children every summer from Edmonton to Nova Scotia, and it takes considerable planning to get everyone ready to go.
Traveling with family is no simple task. Getting everyone packed, organized, and ready to go through security with little fuss canpresent quite a challenge. Thankfully, the Canadian Air Transport Security Authority (CATSA) has a few pointers to help make your travel experience run smoothly.
1. Know how to carry-on
Children get hungry for snacks. You know this, and you want to be prepared. Solid foods such as apples, granola bars, or sandwiches can be packed in your carry-on for the plane ride. Any liquid food, such as yogurt,
pudding, or peanut butter, must be in containers of 100 ml or less and placed in a clear, closed, resealable one-litre plastic bag. I always pack one bag of snacks for each of my children when we travel by air.
If you're traveling with a baby, items such as baby food, breast milk, formula, water, and juice are exempt from the 100 ml limit and do not have to be placed in a plastic bag. However, you must declare these items to
the screening officer for inspection.
Other personal items to keep the kids entertained, like iPods, tablets, and toys, can go in your child's carry-on baggage. Just be sure to leave toys that look like weapons (e.g. water guns, toy grenades, etc.) at
home. When my children were younger, I always made sure that they had a markers, a doodle book and a book to read for when they got tired of watching movies.
Here are the small sizes of cosmetics that I usually travel with. I simply empty these items out of my cosmetic bag and place these items into a clear, closed, resealable one-litre plastic bag so that I am ready for security.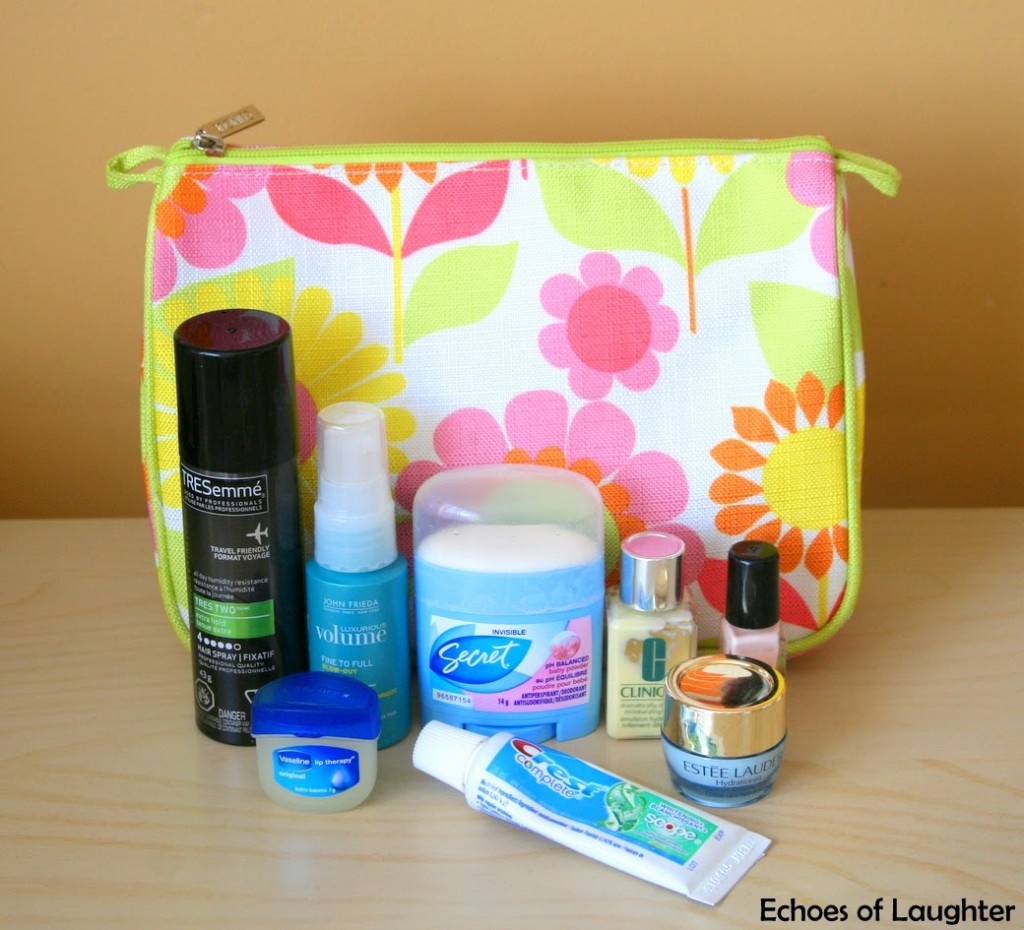 2. Check wait times
Preparing for your departure is made easier with CATSA's wait time calculator. Current wait times for major airports are measured at the screening queues and posted online. This provides extra convenience when
planning your trip.
3. Breeze through security
Did you know there is a Family/Special needs lane? This lane is catered to passengers who need more time or help with their belongings to get through security. Check when you arrive if this lane is available.
Make sure your family wears clothing without snaps, metal buttons, or studs. Remove your shoes before going through the walk-through metal detector, and be sure to limit jewelry to small items such as earrings.
Keeping these 3 tips in mind when packing and getting ready will go a long way toward making your trip through security a lot easier. And as a busy mom, I really appreciate tips that will help make our trip less stressful and therefore more relaxing for me!
Additional travel tips can be found online at
catsa.gc.ca
or
on Twitter (@catsa_gc).
Disclosure: This post was generously sponsored by CATSA. However, I only partner with brands/agencies that I feel have value to my readers.