I know when you think of Disney Parks, you probably think of family fun, thrill rides and character breakfasts. Am I right? But did you know that there are also restaurants at Disneyland that offer fine dining experiences?
Yes! It's true!
As a self-declared foodie and home cook, I am here to tell you that there are a few restaurants at Disneyland that are top-notch and you won't want to miss!
I had the chance to visit two of these fine restaurants and they are definitely not-to-miss places!
The
Napa Rose
, located in the Grand Californian Hotel at Disneyland, offers the very best in seasonal flavours paired with an extensive list of the best in Californian wines.
I can tell you that including a visit to this restaurant in your Disneyland vacation is a wise decision as the food is so good here that it will leave you swooning. Swooning I tell ya!
I had an amazing dining experience here with a small group, and I got to sample and taste many of the dishes and every dish was excellent!
Here are some of the things that we tried and they were all paired with wonderful wines as suggested by the sommeliers who can help you find just the perfect wine from the extensive wine list.
Are you ready? Here we go!
***
Here are some of the amazing dishes we tried:
Seven Sparkling Sins is an amazing appetizer to share…featuring delicious beef, crap, salmon, pheasant and scallop.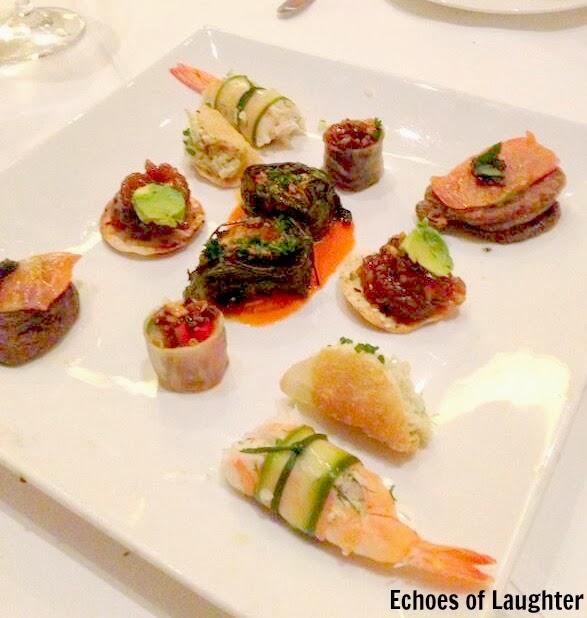 The Sizzling Beach Rock is another fun 'to share' item that offers yummy choices in garlic shrimp, glazed spare ribs and lemon grass chicken skewers.
And if I had to choose, this dish was one of my favourites! Smiling Tiger Salad featured tempura-fried lobster and spicy beef on a bed of Asian greens with the best-tasting lime vinaigrette you will ever have in your life!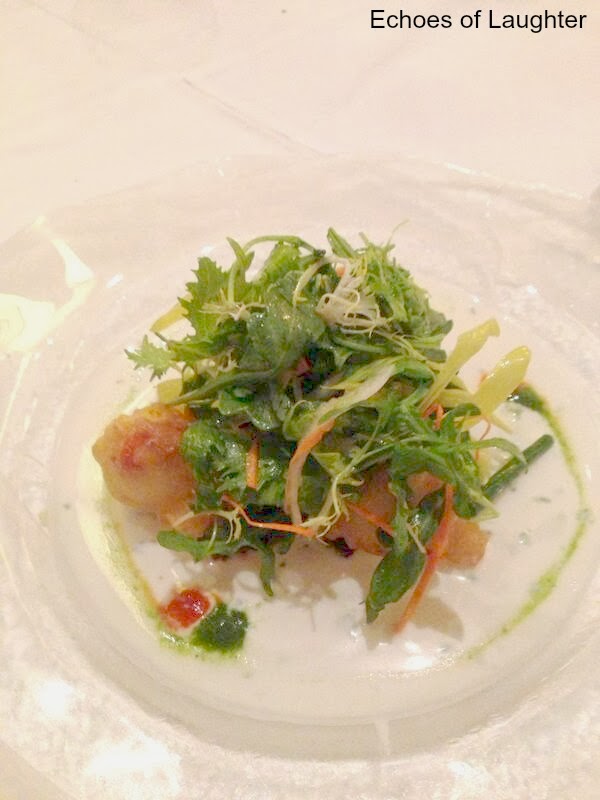 Grilled Pork Tenderloin was my main course choice and it was very tender and delicious.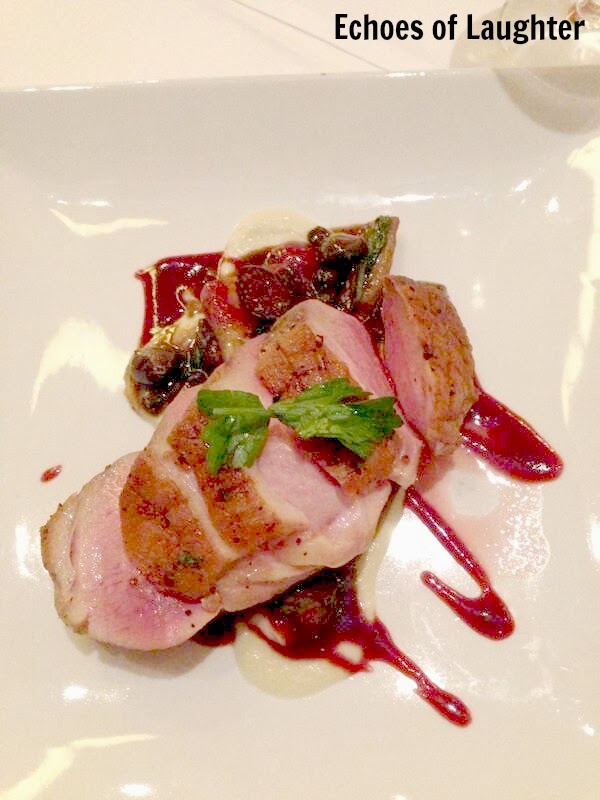 And for the desserts, we tried: artisanal ice creams such as Tahitian Vanilla Bean and Creamy Californian Strawberry with fresh berries.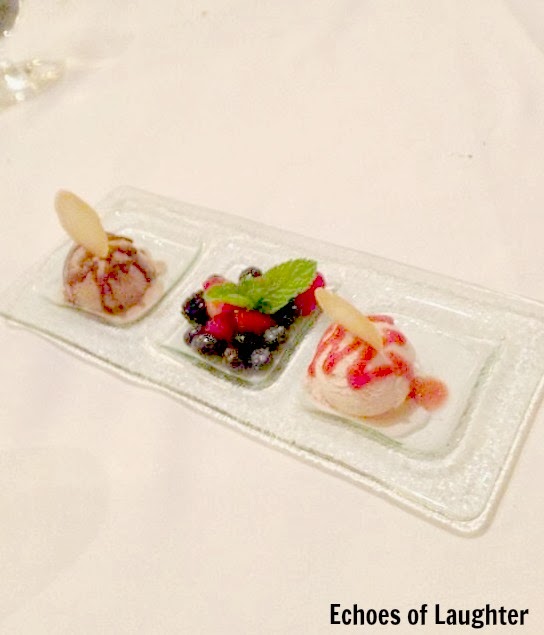 And this Warm Dark Chocolate Truffle Cake will satisfy any chocolate-lovers heart!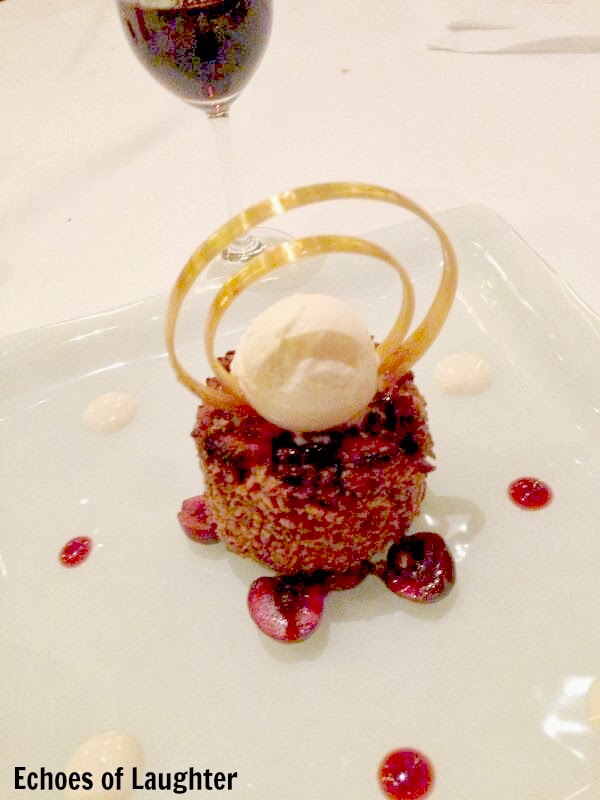 While at Disneyland, we also enjoyed another amazing fine dining experience at Wine Country Trattoria. This pretty restaurant features many Italian specialty dishes prepared in a lovely Mediterranean setting. Here you will find such favourites as bruschetta, pasta, Caprese salad, seafood dishes, chicken, lamb, ribs and fresh dinner salads, along with a wine list that includes over 25 wines available by the glass.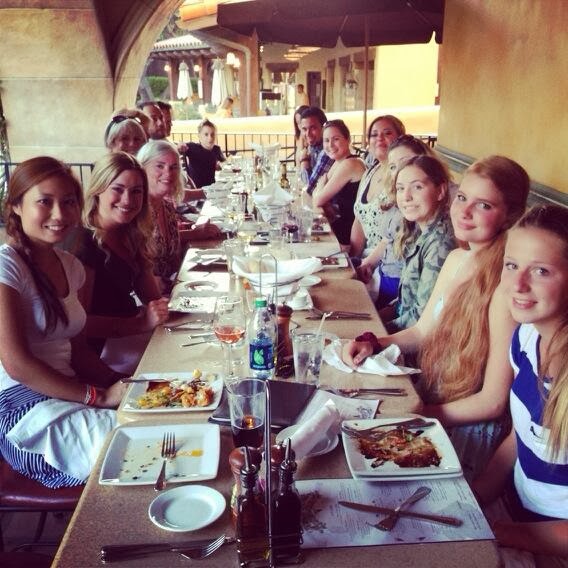 As busy parents whose days are normally packed with lots of family responsibilities, my husband and I like to treat ourselves to special fine dining experiences while we're on vacation. I so enjoy the chance to sit down and take the time to slowly enjoy a glass of wine while savouring a gourmet meal…one that I didn't have to plan or cook myself and without interruptions. And although the focus of a Disneyland vacation is on family fun, it's also a nice opportunity to steal a few hours away for a special treat of a luxurious fine dining experience. So if you are heading to Disneyland soon for Spring Break, I encourage you to make a reservation for a special dinner at either Napa Rose or Wine Country Trattoria for a wine and dining experience that will leave you feeling over-the-moon happy!
This is Part 3 of a mom-daughter vacation that my teen daughter and I took to California in August 2013 as guests of Disney Parks Canada &Travel California. All opinions are my own.