During the holidays, thousands take to the skies to travel to celebrate with family and friends. And it's also the time of year when many travel with gifts, skiing equipment or other seasonal items. That being said, there are some restrictions on what can be brought on board a plane. The Canadian Air Transport Authority (CATSA) has a few simple tips to help you get through security hassle-free. I thought as we head into the holidays, it would be a great time to offer a few tips on how to make air travel as easy and as stress-free as possible during a very busy season.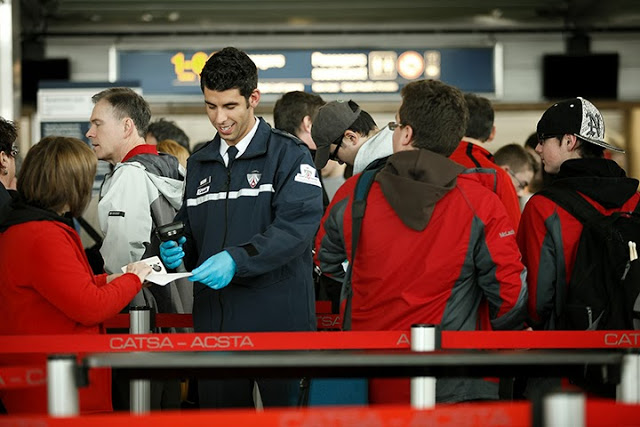 Avoid wrapping presents. Officers may have to unwrap them for screening purposes. Wait until you arrive at your destination, or take advantage of some airport`s gift-wrapping services conveniently located past security.
Avoid bringing presents that contain liquid, aerosols or gels in your carry-on luggage. This includes: wine, alcohol, beer, snow gloves, canned soup, maple syrup, perfume and lotions. Put them in your checked baggage or send them ahead separately.
Travelling with Children:
Flying with kids means that snowy weather and bulky outerwear can make flying in winter a hassle, especially when everyone has to remove clothing to go through security. Here are a few tips that will help you and your family at the security checkpoint.
At Home:
Make sure your family wears easy-to-remove outerwear and avoid clothing with metal snaps and buttons on your travel day.
Keep the kids happy by packing their favourite snacks. Solid food like fruit and crackers are allowed in your carry-on bag. Liquids and gels are restricted to 100 ml unless you`re travelling with a child under the age of two, in which case you can bring more than 100 ml of baby food, formula, milk, water or juice.
At the Airport:
Use the Family/Special Needs screening line for more assistance. You will find one at most major airports.
Let a screening officer know if anyone in your family is special needs and requires extra time or help during security screening.
Make sure your family knows they will need to remove their winter outerwear for screening-hats, coats, boots, etc.
Going South?
If you are flying somewhere warm this winter (lucky you!), CATSA recommends these tips to make getting through the security checkpoint quicker and easier:
At Home:
Pack your sunscreen and all other liquids, aerosols and gels in your checked baggage. If you need to bring some of these items in your carry-on bag, they must be in containers of 100 ml or less and packed together in a clear, resealable 1 litre plastic bag
On your travel day, avoid wearing clothing with metal buttons and snaps, and dress comfortably with easy-to-remove outerwear, belts and shoes.
At The Airport:
Have your boarding pass out and ready to show the screening officer.
Put your sunglasses in the security bin carefully so that they do not fall out during screening.
Remove everything from your pockets and put the contents in a bin before going through the metal detector.
Traveling with Sports Equipment:
If you are bringing sports gear on a flight to hit the slopes, the ice, or the trails this winter, please remember these helpful tips:
Ice skates are the only winter sports item that is allowed in your carry-on baggage.
For bigger items, like snowboards, skis and hockey sticks, you will have to include them with your checked baggage. Different airlines have varying restrictions on the size, weight and packing of these items, so it`s best to check those restrictions prior to travel.
Being prepared for air travel in winter by following these tips and suggestions is the best way to make sure that you and your family make a smooth transition through security and get to your gate as hassle-free as possible. I know that I always enjoy travelling so much more when I am not stressed and I don`t have to worry about being held up in security because I have made the mistake of not packing things correctly.
Where ever you are traveling this winter..have fun and be safe!
For more tips on preparing for security screening, visit
www.catsa.gc.ca
or follow them on Twitter at
@casta_gc
. (You can also check security wait times by airport on the day of departure by visiting
here
.)
Disclosure-I was compensated for sharing this information with my readers. However, as always, I only work with products/services that I feel are of benefit to my readers. All opinions are my honest opinions and I feel that this is valuable information for air travel in winter.