Hello sweet people!
I have some VERY exciting news to share with you. Recently, I had the honour of being chosen as a Frigidaire Canada Ambassador as part of an amazing program offered through Mom Central Canada and Frigidaire Canada. I cannot tell you what a thrill it was to open that email a few weeks ago to learn that I had been chosen. I literally did a happy dance around the house!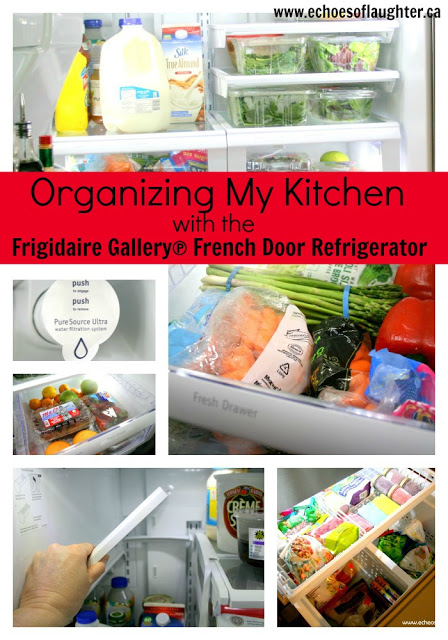 As part of being an Ambassador for Frigidaire Canada, a beautiful new Frigidaire Gallery® French Door Refrigerator was delivered to our home last Friday. Can I just say that I am in love with 'her'. Yes. I call it a 'her' because our new Fridge is the "Queen of The Kitchen". The kitchen is the heart of the home, and this queenly beauty is an amazing partner in helping me to organize my kitchen in such a way that preparing and serving snacks and meals, as well as storing food, has NEVER been easier. Let me count the ways that I love my new "Queen of The Kitchen" Frigidaire Fridge.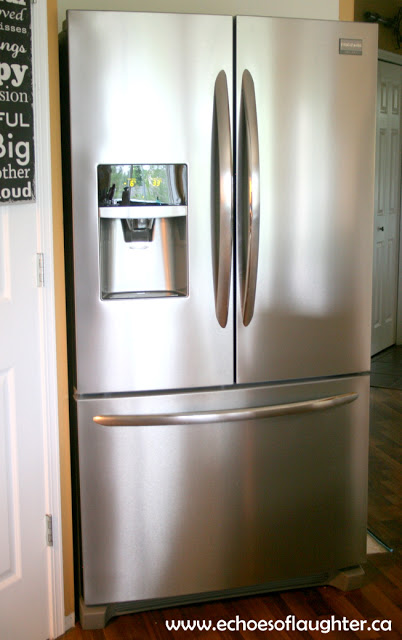 1. The Space.
This fridge has AMAZING space! 28 cu. feet of cleverly designed usable space. What does this mean? Well, it is wonderful to be able to store leftovers after dinner without having to shuffle around a whole bunch of things to make space. In fact, our previous fridge was so small that I usually had to go downstairs after dinner to store leftovers in a second fridge in the basement. But since our new "Queen of The Kitchen" arrived, I haven't had to go to the basement! This fact alone has made my life SO much easier! And with the many bins and drawers and custom options, organizing a fridge for a family for the way it is used is oh-so-easy!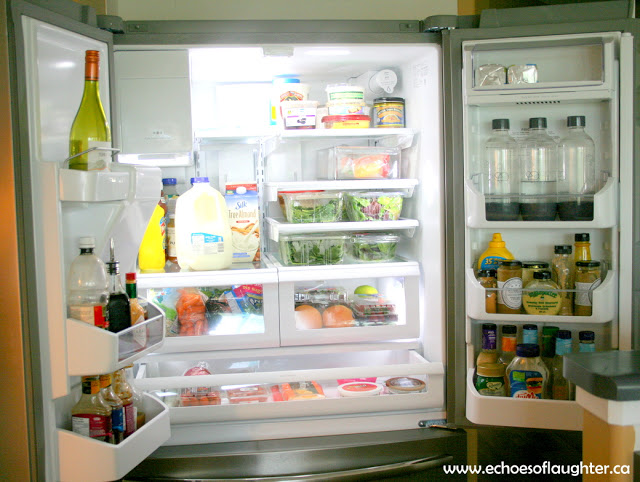 2. Ice & Water.
Frigidaire has a feature that is very important to me and that is the Best-in-Class Ice & Water Filtration….The PureSource Ultra™ ice & water system. This system will help to reduce chlorine taste and odor as well as many other contaminants, and with having city water, this is a feature that I prefer so that my family can enjoy the freshest water and ice possible.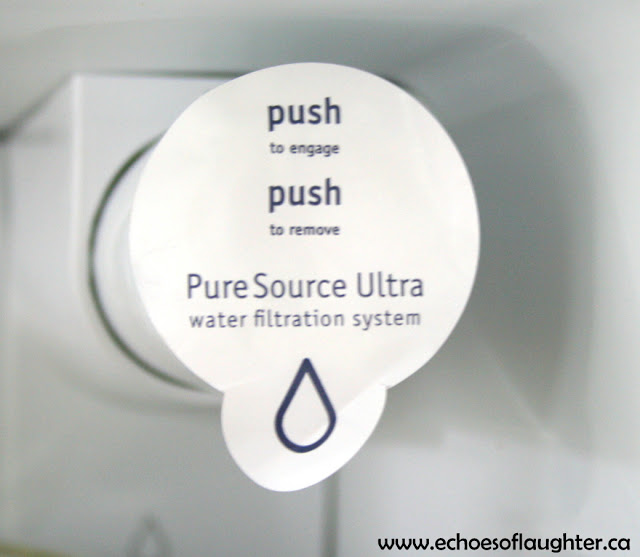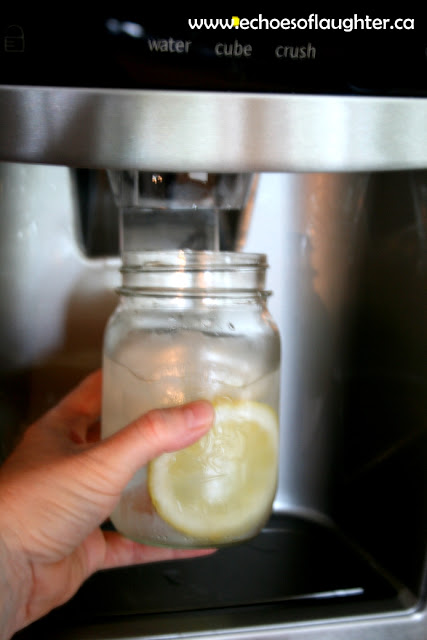 3. The Drawers.
I love the size of the fruit & veggie crispers. They hold a ton of fresh fruits and vegetables and these Effortless™ Glide Crisp drawers are so easy to slide in and out that you barely notice the weight of the produce inside.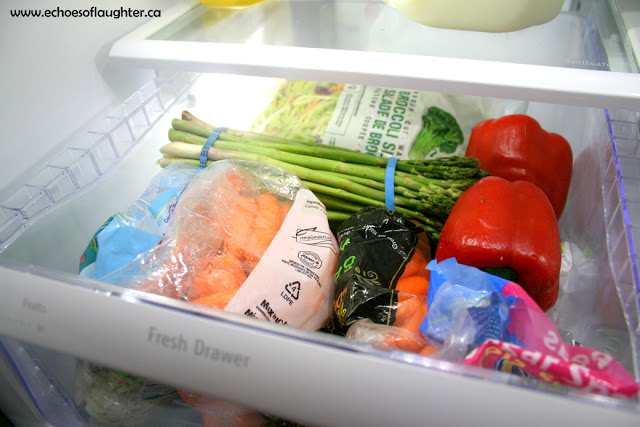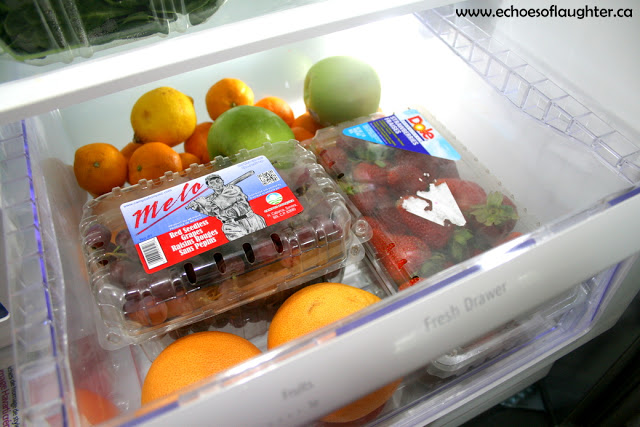 4. Full Size Deli Drawer.
The size of this drawer is pure brilliance! We have always had a problem with a 'too' small deli drawer, but not any more! This Store More™ Full Width Drawer allows us to store everything we need for a week's worth of meats and cheeses and other things….all conveniently in one drawer.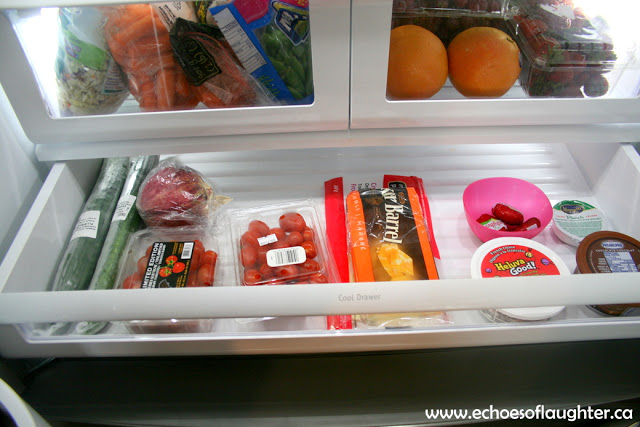 5. The Freezer.
The bottom mount freezer features drawers and bins that are easy to operate with the Effortless™ Glide Freezer Drawers. I love the size and space of the drawers, and the bins are perfect for organizing frozen foods with with adjustable dividers, they can be organized or removed to fit your needs.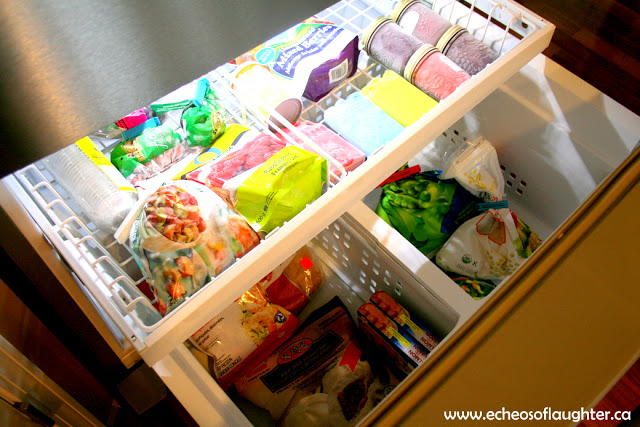 6. Shelf Features
Frigidaire put an exceptional amount of thought into the design of this fridge. The many multi-functional uses of the shelves and how they work to meet the needs of a busy family are first rate in every way. The fridge includes Spillsafe™ glass shelves so that spills are contained and easily cleaned up.There is a Flip Shelf for storing extra tall bottles when needed.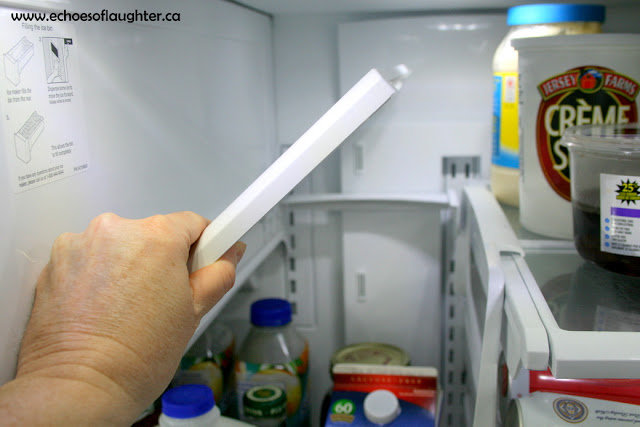 And a Slide Under Shelf for even more flexibility in storing food items.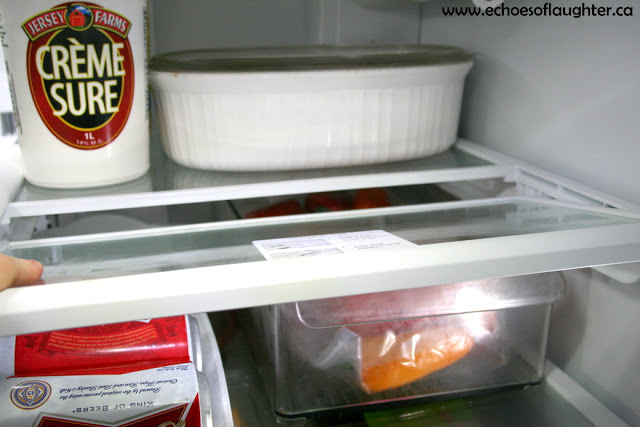 7. Large Size Bins.
Store More™ bins on the French doors hold an amazing amount of food items, including a gallon size of milk. I could not believe all of the items I could pack into the doors alone!
8. Smudge Proof Doors.
I love this feature too, because we Moms have other things to do besides wiping fingerprints!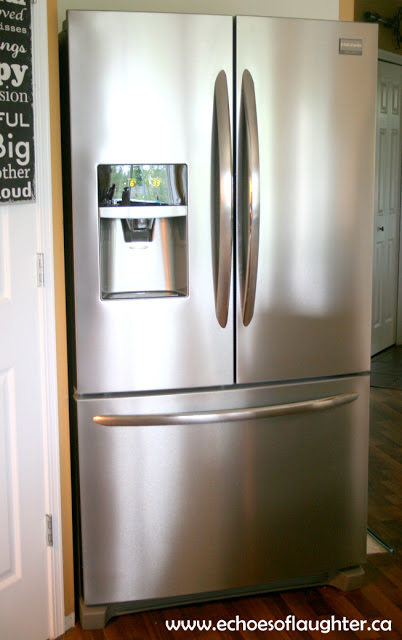 9. Interior Lighting.
This fridge has unbelievable lighting inside so that every corner, shelf, drawer and bin is perfectly lit with 3 Tier LED Lighting.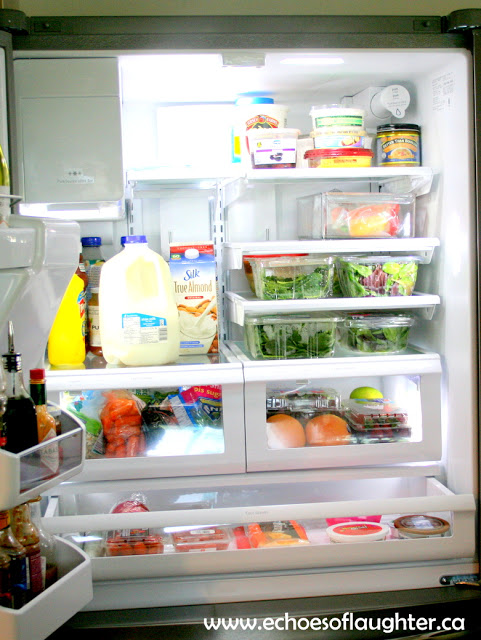 10. Organizing Dream.
There is no question that this fridge is made to be organized in any way that a family desires. All of it's features deliver in making organizing AND finding food easy!
The Frigidaire Gallery® French Door Fridge is made with busy moms and busy families in mind. I cannot tell you how much I have enjoyed having the "Queen of The Kitchen" as a new partner in my kitchen activities. To be able to go to the fridge and find food quickly and easily, and having ALL of the space I need to store fruits & vegetables, condiments, drinks and leftover dishes is such a wonderful thing!
If you would like to follow the conversation to see what other Frigidaire Canada Ambassadors are sharing about their new fridge, follow us on Twitter at #testdrivemoms.!
{Disclosure: I am part of the Frigidaire Canada Ambassador program with Mom Central Canada and I receive special perks as part of my affiliation with this group. The opinions on this blog are my own.}