We are totally bananas for these banana split bars. They are such a nice treat in winter….like a bit of a hot summer day on a spoon. This recipe encompasses everything yummy about the original dessert…bananas, pineapple, maraschino cherries and whipped cream…but without the brain freeze!
This recipes comes from my Great Aunt Kay…who wrote this in a family recipe book for my wedding shower in 1995. It is a really delicious dessert that takes very little time to make and requires no baking at all.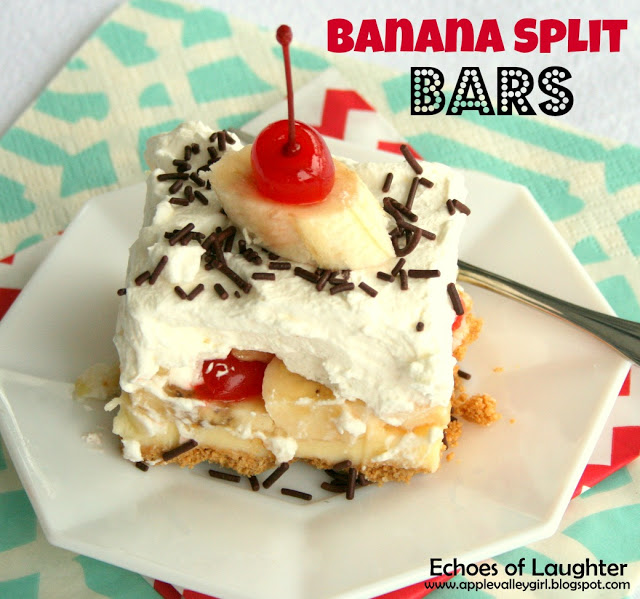 Ingredients:
2 cups graham cracker crumbs
1/2 cup melted butter
2 cups icing sugar
1 cup butter, softened
1/2 cup cream cheese
4-5 large bananas
2/3 cup maraschino cherries, chopped in two and drained well
1 can pineapple tidbits, drained well
3 cups whipped cream or Cool Whip
chocolate sprinkles for garnish, if desired
maraschino cherries with stems, if desired
Directions:
1. Mix melted butter into graham cracker crumbs. Pat into bottom of 9 x 13 pan.
2. Beat together icing sugar, butter and 1/2 cup cream cheese. Beat until light & fluffy. Spread over graham cracker layer.
3. Add layer of sliced bananas, pineapple tidbits and maraschino cherries.
4. Cover fruit layer with whipped cream or cool whip.
5. Cover bars with wrap and place in fridge for at least 2 hours before serving.
6. Cut into bars with a sharp knife. Garnish each slice with chocolate sprinkles, a slice of banana and a maraschino cherry before serving.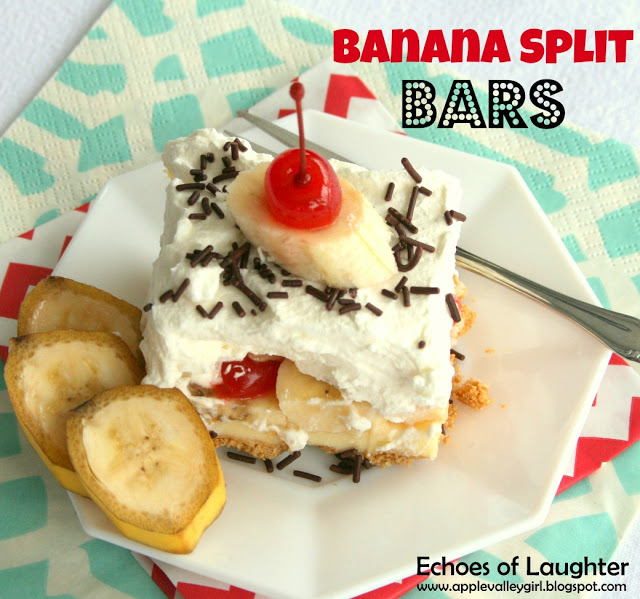 My kids are crazy about this dessert. We don't make it that often, but when we do…it's happy smiles all around.
You can also check out these other delicious recipes:
And don't forget to take a peek at some of my favourite boards on Pinterest: