I love quiches.
They are so good and easy to make, and are a perfect meal with a salad and some fruit.
I like this recipe because it makes 2 quiches…which gives enough for two meals, or an extra for the freezer or to share.
And if you want to make it super quick… buy the pastry shells at the grocery store and then just chop the veggies and shred the cheese.
I love this recipe….the leeks and the swiss cheese make it so declicious!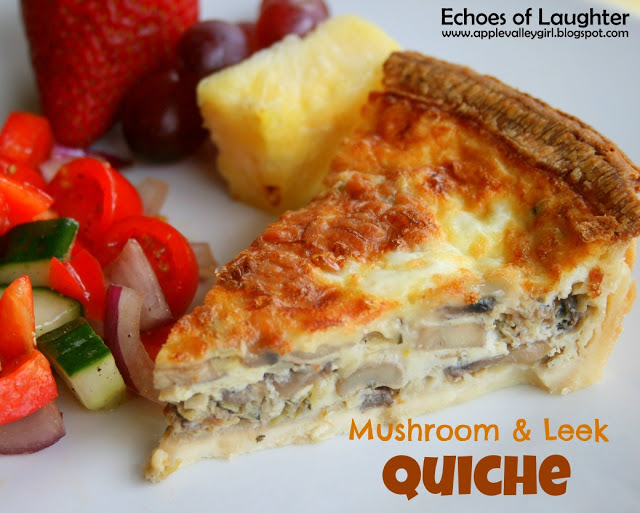 Mushroom & Leek Quiche
Ingredients:
2 pie shells, purchased or homemade
1 tbsp. canola oil
1 leek chopped, white & light green parts only
2-3cups sliced mushrooms
8 eggs
2 cups milk
2 tsp. fresh dill or thyme
1.5 cups shredded Swiss cheese, or favourite cheese.
Directions:
1. Heat oven to 375. Cook pie shells for 10 min. Remove from oven and let cool. Increase oven to 425.
2. Meanwhile, heat 1 tbsp. canola oil in frying pan and cook mushrooms and leeks until tender and golden in colour. Season to taste with salt & pepper.
3. In large mixing bowl, beat eggs until frothy. Add milk, and dill or thyme.
4. To cooled pie shells, add half of shredded cheese and all of cooked veggies.dividing evenly between each shell. Pour egg & milk mixture into pie, dividing evenly. Sprinkle pies with remaining cheese.
5. Bake in oven for 20 minutes or until toothpick comes out clean.
6. Serve with a crisp salad and fruit slices.
And you know another I like about quiche? It can be breakfast, or brunch, or lunch or dinner!
This is also a great make ahead dish that can be re-heated when needed.
Thank you so much for visiting me!