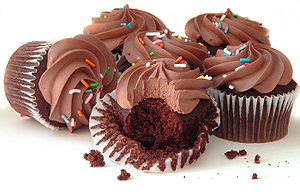 I haven't made cupcakes in forever.
I make cookies, muffins and scones on a very regular basis, but I cannot remember the last time I made cupcakes.
I love all of the fabulous cupcakes I see around blogland and in magazines.
As I got thinking about some of my goals and challenges for 2012, I thought I should add cupcakes to the list as a baking challenge.
I thought about making a different cupcake recipe every week…for a total of 52 cupcakes.
But then I worried that 52 cupcakes might be a little too much…plus who is going to eat all those cupcakes?
Maybe 25 different cupcakes might be a more realistic goal for the year.
And you know what else I would like to learn how to do?
Pipe icing on the tops of those cupcakes….just like the picture above.
So today is Project Cupcakes Take 1.
I know…perhaps it seems like a silly or frivolous goal, but we all need some silly to make life fun, don't we?
What goals or challenges have you set for yourself for 2012?