Can I just say first…oh my word Blogger…have you been giving me headaches over the past 2 weeks!
There were some days that I couldn't even log into my blog and post…it reduced me to tears of frustration!
And I couldn't comment on many of the blogs I love because it kept saying "anonymous" or wouldn't register my comment at all!
And some days my followers list would not show.
I know lots of others have been having the same problems… so I know that it is a blogger problem.
But jeepers!
It was raining here yesterday and I really wanted something simple to make for dinner.
My husband usually cooks on Saturday night, but he was away this weekend for work
I decided to get out my bread maker and load in some stuff for pizza dough for dinner.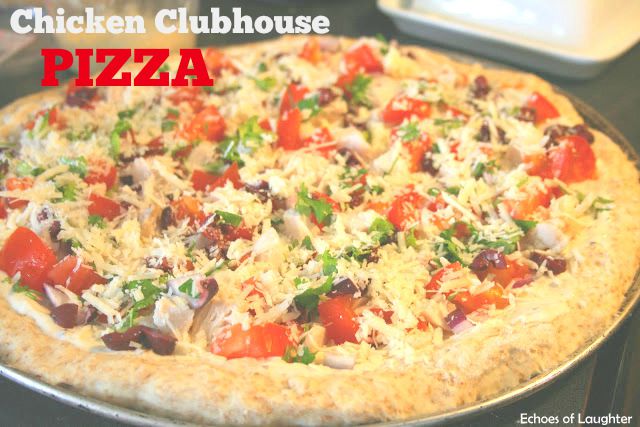 I love this recipe…it tastes so good and it has healthy ingredients, so I thought I would share.
Look at this beautiful dough rising out of the breakmaker after 2 hours: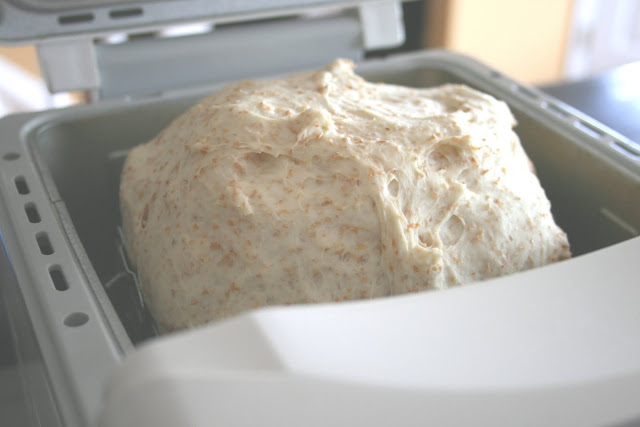 I then turned that dough into this pizza crust.
The dough could have made 2 pizzas, but I decided to go with a 'deep' dish pizza this time.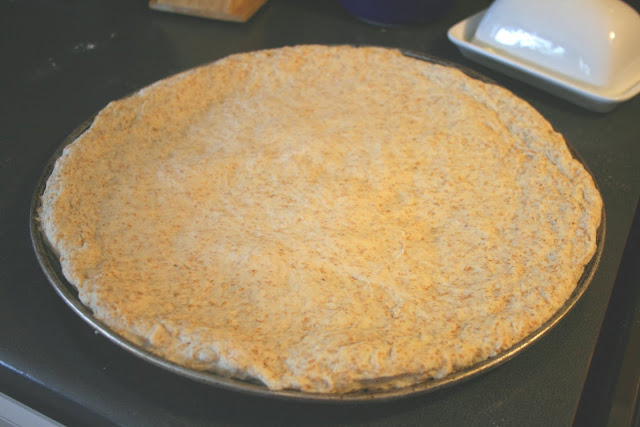 One of my favourite pizzas is the Chicken Club from Panago Pizza, so I decided to re-create it at home.
I used Kraft Bacon Ranch dressing with some added garlic for the sauce.
It worked out perfectly!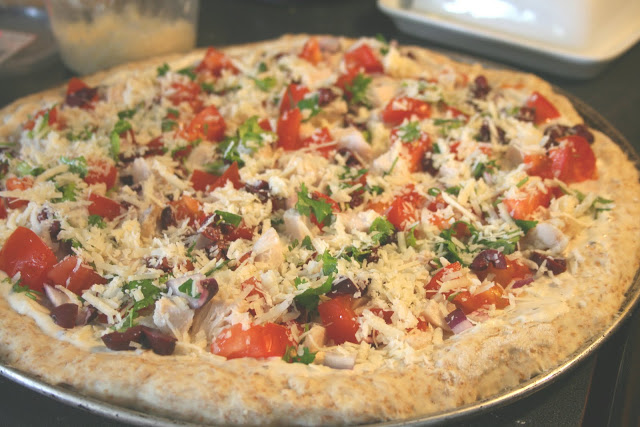 I used my Black & Decker breadmaker which makes a 2 lb. loaf or a large dough.
Here is the recipe for the dough:
Whole Wheat Pizza Dough:
Place in breakmaker in order listed:
13 oz. water
2 1/2 Tbsp. Olive Oil
2 cups white flour
2 cups + 4 Tbsp. whole wheat flour
3 Tbsp. sugar
1 1/2 tsp salt
2 tsp bread machine yeast.
This makes enough for 2- 12″-14″ pizzas or one large deep dish pizza.
For the toppings for Mediterranean Chicken Club:
3/4 cup Kraft Bacon Ranch Dressing with 1 clove crushed garlic added
1 large chicken breast, cooked & cubed
2 tomatoes diced
1/2 red onion diced
1/4 cup kalamata olives
Sprinkle with fresh cilantro & shredded cheese.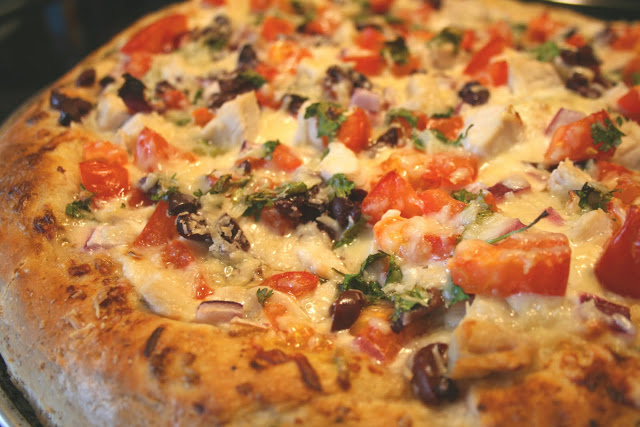 It was a super easy supper…just add a green salad and a bottle of white wine.
Yummy!
Perfect for a rainy day!
This post is linked to:

Strut Your Stuff Saturday at Six Sisters Stuff
Sundae Scoop @ I {heart} Naptime