This is a project close to my heart.
For all the things which are made and packaged to leave the house at Christmas…..this one stays home.
It is a gift of remembrance for me.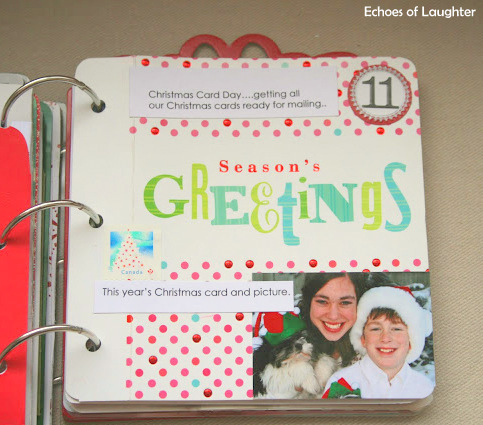 I have been scrapbooking for 11 years, yet I only did this project for the first time last year.
I mourn that I did not think to do this years before when my kids were younger.
For each Christmas, I have a 2 page scrapbook layout completed in a scrapbook.
But this project digs deep….it's about celebrating the every day joy of the month of December.
Not just the one day of the 25th.
I am all too aware that in a few short years one of my children will be off to University.
And when that time comes, I want to remember what it was like to have kids in the house at Christmas.The inspiration for this project comes from
Ali Edwards
.
I
adore
her blog.
It was the first blog I started reading back in 2005.
And I still read it every day.
You can read about the process as described by Ali
here:
The idea is this: Make a scrapbook page for every day in December up to the 25th.
Sounds daunting, doesn't it?
I tried it last year.
It forced me to slow down a little and reflect~it was such a rewarding experience.
I used a 6×6 scrapbook album that I constructed before December 1st came.
Here are some Christmas memories from 2009 I captured from participating in this project:
December 5th~ the day we trimmed our tree:
December 6th~the day we ate peppermint ice cream before bed:
December 7th~ the day of our Christmas card photo shoot:
December 9th: The day I finished up last minute shopping errands~
Preserving our Family Christmas letter for 2009~
December 11th: The day I mailed the last of our Christmas cards~
I am so glad I captured these memories.
December can be such a blur of activity…it is nice to look back and reminisce.
This week I am planning to build the December Daily Album for 2010.
So when December 1st comes, I will be ready!
This year, I will be sharing my December Daily Album as a guest post at passionatelyartistic.com
I hope you find a way to record your memories of Christmas, whether it be writing in a journal, or taking lots of photos or scrapbooking.
It is so worth the effort!
This post is linked to these parties:
Design Dazzle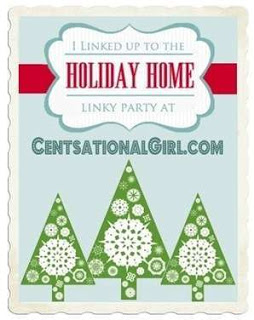 ="