I have been absent around blogland lately. No reason. Just savouring summer. We just spent a better part of a week hosting some friends from Nova Scotia who stayed with us. We had so much fun sharing meals, visiting parks and water slides and playing fun games like this one: Bananagrams. My mother gave one of the children this quite awhile ago and we just started playing it. And….
this game is so addictive.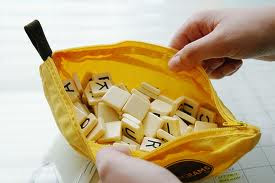 Every night, as least 3 of us would spill out the chips to play a game or two. It was so curious to me that my friend's 11 year old son could beat us with his three and four letter words.
I highly recommend this game to anyone who likes the challenge of word games. It's also an excellent size for travelling….it barely takes up any room…it can be squished into a shoe!
Next week I will be back with the rest of our camping recipes. And soon I will be featuring a week of posts on school lunch planning and recipes. Yes…it's that time again!
Have a great weekend!