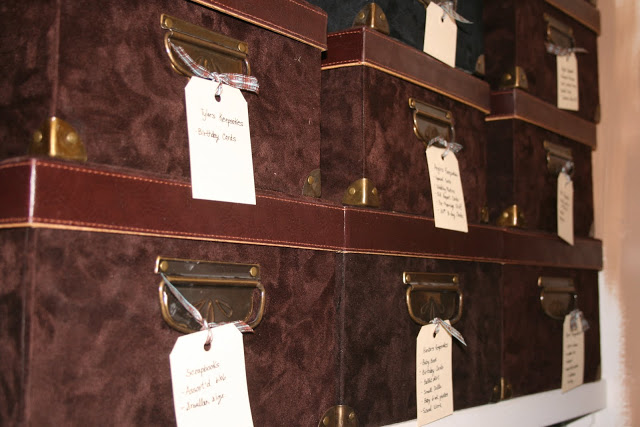 A few years ago I spotted these attractive suede boxes at London Drugs.
I loved the combination of the suede and leather look and the antique-looking handles.
I thought these boxes were perfect for the upper shelves of our closet.
A place where I like to store special keepsakes because I know that they are dry, warm & safe.
In these boxes are things like elementary school pictures of Ron and I, baptism candles, tiny baby clothes and such.
Problem was…..I didn't have these boxes labelled.
Bad idea.
Everytime I needed to locate something….I had to peek through all the boxes.
I finally took a few hours and solved that little problem.
With a black sharpie pen, tags and some ribbon, I had all the boxes sorted and labelled, and back into the closet in 2 hours.
It feels so good to look at those tags and know what is in each box.
Notice the wall that is partially painted?
That is another project that needs to be finished.
And guess what?
I recently learned from watching Cityline that when painting a room, it is best to leave the interior of closets neutral so when you paint a room, you don't have to go throught the hassle of emptying a closet to paint it.
Brilliant! I wish I had thought of that sooner!