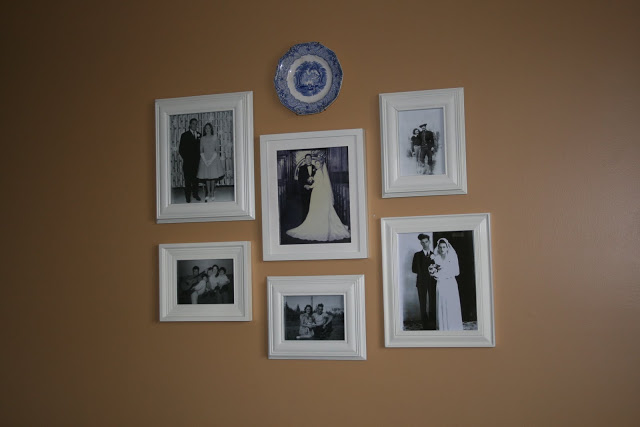 Awhile ago, I gathered up some frames not in use from around the house and spray-painted them heirloom white.
I had an an inspiration….I wanted to create a "family wall"….a collection of photos of our family roots….our parents and grandparents. It is also important to me that my children recongnize those they come from.
The hardest part was locating pictures. I was able to find pics of all the grandparents except for Ron's paternal grandparents. I am not sure if even a picture exists of these two people in their younger days. Once I found the pictures, the rest was easy. Arrange. Hang.
I absolutely love this wall.
The picture in the centre is of Ron and I on our wedding day in 1995. The picture to the top right of us is of my maternal grandparents Josephine and Frederick circa 1950's. To the lower right are Ron's maternal grandparents Evangline & Antonio on their wedding day in 1945. Just below Ron and I are my paternal grandparents Ada & Clifford with my Uncle Phillip circa 1941. And to our lower left are Ron's parents with Ron and his brother when they are little. That handsome couple to our upper left is my parents in 1965 at a high school dance.
I loved my grandparents dearly and it is a nice to have their pictures on the living room wall to remind me of happier times. And of who I am and where I come from.
This post is linked to these great parties: