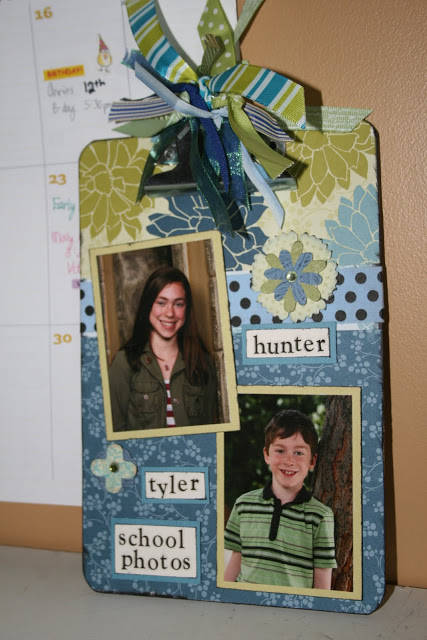 At one of the last scrapbooking retreats I attended, I had the chance to make an altered clipboard for the kitchen. I wanted a way to display the kids school photos that was fun instead of in a boring frame.
This is made with a 'mini' clipboard that can be found at the dollar store for $1. I know it sounds funny to say that it cost $1.00 at a dollar store, but some so-called dollar stores sell things for $1.50 or other prices that are not exactly a $1.00! I used scrapbook paper along with 'mod podge' to cover the clipboard. Then a bunch of ribbons are tied on the clip part of the board to get it that special touch of texture & colour.
The clipboard rests on a shelf next to the family calendar. I love having my sweeties faces to look at when I write on the calendar. I made one of these for the grandparents as well and mailed them off wrapped in bubble wrap.
This project has been linked to
Mod Podge Mayhem at: